Tuesday 1
Billionaire at Sporting Monte-Carlo – Event
Billionaire is coming to the Salle des Étoiles! Created in 1998, Billionaire is an extraordinary nocturnal adventure offering a luxury dining concept paired with amazing entertainment. The "Billionaire at the Sporting" and "Masters of Extravaganza" nights in Monaco will offer the perfect blend of incredible, immersive spectacle and gastronomical dining experience, as part of the 2023 Monte-Carlo Summer Festival. From Monday, July 31 to Tuesday, August 22 at 21:30 at the Salle des Etoiles. Discover more here.
---
Sculptures & Unique Stones – Exhibition
Laventurine Gallery presents an exhibition that will immerse you in a world of natural beauty and mineral wonder. For the first time at ESPACE 22, a fascinating collection of sculptures and unique pieces from the four corners of the world. Each exhibited piece is carefully chosen for its rarity, unique aesthetics, and artistic value by two enthusiasts exploring breathtaking landscapes in search of exceptional minerals. Discover a universe where the force of nature blends harmoniously with artistic expression. From Tuesday , August 1 to Thursday , August 17, Monday to Saturday, from 10:30 to 13:00 and from 16:00 to 22:00 at the Espace 22.
---
Le beau monde – Theatre
The French play is set in the distant future of which we will know very little, as three actors invite us to attend a strange ritual to discover what the 21st century was like: "In the 21st century we believe that the Earth revolves around the Sun. We call "year" the time it takes to complete one revolution. This is how we count time. A horse, for example, lives thirty years. A human saw three horses. A lime tree lives five humans." On Tuesday, August 1 at 21:30 at the Fort Antoine. Discover more and reserve your tickets here.
---
Wednesday 2
We are going on holidays – Reading Workshop for Children
In partnership with « la valise à histoire ». 1st session: 15:00 to 15:40 for 2-3 year olds. 2nd session: 15:45-16:25 for 4-5 year olds.On Wednesday, August 2 at A Fàbrica, the Parc Princesse Antoinette.
---
The Cauldron – Puppet Show
After proving a huge success last year, Les Soirées Enfantines are back again for 2023 to entertain and delight children ages 3 and over! On Wednesday, August 2 at 18:00 at the Monaco Ville.
---
Thursday 3
Brian Jackson – Concert
When Brian Jackson bumps into Gil Scott Heron in high school for the first time, the two hit it off royally. The shy 16-yearold piano prodigy sensed a kindred spirit in the kinetic young wordsmith, and he wasn't wrong. Together they'd make ten records and amongst them, timeless hits like 'The Bottle', 'We Almost Lost Detroit', 'Lady Day & John Coltrane', with Jackson's mellifluous brand of Jazz-Funk the perfect foil to Gil's poetic beats and incendiary social refractions. Brian's story doesn't end there. He'd go on to work with Stevie Wonder, Kool & The Gang, Earth Wind & Fire and Gwen Guthrie just to name a few. Of late, he's been back in focus with a new album released on BBE and works with the likes of Louis Vega.
From Thursday , August 3 to Friday, August 4 at 21:00 at La Note Bleue.
---
Concert at the Prince's Palace
The Monte-Carlo Philharmonic Orchestra wil be conducted by Lawrence Foster, with Marc Coppey on cello. Music to be performed will include pieces by Johannes BRAHMS and Joseph HAYDN. On Thursday, August 3 at 21:30 at the Palais Princier – Cour d'Honneur. Discover more and reserve your tickets here.
---
Friday 4
MIKA – Monte – Carlo Summer festival
he Lebanese-British-American singer-songwriter, the phenomenon known simply as MIKA, is set to bring his eccentric outfits and acclaimed music back to the Sporting this summer. On Friday, August 4 at 20:00 at the Salle des Etoiles.
Discover more and reserve your tickets here.
---
Sunday 6
Concert at the Prince's Palace
The Monte-Carlo Philharmonic Orchestra orchestra will be conducted by Jaap van Zweden, with David Fray on piano. Music to be performed will include pieces by Wolfgang Amadeus MOZART and Ludwig van BEETHOVEN. Discover more and reserve your tickets here.
---
Ongoing
Au cœur d'un regard – Jane Gemayel – Exhibition
Au cœur d'un regard will offer visitors a retrospective look at the artistic expression of Jane Gemayel, blending traditional and contemporary techniques to create works that push the boundaries of art and inspire deep emotions, immersing the spectator in a world of beauty and sensitivity. Read our article here. The exhibition (At the Heart of a Look) runs until Saturday, September 23, Tuesday to Saturday from 10:00 to 12:00 and 15:00 to 18:00 at the Galerie Adriano Ribolzi.
---
Santo Sospir – Mauro Restiffe / Jean Cocteau – Exhibition
The Nouveau Musée National de Monaco presents "Santo Sospir", an exhibition by the artist Mauro Restiffe, inspired by the house occupied and decorated by Jean Cocteau in Saint-Jean Cap-Ferrat between 1950 and 1962. This silent conversation, orchestrated by Restiffe in the Villa Sauber, is like a cinematographic montage that alternates long shots and close-ups, monumental prints and smaller formats, fostering an embodied vision of the tattooed villa, where a (faceless) self-portrait of the author appears. Until Sunday, October 15 at the Nouveau Musée National de Monaco – Villa Sauber. Discover more here.
---
Monet en pleine lumière – Exhibition
This major exhibition is part of celebrations to mark the 140th anniversary of Claude Monet's first visit to Monaco and the Riviera, where the great impressionist, already halfway through his long life, would discover the landscapes and light that were to be the turning point of his work and career. Around a section devoted to the paintings he produced during his stays on the Riviera, featuring twenty-one loaned pieces displayed for the first time close to the very places they were painted, the exhibition looks at the master's work, from his early days in Le Havre to his final paintings in Giverny, from the perspective of his constant quest to capture light. This exhibition-event entitled Monet in Full Light is curated by Monet expert Marianne Mathieu. Read our article here. Until Sunday, September 3 at the Grimaldi Forum Monaco.
---
Life in Motion – Olga Sinclair – Exhibition
Daughter of a master of modern art, Alfredo Sinclair, Olga began her career under the tutelage of her father, participated in professional artist exhibitions at the age of 14, studied fine arts in Madrid and received several awards, honours, national and international recognitions for her artistic and social work. The Olga Sinclair Foundation, which aims to create a new generation of children full of sensitivity for Planet Earth has hosted more than 85'000 children and young adults in her workshops around the world. AMLA in collaboration with the Kamil Art Gallery and the Panama Embassy are honoured to receive and present Olga Sinclair in Monaco. Until August 4 at the Kamil Art Gallery.
---
Rainier III, The Builder Prince – Exhibition
Over his 56-year reign, HSH Prince Rainier III profoundly shaped the Principality into the modern Monaco that we now know, rightly earning the nickname 'the Builder Prince'. In line with the centenary celebrations of the birth of the Sovereign, an exhibition shining a light on just how much the former Prince permanently transformed the face of his state featuring models, plans, photographs and more that have never been shown before is available to the public until Sunday, December 31 at the Salle d'Exposition du Quai Antoine Ier. Read more in our article here.
---
Looking Forward
Child CARE Monaco Vintage Rally – Annual Event
The 10th edition of Child CARE Monaco Vintage Rally will this year take place on September 10. An adventurous day in classic cars will carry the theme CHARLESTON to pay tribute to the year of birth of the Prince: The Twenties – 'Les années folles'. This Rally is the very first to welcome men to accompany ladies so the mixed teams will add a little twist to the theme.
As every year the organisers keep the details of the program strictly secret until the Day itself. Grand Arrival will be in Monaco at the Palace at 19:00.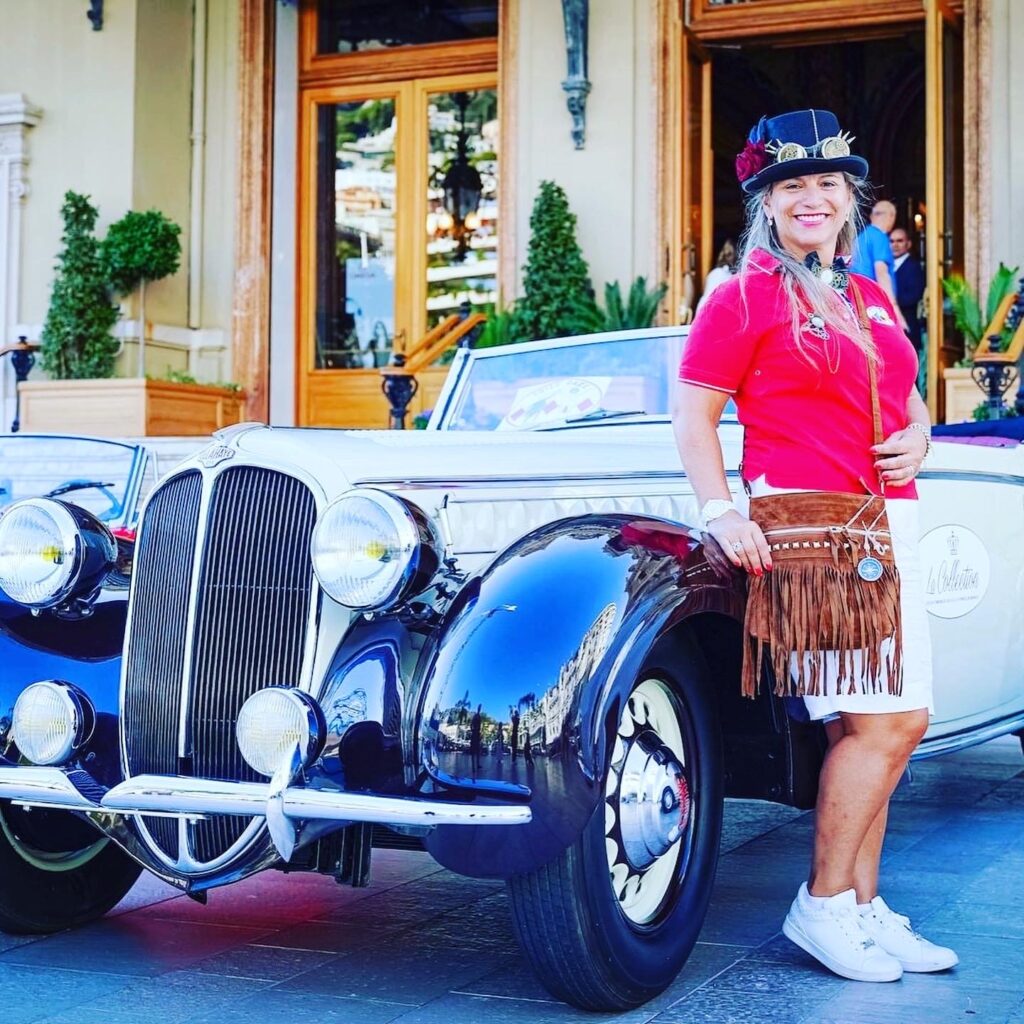 During the day ladies and gentlemen can count on a delicious gastronomic lunch in a "Mas Provencal", SPEAKEASY entertainment and afternoon coffee, the tombola and finally champagne cocktails and the awards ceremony at the end of the day at the Restaurant Castelroc.
Take the opportunity to drive exceptional cars around the Riviera or drive your own – minimum 20 years old – in the company of similar treasures, nothing like it! There is also an option to be driven by a chauffeur while enjoying champagne during the day.
There are only few places left for this glamorous charity event so please contact the team by email: childcare@monaco.mc if you wish to get more info or take part. The Association "Child CARE Monaco" (Charity Association for the Right to Education) was founded in February 2012. Their goal is to promote and help the education of disadvantaged children in the world.
---