It's not every year you turn 100, but this year Barclays Private Bank is celebrating its centenary in Monaco.
"It marks a very important moment in our history and we are marking it with a lot of energy and pride," said Gérald Mathieu, the bank's CEO.
Barclays was closely involved with Monaco Ocean Week and is a long-term supporter of the Prince Albert II of Monaco Foundation. It also has a long association with the Rolex Tennis Masters, which will be one focus of the centenary celebrations during the year.
Barclays Private Bank prides itself on its closeness to its clients, and at the beginning of the summer the bank will host a Gala Dinner to mark its birthday.
"We are very proud of our history. We were the first international bank to set up in Monaco, and we are now the only British bank in the Principality. Today the connection with the UK is two-way, and we offer the services of a private bank, an investment bank and a corporate bank," Mr. Mathieu says.
The bank has global capabilities, and is very active in providing credit for mortgages, including properties in the French Alps and in London.
"We have a proud history of running investment strategies and many clients come to us for our award winning Discretionary Portfolio Management (DPM) offering, our excellent trading desk and our Alternatives solutions, especially private equity and private placements offering," Mr Mathieu says. Barclays Private Bank in Monaco is by no means small, with more than 200 employees in the Principality.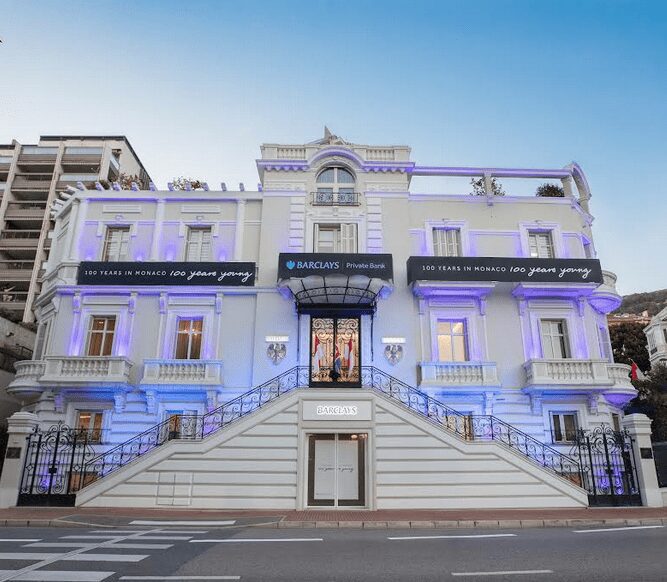 The coronavirus pandemic has been an interesting time: "In every crisis there is an opportunity," Mr. Mathieu says, adding that it's very important to find a balance between working and personal lives and the bank's experience of working from home has been very positive. "I would like to take the opportunity to thank my colleagues," he said, referring to the way in which the bank has emerged stronger from the pandemic.
"The pandemic has also made even more clear that it is crucial for private banks to provide a more engaging and personalised digital experience to clients and we continue to see more and more clients become new users of our digital offering, in which we continue to invest significantly. Throughout the last 100 years, Barclays Monaco has continually adapted as the needs of our clients have changed and as technologies have advanced. That is why I like to say that we are, in reality, 100 years young!" Mr. Mathieu says.
"Our main market is Monaco residents, and we emphasise sustainable impact investment, not just for the marketing pitch," he adds. "We need to be local, but also global, our clients need an international bank, with a global approach and a strong local presence and experience, and this is where we make a difference. From Monaco, we can leverage the "Power of One Barclays" and connect those local and international entrepreneurs and private clients to a broader offering, including the capabilities of Barclays leading Investment Bank and Corporate Bank to bring them enhanced, tailored propositions.
Looking forward it is very clear that Barclays Private Bank in Monaco counts strongly on its British heritage but without being blinkered or looking backward, very much aware of a rapidly changing world and with 100 years of tradition to count on.
MAIN IMAGE: Gérald Mathieu, CEO of Barclays Private Bank in Monaco Both photos: Ed Wright Images