UKRAINE NEWS ROUND-UP Updated 00:01, February 25: Ukrainians put up fierce resistance in the face of overwhelming odds on Thursday, February 24, the first day of Russia's unprovoked attack on its southern neighbour.
In the chaos of events it has been impossible to count or verify the number of civilian casualties during the day as Russian forces attacked from east, south and north.
On Thursday evening it was clear that Russian forces had taken control of the Chernobyl region, which lies on a direct route to Kiev from Belarus, while Deputy Interior Minister Anton Herashchenko took to Ukrainian parliament's Telegram channel to claim that Ukrainian forces had taken back control of Hostomel Airport near the capital.
Resistance to the invasion seems set to continue, denying Moscow the quick victory it may have anticipated. Ukraine's interior minister announced that 10,000 automatic rifles have been distributed to civilians in the capital.
Meanwhile, thousands of families have left the capital for the safety of Poland, Romania, Hungary and Slovakia, where waiting times at the main crossing point were up to seven hours on Thursday.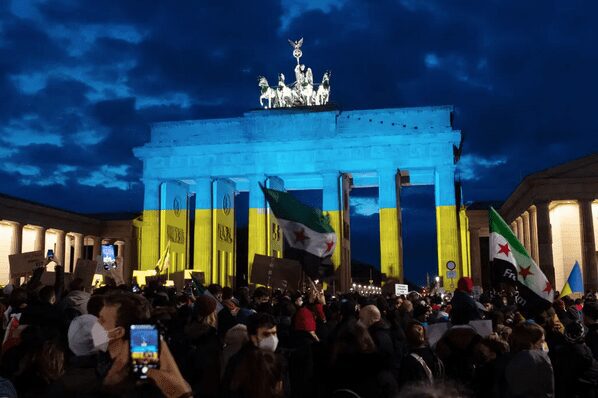 Brandenburg Gate
There has been a surge in support for Ukraine across the continent. About 2,500 people gathered at the Brandenburg Gate in Berlin on Thursday evening to protest against the Russian invasion. For the second time this week, the city had illuminated the landmark in blue and yellow to express solidarity with Ukraine, a gesture repeated at the Colosseum in Rome.
Near the Russian consulate in Tel Aviv, Russian citizens have been burning their passports in support of Ukraine.
Protests have also taken place in 40 cities across Russia, the OVD-Info protest monitor said.
Police detained more than 1,600 Russians protesting against Russia's multi-pronged military operation in Ukraine, while authorities threatened to block media reports that contain what the Kremlin described as 'false information.'
PHOTO: People attend an anti-war protest, after Russian President Vladimir Putin authorised a military operation in Ukraine, in Saint Petersburg, Russia, February 24, 2022. REUTERS/Anton Vaganov
RELATED STORY: https://news.mc/2022/02/24/russia-invades-ukraine-in-europes-darkest-hours-since-wwii/