Imagine this. You draw a design of a yacht that is futuristic (you think), visionary (you think), revolutionary (you think), an amazing concept (you think) and show it to your closest friends. The feedback is not good, rather critical. One of your friends even says, "life is short, do not waste your time". The only positive answer comes from your sister: Amazing! But later you find out she hasn't even opened the attachment of the e-mail message you sent. And she says Amazing! to anything you do anyway…
So before you put your design in the bottom drawer you send it to a couple of portals and magazines – nothing to lose – and move on. Not much happens for a couple of days.
One morning you wake up and you find that your design is… everywhere. Literally. They call it revolutionary (CNN), amazing concept (SuperYacht World), visionary (Sailing & Travel), futuristic (Monaco Reporter), impressive (design/curial).
"My first concept went viral, being published in more than 100 publications all over the world including CNN, Fox News, AD, GQ, all the yachting magazines that I was reading as a child – I was in all of them," says George Lucian, 32, whose day job is selling yacht insurance in Port Hercule.
He was born in Romania, in Oradea. Not exactly a seaside resort, quite the opposite in fact.
"I've always loved boats and I always drew them, non-stop. I have no idea where this comes from especially as I lived so far away from the sea. In school, high school, even throughout university I was always drawing boats.The yacht designs came later, they were more artistic and I was just doing them for myself. I love yachts, that's why I am working with yachts but I have never dared to imagine much more."
"When I was young I wanted to be an architect but then I wasn't good either in mathematics or technical drawing."
George won a scholarship at an American University in Vienna and after four years graduated with a degree in International Relations and International Business. Shortly after his graduation he began to work as a cruise ship manager for a company that operated cruise vessels on the Danube river.
"I continued to draw and I have always followed young designers in yacht magazines, that were there to fascinate you. These vessels were not there to be built. They were works of art and they only inspired my feelings and interest."
"So that's what I did, I draw even if only to fascinate myself."
George's very first serious design from 2017 is called My Dare to Dream. CNN described it as a "concept that could change the way we travel the world." A 140m Superyacht that has a 100m long airship on board "looking like something from a cross between a Jules Verne novel and a James Bond film."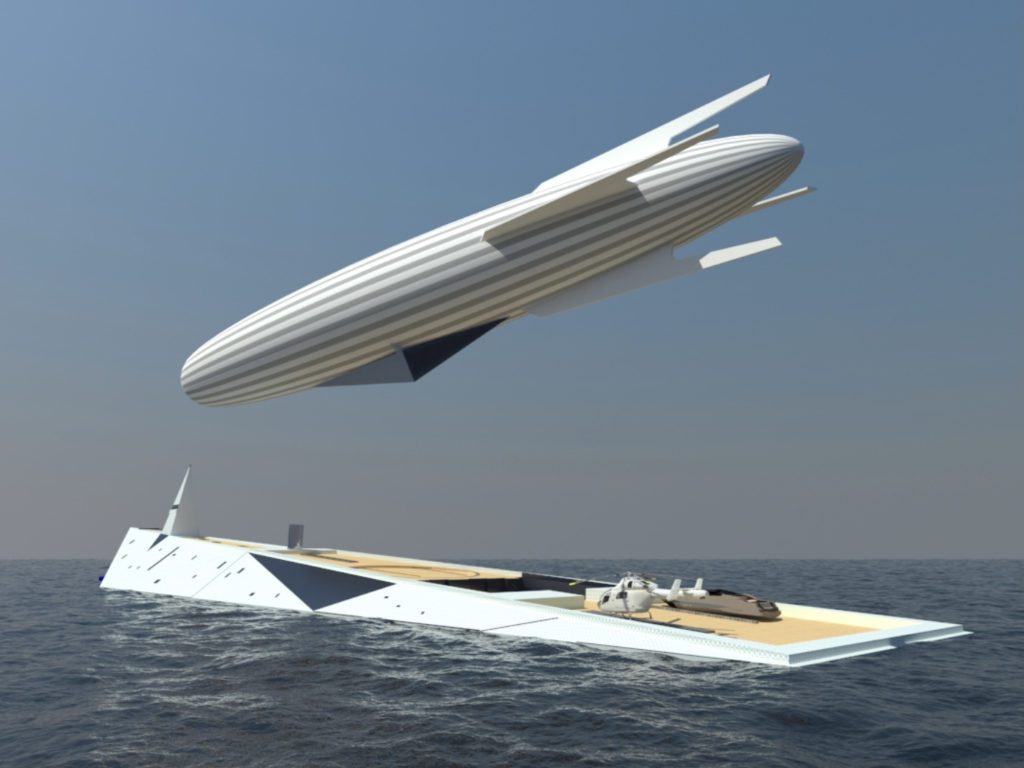 Saatchi Art started offering the Art Print of "MY Dare to Dream" by George Lucian online and George's description as a "Monaco-based artist" has changed to "Monaco-based yacht designer" shortly after.
"It's a gift of life, I have never ever expected it. I was invited to radio shows, television shows, received a special recognition from the Romanian prime minister and appeared on the biggest talkshow in Romania. University of New Jersey has invited me to give the lecture on my designs, I was nominated and shortlisted for The International Yacht & Aviation award."
This surreal and instant fame in the world of yacht design George never takes for granted. "It really helped me because now I am much more established in the industry. When I first arrived to Monaco eight years ago I was shy and this definitely helped."
Why did he choose Monaco? "Because I love yachts! And this is the capital of yachting. But the main reason is that I have been given an opportunity to work for an insurance company here so I moved from Vienna without a moment of hesitation."
George's current job and his passion for the drawing do not really overlap. "They actually complement each other and I love having both in my life."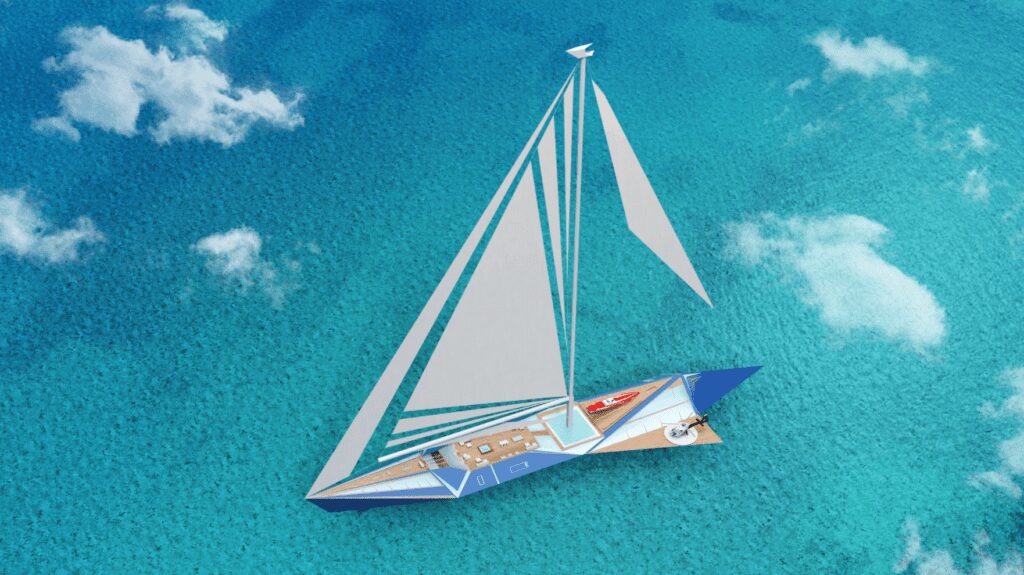 "At the moment I could never bring myself to draw a realistic yacht. There has to be an aspect of fascination and future."
Behind each and every Lucian's design, there is a story. The very latest is a Bond Girl. Created in collaboration with the Dutch Yacht Interior designer Hannah Hombergen. A sleek new trimaran concept that "is "dripping with enough sex appeal to lure the world-famous MI6 agent," says the Robb Report in one of its articles.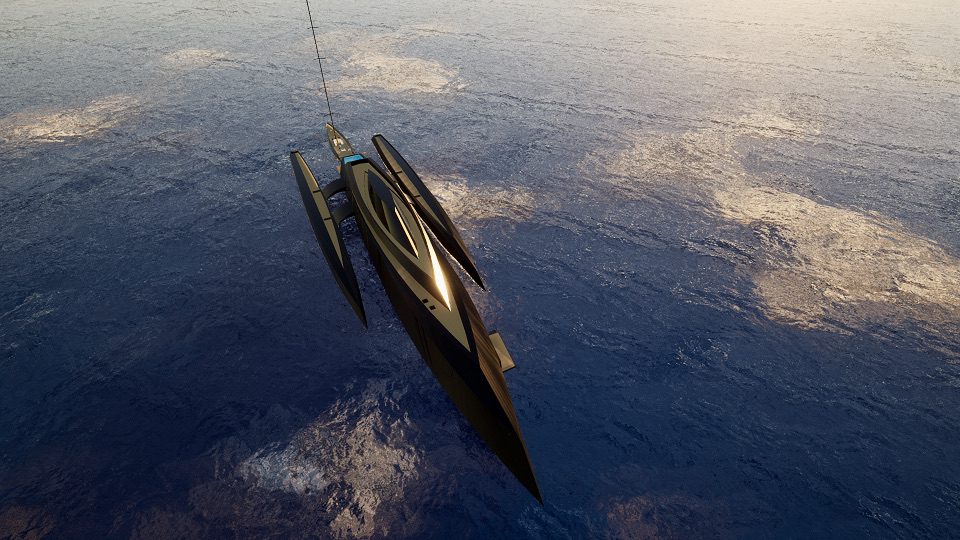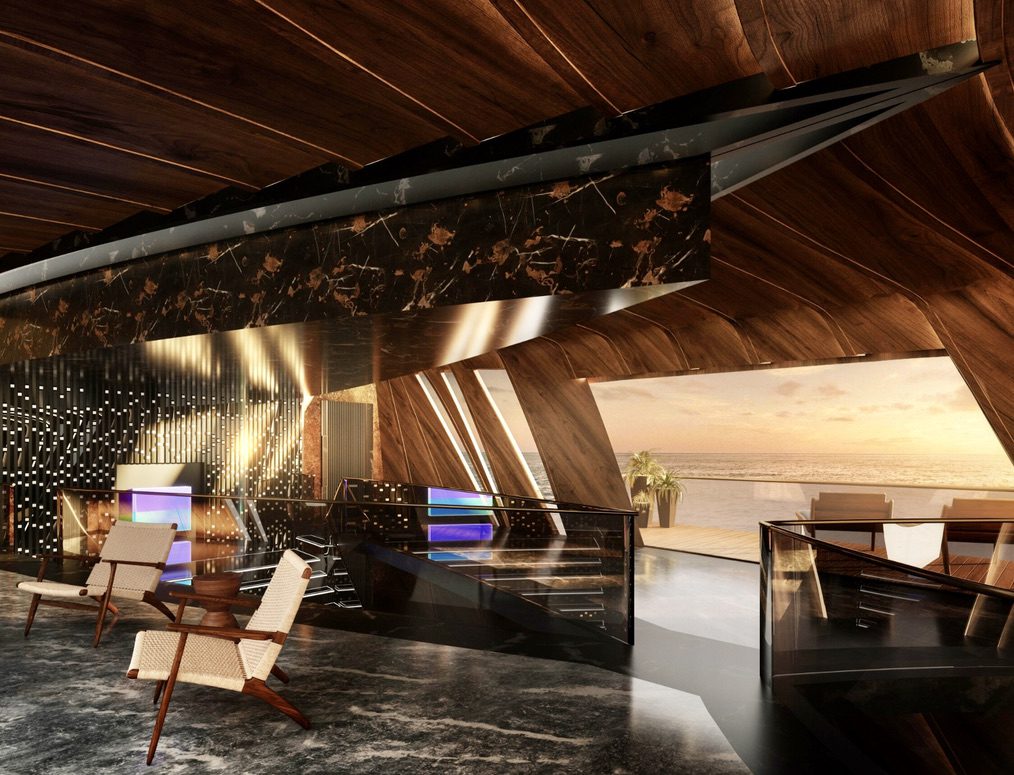 This is the second collaboration with Hannah Hombergen. The previous year they created a skyscraper proposal for New York City called the Vertical Yacht. A 1,500-foot luxury apartment complex. The design gained a lot of attention and acclaim. You can see CNN's coverage of the Vertical Yacht at the bottom of this page.
"Drawing is something I need to do. It's something that calms me down." says George, but one cannot help noticing that his futuristic designs have very little competition in their field. "I think I have more carriage because I have no constraints. I don't have to please anybody, I do not conform to any limits and also I do not conform to constraints of yacht designing because I have no education in this field."
Would that be an option for the future?
"Again, I am balancing between two worlds. I have just finished a Masters in Management in Paris and this I am doing for my 'formal' job, so to say. The future will have to reveal itself, really. I am not sure how this education would help me for this very moment. I wouldn't want to work for any other designer, or studio. I love my freedom."
Does he make money out of all that attention for his designs? "Not much", George laughs. "But I do get requests from clients to design their dream boats or even their villas, for example."
Did his day job change because he became such a celebrity?
George smiles and shakes his head: "Celebrity? Well I do have my name printed on the door of the offices now. My designs are in our advertising campaign which I am happy to say people from the yachting industry recognise."
"During the yacht show a lot of people were asking me about my designs. Probably more than they asked me about the insurance but those people already know that I sell insurance, which is fine."
"Of course a lot of people from here say that they had no idea I am drawing but my friends from high school tell me I never knew you were doing anything else."
It would be absolutely fascinating to see the faces of George's very first "critics", especially those who insisted that "life is short…".His sister Anka, a world celebrity in her own right as a magician mentalist, with mind-blowing and goose bumps raising abilities is still one of George's biggest supporters. In fact, they were both separately invited on the same famous Romanian talkshow of which the TV producers had no idea they were siblings.
"My mum wanted doctors and lawyers, here we are, both artists," says George almost embarrassed to tell me he has to go, he has two more interviews to attend – one with an online yachting magazine in Singapore and one with a Romanian radio station.
One last question…How does he unwind? Do I dare to ask?
"Some people watch Netflix, I draw."