Wannenes auction house is bringing extra glitter to the Principality this week with a fine jewellery auction on Wednesday and a very interesting Watch auction on Thursday, both in the big hall of Monaco Yacht Club.
The auction house's burgeoning reputation means that the lots being offered are somewhat special.
Teresa Scarlata, the in-house jewellery specialist and Director if Wannenes Monaco, told NEWS.MC that buyers are increasingly sophisticated and discerning. They are seeking quality above all else.
Among the most outstanding lots this week is an important single stone diamond ring , with an estimated selling price of between 600,000 and 800,000 euros (pictured).
There are several pieces with a British provenance, such as a bracelet made by Cartier for Lord Derby to celebrate wins by his horses Bosworth and Fair Isle at Ascot in 1930, the first in the Gold Cup and the second in the 1000 Guineas. The estimate for this onyx, enamel and cultured pearl bracelet is between 12,000 and 15,000 euros.
A charming cufflinks set in platinum, moonstone and diamonds with its original box from SJ Philips of London is estimated at between 1,000 and 1,500 euros. One button is missing.
The jewellery sale takes place in two sessions on Wednesday, July 19, with the first session starting at 14:30. Altogether there are 302 lots.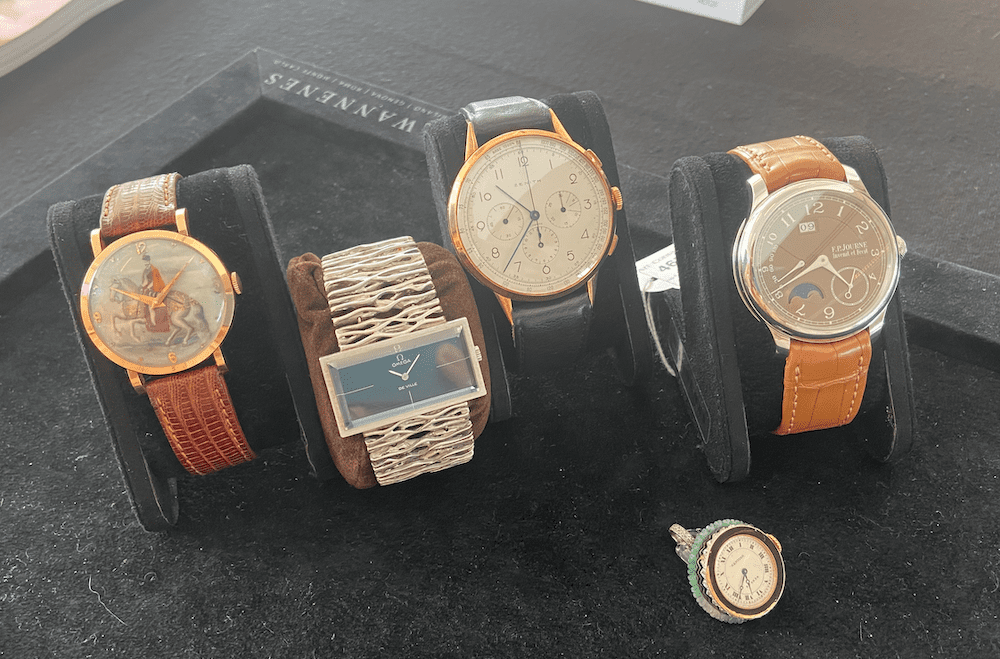 The most important feature of the Watch sale on Thursday, July 20, is its historical span. Michele Rosa, Wannenes enthusiastic watch expert, says that there are many collector watches on offer as well as what he likes to call the 'commercial' watches of the bigger brands.
The oldest watch is a tiny Cartier that dates from 1910 (lower right hand in the photograph), while one of the most unusual is a 'Big Zenith,' (also pictured, top) There are very few in existence, hence a low estimate of 20,000 euros.
There is a lot of interest in a watch with a face representing a Russian Tsar on horseback, Michele says. "These are not the usual watches and they represent a lot of choices for Monaco buyers," he added.
Viewing of the timepieces continues even during the jewellery sessions on Wednesday.
For more information: https://wannenesgroup.com/auctions/jewels19-july-2023