Frédéric Dormeuil. Quite an exotic, aristocratic-sounding name for a British chap who was born in Westminster and educated in Yorkshire from the age of nine. Still, the school was Ampleforth, the private boarding school once frequented by kings and princes alike, so it fits perfectly that he's now settled in the Principality of Monaco where he's resided for the last five years.

His French first name nearly didn't happen as the more Germanic "Fredrick" was the original choix-du-jour. Luckily, his mother saw sense and changed it to the more suave-sounding Frédéric, although jokingly announced to family members that she was going to name him Boris. Boris Dormeuil. Oh no, no, NO! There's nothing remotely elegant about the name Boris, plus it means "short" which couldn't be any less appropriate for a man who ended up being 6' 4". As a Boris he'd have been better off staying in Barnsley – where he funnily resided for a year and has also oddly enough had a good word with the Boris himself; former PM to the UK.

Fred, or Freddy, as he is affectionately known, is reminiscent of the actor, John Cleese (he of the Monty Python and Fawlty Towers fame). It's not just the long, thin high-stepping legs, it's the quick-witted, quintessentially-British, dry humour that flows eloquently, complete with a never-ending supply of hilarious facial expressions.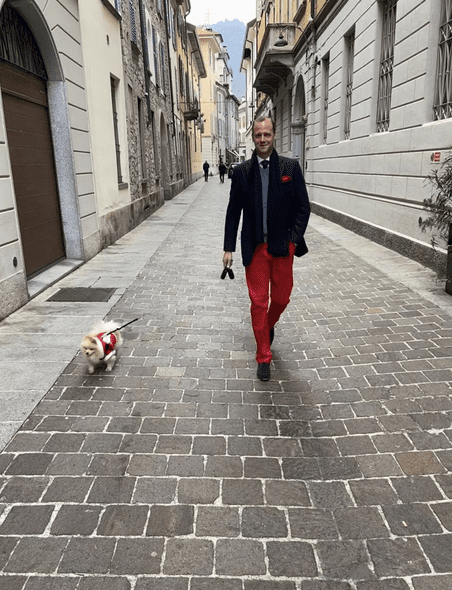 Oh yes indeed, our Boris makes you laugh. He's the eternal jester; observes others like a hawk, programmes in every human detail, every mannerism, every accent, then downloads it all and, at any given opportunity, role-plays it out before his audience in the most amusing and delightful manner. One minute he's Vijay the chatterbox Indian taxi driver picking him up from Delhi airport (who accidentally dropped him off at a hotel and not the British High Commission when he landed to reside in India back in 2002!), and the next he's Peregrine, Earl of Luthbourne, loudly proclaiming his interest for some "jolly fine filly". Every impersonation is a spot-on caricature of real lives. He really should be on the stage or tv. The world of entertainment is missing a natural, gifted thespian.

Aside from his quick wit and long legs, M. Frédéric Dormeuil is perhaps best known around town for his impeccable dress sense. This is a gentleman who definitely knows how to dress to impress. It might be worth mentioning here that Freddy was fortunate enough to be born into the famous Dormeuil fabric dynasty (dormeuil.com), so every bespoke tailored suit that adorns his slender physique has been carefully crafted using the finest cloth known to man. For a period of time he even worked for the family company, until they simply ran out of enough cloth to clothe him.

On a side note, I bumped into Freddy recently. I was on my scooter and he was, as usual, suited and booted and dressed to the nines, a vision in double-breasted Prince of Wales check. The unique aspect of this particular encounter was that he was sporting what appeared to be a large, fluffy rat on a lead. Turned out it was his girlfriend's Pomeranian dog, Fatkie. I had to stop the scooter and just have a moment of pure indulgent laughter at the comedy of it all. I'd never seen anything so utterly ludicrous walking the streets of MC. It was pure Monaco perfection!

When he's not walking the dog or leathered-up driving his beloved red Ducati 916 motorbike along the Côte d'Azur, Fred will most probably be found near a yacht. A big, luxury superyacht in fact. His résumé over the years reads like an A-Z of luxury brands around the globe, with time spent at Dunhill, A.Lange & Söhne and Aston Martin to name a few, but superyachts are what have really captured his attention. Fred was recently appointed CEO of SOS Yachting, a team of professionals offering fiscal representation services tailored to yachting. /www.sosyachting.com/

Aside from being the best dressed man in Monaco, Freddy is also willing to roll up his sleeves and muck in. He clearly enjoys giving back to the community. He won over the hearts of the Monaco Government's "Direction de la Coopération Internationale" who generously agreed to support his childcare centre in Senegal, and he's also one of the Ambassadors for SheCanHeCan, the brilliant gender equality charity in Monaco.

Do keep an eye out for him around town. Hopefully you've got a good enough description to go by. If in doubt, shout "Boris", then you'll find out if it's really him.
PHOTOS: Anette Cook