Monaco's Bartending competition has been brought back by Natalia Akerlund, the owner of Vino Royale Monte Carlo.
Nine bartenders from establishments including MayaBay, Equivoque, Blue Gin, Neptune, MayaMia, Trinity and Duke competed to create Monaco's most innovative cocktail infused
with cannabis aromas of Rozoy Picot Terpschamp.
Natalia started actively working with restaurants, bars and lounges of Monaco just over a year ago.
She noticed that there were so many young talented bartenders but no events or network to encourage them to show off their skills and learn from each other. She spoke to the chef barman of MayaBay, Jérôme Foures, about the idea of holding a bartending competition, which he immediately supported. After many months of hard work and planning, the competition finally took place at Trinity on February 6.
The jury consisted of Natalia Akerlund of Vino Royale Monte Carlo, Clément Rozoy (owner and creator of the Rozoy Picot brand), Jérôme Foures of MayaBay and Fred Laguillonie (barman of Blue Gin and champion of several bartending competitions).
Contestants were evaluated on four criteria: 1. Must feel balanced cannabis flavours of the cocktail 2. Creativity/visual of the cocktail 3. Name of the cocktail 4. Presentation/show by bartender.
For most of the bartenders it was their first competition and they felt very nervous. However, they all surprised the jury with creativity and skills they put into creating their unique cannabis aromas infused cocktail.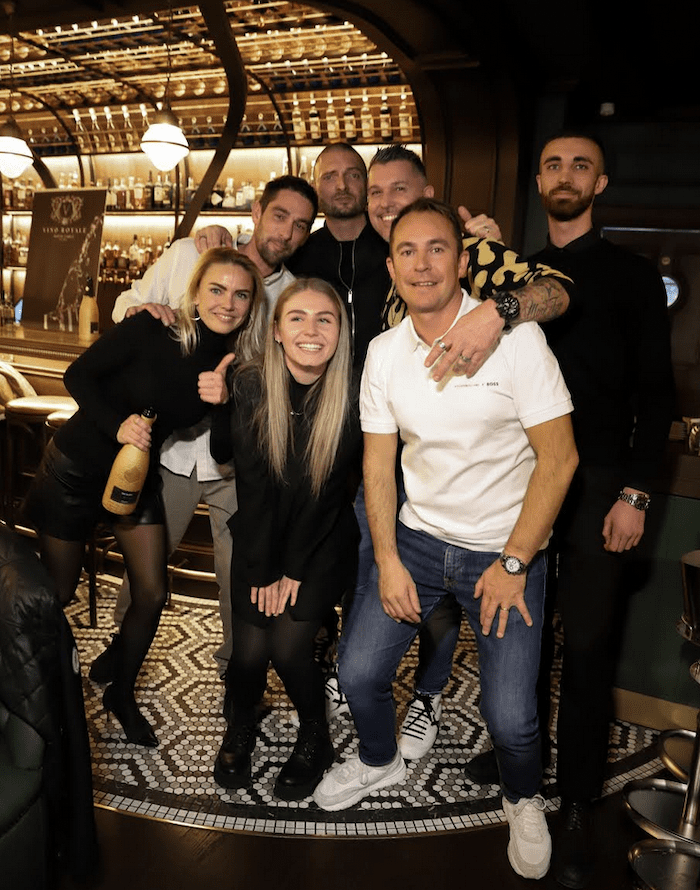 Happy bartenders
There were three prizes. The winner got a 2-night stay at les Chalets Fleurs de France in French Alps accommodating eight people sponsored by Vino Royale Monte Carlo, number two got a luxury gift pack of terpschamp, branded bucket and glasses sponsored by Rozoy Picot and the third winner received a voucher from Trinity for dinner for two.
The jury faced a tough decision to select the winners, but Jadee Lerouge from MayaBay was unbeatable in all aspects! Second place went to Elia Secci from luxury rooftop terrace Equivoque and number three was snatched by Kévin Beaucerf from Blue Gin.
Natalia said: "I was overwhelmed by the popularity and success of the event. We did it! And everyone loved it! Even though there were only three winners, every bartender put his/her heart and soul into creating the cocktail. I am proud of every single one of them."
This first competition had more of a professional format with family, restaurant owners, managers and staff attending and cheering for their bartenders. But due to multiple requests and popularity of the event, we are already thinking of hosting next one for summer, open for a local Monaco audience.
Vino Royale Monte Carlo is a family wine and champagne distribution company in Monaco working with restaurants, bars, nightclubs, event organisers, yachts and private customers.