Nearly 2,000 runners gathered for the great running festival in Monaco in its 13th edition in optimal weather conditions.
Organised by the Monegasque Athletics Federation and as a World Athletics event, was split into two parts.
On Saturday February 11, there are 170 runners – including around thirty from the AS Monaco Athletics School – who took part in the traditional 1,000m run on Port Hercule, while on Sunday February 12, three races were on the program: the City Trail, the 5km Herculis and the 10km APM Monaco.
A total of 1,750 runners took part. On the City Trail, Adrien Janin took first place with a time of 53:11. Maximilian Duquesne and Valentin Bouthier (AS Monaco) completed the podium in 54:03 and 55:28. For the women, it was Nathalie Favreau who won in 1:00:05 ahead of Nadezhda Soloveva (AS Monaco) (1:04:21) and Katia Bonnard (1:06:14).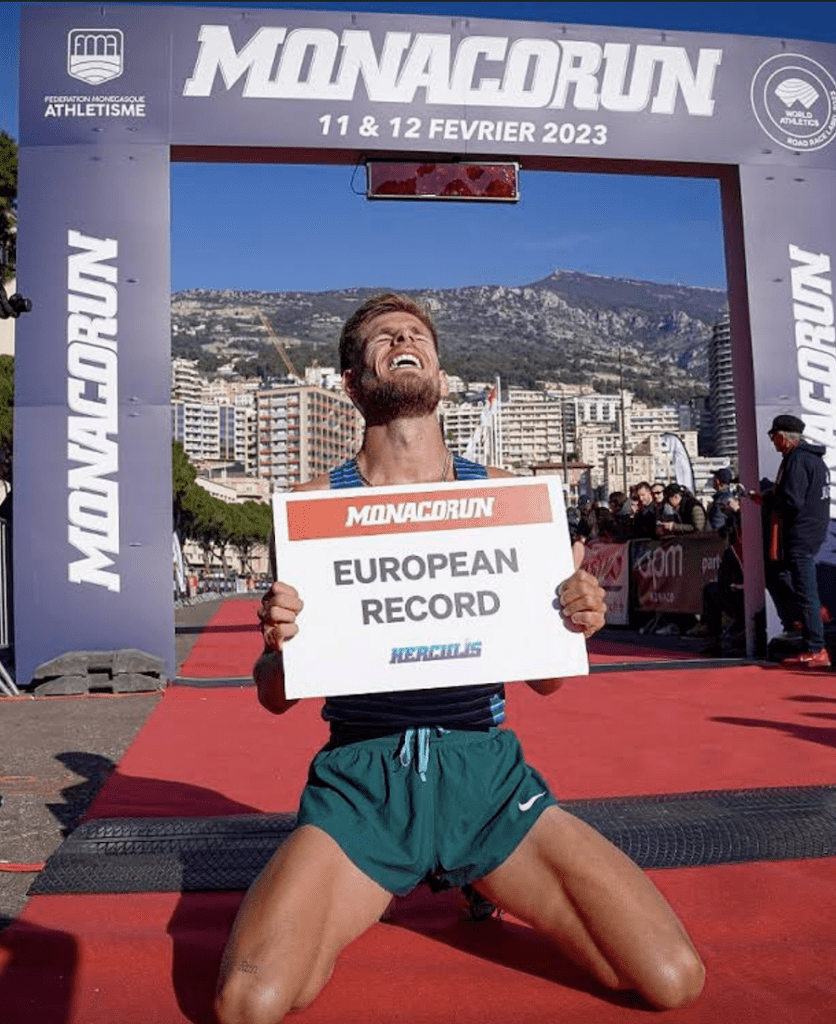 jimmy Gressier celebrates his win
The flagship event, the 5km Herculis, saw the triumph of Frenchman Jimmy Gressier in 13.12. This was an XXL performance for the athlete who has just returned from an internship in Kenya, the organisers said.
Thanks to his time, he recovers the European record by two seconds from the Italian Yemaneberhan Crippa, a record he had already had in his possession from 2020 to 2022 after his performance on Monaco Run 2020 (13:18). Dominic Lobalu (13:24) and Oscar Chelimo 13:32) completed the podium.
THE first member of AS Monaco, Alex Milne, ranked 25th in 14:54. Among the women, the victory went to Mirriam Chebet in 15:40 ahead of Ine Bakken (16:24) and Jenipher Contois (16:28). Adriana rigours di Guisto was AS Monaco's first in with a time of 18:49.
On the 10km APM Monaco, it was Yohan Le Berre who won with a time of 29:52. Behind him, we found Domink Herren (30:14) and Clément Simon (30:21). Come Sauval (43:51) was the best ASM contestant in this race. On the women's side, the victory went to Zuzana Gejdosova who crossed the finish line in 36:50. Lisa Migliorini and Elodie Lhomer completed the podium with times of 39:15 and 40:37. The best female performance on this 10km APM Monaco is to the credit of Maria Weber, eighth female in 42:37.
Finally, as part of the Monaco Run, the Pink Ribbon Walk was held in the traditional fund-raising event against breast cancer which brought together 200 people on the streets of the Principality.
ORIGINAL SOURCE & PHOTOS: Monaco Government Press Service