I've recently returned from a breathtaking experience. I have grown superhero legs and was able to cycle alongside world championship rider Veronica Larsson all the way up to the steep and mountainous parts of the Riviera and back to Port Hercule in just two hours. I now know how champions feel – seemingly an extension of a bike, riding fast and up like there is no pain. I did it, too. There was no pain. And I laughed.
Veronica Larsson is on a mission to get as many people from Monaco as possible to hop on a bike and explore the beauty of this area and to live an active and healthy lifestyle. I interviewed the Swedish pro rider a year ago and since then she has been insisting that I join her on one of her rides around the Riviera.
I like cycling, in fact I spent three years regularly commuting on a bike to and from my office in England until one day I "kissed" the tarmac avoiding a collision with a truck when my gears gave in and the brakes gave up. I could only imagine what my face must have looked like when I continued to cycle to the horror of everyone who saw me. I now know I will never have a lip enlargement. I look awful with swollen lips…
Veronica tells me she has a super bike for me to try. Electric assisted. I gather that this is supposed to be fabulous news but everything in-between the turn on and turn off button, which by the way is preferably a bright red shining colour straight in from me, takes a while to get used to. The button on the electric bike is blue. Not a bright one but rather discreet and thankfully I do not need to put my glasses on to find it.
There are three levels on which the bike provides assistance – aka makes you faster. The Eco mode gives you about 35 percent of the all torque (35 Nm), most of the work is up to you – but trust me, you need more than 35 percent help climbing those roads towards Eze, unless you are a pro, that is.
The middle level is Sport mode – 60 percent. Now this is just wonderful. The gentle push you feel once in a while puts a smile on your face and allows you to have a conversation while climbing all the way up. And then there is full-on 100 percent help Turbo mode – I call it cheating mode because to the outside world you really look like a pro but you are not.
I opted for the Sport mode. Life should never be easy. I was equipped with a Specialized helmet, instructed how to adjust the seat on my bike, and off we went. Leaving the Port towards Cap d'Ail and up, up, up.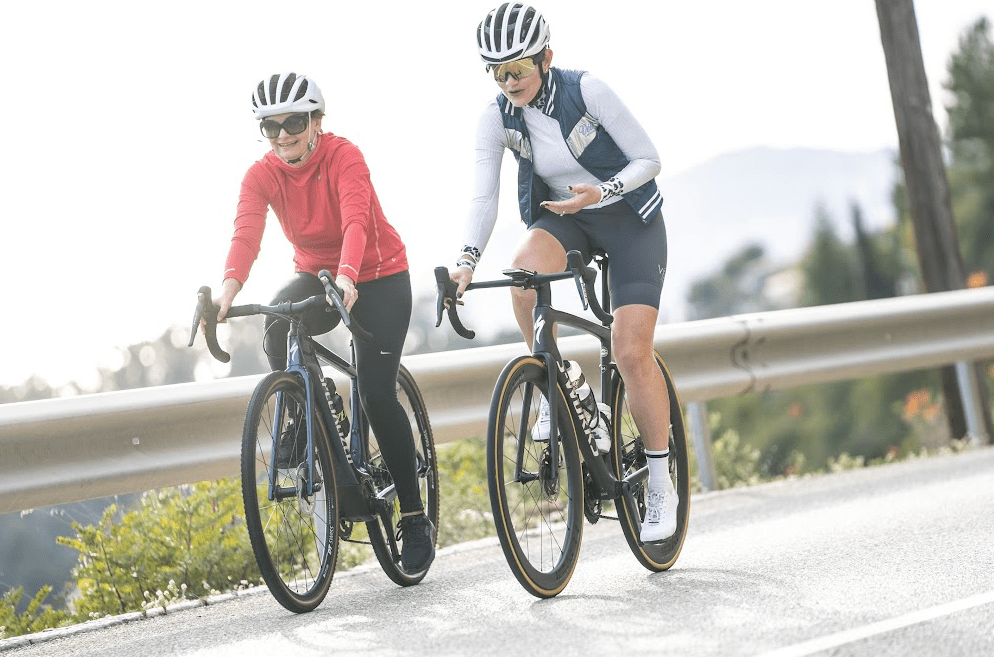 Veronica was absolutely invaluable as a guide while I was getting used to the new item on my Christmas list. She was my eyes on the road and kept us safe. "It's quite stressful in high traffic especially for beginners" she tells me: " I make sure that all you need to do today is to enjoy your ride."
And how I did. As there were fewer and fewer cars and more and more cyclists passing us it was as if we had entered another whole new realm. No need for me to describe the beauty around, you have seen it…or haven't you? Veronica tells me so many people book flights to travel far away to experience what we actually have on our doorstep.
The sheer camaraderie between cyclists recognising each other on the road is infectious. As is the constant support of my bike literally saying: Don't worry I've got you. That silent easiness and invisibility – no sound and no heavy elements, just a sleek good looking bicycle – really feels supernatural.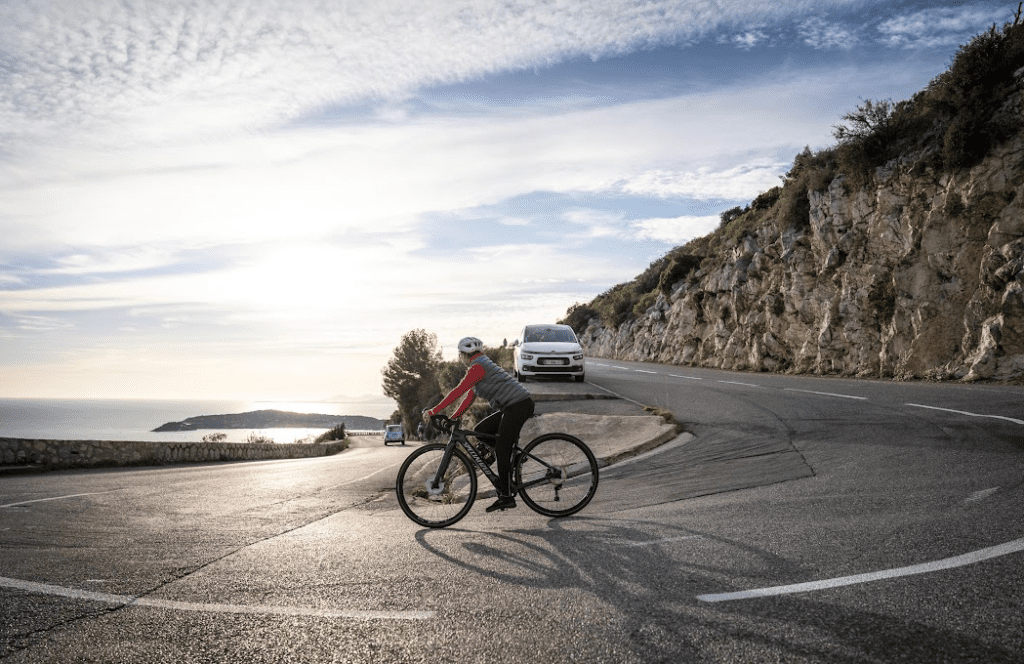 The electric assisted bike is still a fairly new kid on the block but what Specialized learned already is that people who ride e-bikes ride further, more often and more regularly. And they are getting as much or more exercise as those who are riding without rider amplification.
With my 60 percent support I did a two hour ride I would have not done at all otherwise. Having a sparring partner who gave me advice on how to ride correctly, what gears to use to engage the correct muscles for proper fitness benefit and simply sharing the experience was a lot of fun.
Arriving at the port my bike indicated I had only spent 10 percent of my battery – later on I switched to the Eco mode and coming down there was no need for help. Just what guys at Specialized promised: It's you, only faster.