Natalia Rotenberg, the ex-wife of Arkady Rotenberg, has lost possession of a London property following a court decision this week that handed the apartment back to the lender, Certain Bridge Ltd.
The repossession was ordered after Mrs Rotenberg (40) failed to make any payments against the short-term loan.
Arkady Rotenberg – a childhood friend of Putin – made his fortune in pipelines and added to his wealth after being awarded very lucrative contracts to build infrastructure in Crimea following its illegal takeover by Russia eight years ago. He has been subject to personal sanctions in the UK since 2020.
The couple have been involved in legal wrangles over a £27 million UK mansion and a villa in St. Jean Cap Ferrat over a period of several years.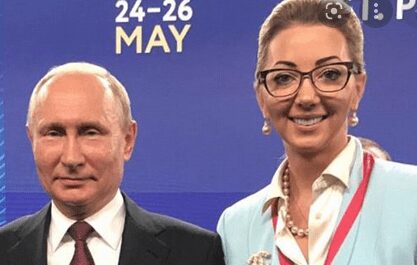 Natalia Rotenberg with President Putin Twitter
According to reliable and well-informed local sources, she has business interests in and around Monaco. Her website nataliarotenbergworld.com reports that she is active in multi-lingual publishing and plans a magazine. Other interests include fashion, perfume, home design, clothing and jewellery.
Her website states: "Natalia's own passion to achieve and succeed has propelled her to be the founder and current CEO of NR group, which as an international brand has holdings and numerous investments worldwide."
RELATED ARTICLE: https://news.mc/2022/02/01/spotlight-rests-on-local-oligarchs-close-to-putin/