As Europe faces an armed confrontation between Russia and western democracies, life for Putin associates along the Riviera continues very much as normal.
A reliable estimate of the number of properties in the hands of wealthy Russians on the Cote d'Azur is more than 2,000, some of them belonging to Vladimir Putin's closest friends.
Among the most high-profile of them are the Rotenberg brothers, Arkady and Boris, who grew up with Vladimir Putin in what was then Leningrad.
The older brother, Arkady, practiced judo alongside the president-to-be as a young teenager, and the trio became very close friends.
That closeness has endured for 50 years and helps explain how the brothers amassed fortunes of $3.1 and $1.2 billion respectively, ostensibly through the provision of construction services to businesses such as the oil giant Gazprom.
Apart from close ties with Putin, what marks the Rotenberg brothers out from hundreds of other Russian billionaires attracted to Monaco and the Riviera is their close involvement with the illegal annexation of Crimea in 2014 and the subsequent profits they made from huge infrastructure projects in the region still claimed by Ukraine.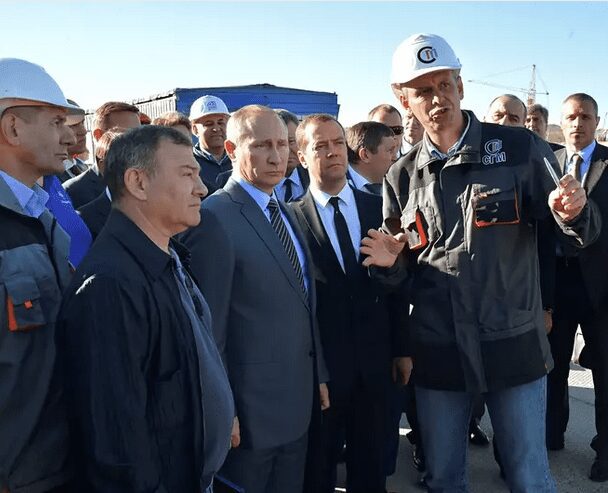 According to a New Yorker article on June 7, 2017, Arkady profited hugely from a bridge connecting Crimea with the Russian mainland, winning contracts worth $7 billion, including a $2 billion coastal highway and an underwater gas pipeline that came in at 300 percent of average costs.
Syphoning off funds that should have gone to shareholders has been the hallmark of the Rotenberg brothers, but the rip-offs have taken various guises. In 2013 Arkady was appointed chairman of the delightfully named Enlightenment Publishing House, which supplied school textbooks. In the same year the Ministry of Education checked the content of all textbooks in Russian schools and found many of them wanting, except for Enlightenment, which won 70 percent of orders for new textbooks in the Russian Federation, according to the New York Times on May 18, 2017.
But of all their projects, the construction of infrastructure for the Sochi Olympics and their Ukrainian projects have been the most visible.
It hasn't all gone Arkady's way. Italy confiscated a hotel in Rome and a number of villas in Sardinia, but with a total value of around 40 million euros that must have proven to be only a very minor irritation.
The EU sanctions imposed on more than 100 Russian businessmen whose assets were frozen following the annexation of Crimea in 2014 has not stopped the Rotenbergs from amassing an impressive real estate portfolio along the Riviera, although very often proof of beneficial ownership is hard to discover as that's the way it's intended to be.
Boris at one point married a Finnish woman and acquired EU residency rights, which means he has been able to continue to enjoy several vast villas hidden from view behind huge security gates close to Cannes, including an estate near Mouans-Sartoux whose complex ownership structure was arranged through a company in Monaco.
However, Arkady was included on a list of sanctioned individuals and lost the right to live in the UK in 2016.
In 2018 his former wife, Natalia (41), failed to renew her UK visa and has been living close to Monaco, where, she has said, she enjoys spending much of her time when not in Moscow.
There was a major incident three years ago when her residence at St Jean Cap Ferrat was taken over by armed men who she claimed had been ordered to evict her by her former husband. A UK court had granted her ownership of the building, she said.
According to reliable and well-informed local sources, she has business interests in and around Monaco. Her website nataliarotenbergworld.com reports that she is active in multi-lingual publishing and plans a magazine. Other interests include fashion, perfume, home design, clothing and jewellery.
Her website states: "Natalia's own passion to achieve and succeed has propelled her to be the founder and current CEO of NR group, which as an international brand has holdings and numerous investments worldwide."
Although divorced from Arkady, Putin's judo partner, Natalia continues to enjoy friendly relations with Vladimir Putin, who she describes as a wonderful president, "the best."
PHOTOS: Top, Natalia Rotenberg with President Putin, (centre) Arkady Rotenberg (left foreground) with President Putin at the opening of the Kerch Bridge. Kremln
SOURCES INCLUDE: Local sources, Organised Crime and Corruption Reporting Project, The Times, The Guardian, New York Times, the New Yorker, Le Monde, Tatler, Daily Beast, nataliarotenbergworld.com