Pierre Baldelli is a man who knows what he wants. After 45 years of preparation, working for many other top restaurateurs in London, Paris and Monaco, Pierre was taking mental notes and dreaming of his own place. Now open in Monaco at the top entrance to the Metropole Centre, Chez Pierre is the culmination of years of very hard work working for other owners, and now his long-term dream has come true.
Restaurants come and go in Monaco. Some make a mark, but many don't. The large hotels frequently change chefs or menus, make a song and dance about it, but little changes.
Despite his professional pedigree – Pierre was the manager of Cipriani in Monaco for many years – he is astonishingly modest.
Working in London, he was at one time the youngest-ever Maitre'd of a three Michelin star restaurant, The Restaurant MPW, later named The Oakroom when it moved to the Meridien, Piccadilly.
He won awards from Harpers & Queen, Tatler and the Evening Standard as the best Maitre'd in London. After eight years running Cipriani in London in 2012 he was enticed to Monaco to open Cipriani for Flavio Briatore.
"I am not a chef, in fact at home my wife takes care of that, and she's very good," he told us. "This is where I belong," he added, using both downturned hands to point to the floor. "I am up front, welcoming my guests and keeping a very close eye on how it's all going. I do what I'm best at."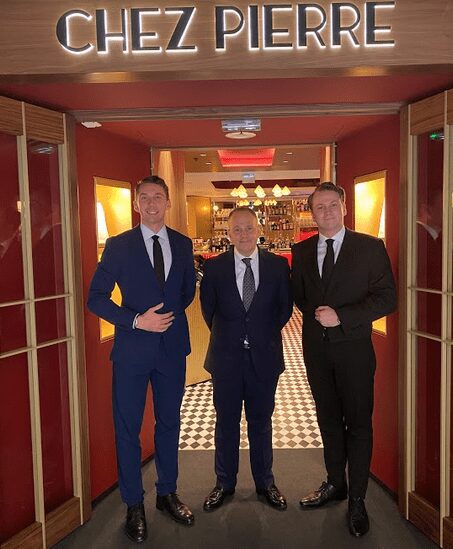 Pierre Baldelli, with his sons Marco (left) and Luca
Pierre Baldelli is British by nationality, with an English mother and an Italian father, and spent many of his formative years in the UK. He is a native speaker of both English and French. The same can be said of the two sons who work with him, Marco and Luca, effortlessly passing from French to English and back again with understated Baldelli charm.
The restaurant embraces Parisian elegance and charm with the warm ambiance of a private club. Everything in it is thoroughly thought-out, from the choice of wines, to the cutlery, to the lamps. There is a story behind every item.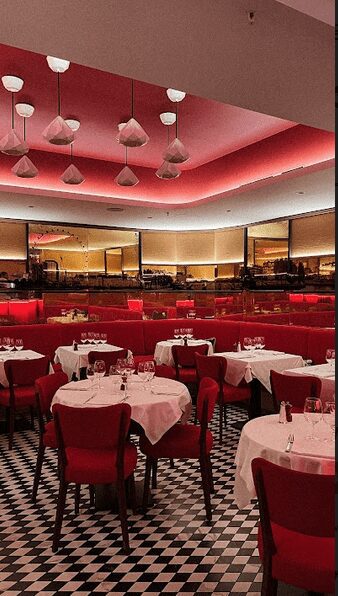 Chez Pierre is already a success having opened just one month ago. Its clientele includes many Brits and Italians, and very many are repeat customers, thanks to Pierre's warm welcome as well as the exceptional food.
Ah, the food. We tried many dishes and could not find fault with any of them in any aspect. Every dish surprised and delighted us.
Pierre says he has a special requirement for his food, what he calls 'the crunch factor.' This was very evident in the Chez Pierre salad, and in the Aunt's cake dessert.
Pierre tells a funny story about how the restaurant was named. "We toyed with La Madone, or in another nod to the locality, something to do with ave. Grande Bretagne. None of them was very fitting. Then one day I was talking with a friend, a prominent personality in Monaco, who asked: 'When will we be dining chez Pierre,' and that was it."
Chez Pierre is everything a restaurant should be.
The menu du jour includes starter, main and coffee, and is priced at 29 euros,
Reservations: 377 99 92 07 92