The perils of fashion, one of the most polluting industries in the world, took centre-stage during the Monte Carlo Fashion Week as calls for more sustainable and ethical wear are heard from the activists and consumers from around the globe.
Monaco Foreign Residents Club – CREM – on Wednesday hosted a panel discussion on Fashion's Circular Economy and Sustainability organised by the Mission for Energy Transition of Monaco (MTE), in partnership with the Monegasque Chamber of Fashion and the Town Hall of Monaco.
Annabelle Jaeger-Seydoux, the director of MTE, opened the lively discussion with positive news: Over 2000 individuals and companies in Monaco have decided to sign The National Energy Transition Pact and take action, at a level appropriate to them, to reduce their impact on the environment.
The new ambassador of the National Pact, Inès Bensalah, creator of her Monaco-based brand INESSA, suggested that the starting point of sustainability is to go further with our upcycling, using the qualitative and ethical process at our scale. We need to look at products' quality and how they are made to protect and save our planet.
Matteo Ward, the CEO and co-founder of WRÅD, an innovative start-up and design company dedicated to sustainable innovation and social change, told the audience that over 400 labels globally are now certified as sustainable, using for example, natural fibres in their material, but, he added: "the material doesn't define sustainability, it's more about the whole business approach."
"The European Commission has already asked us to stop using recycled plastic in our clothing, this is not good for health of our skin or the oceans, as the microplastics will end there."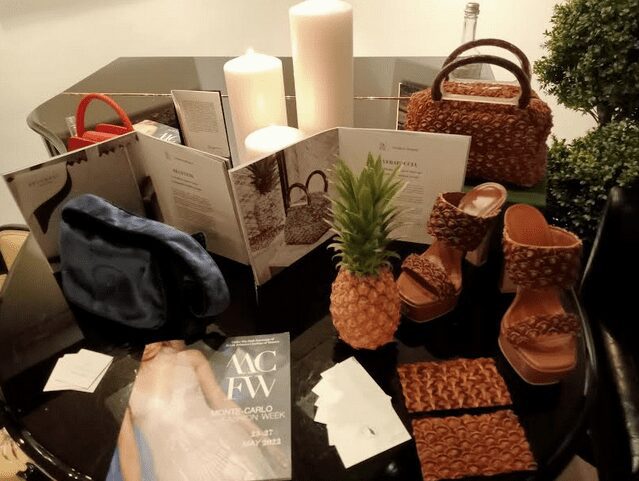 The winners of the Monte Carlo Fashion Week Sustainability Contest
The 10th edition of Monte-Carlo Fashion Week brought its highly-anticipated MCFW@ Sustainable Contest calling all "Green" designers from around the globe to send their short video representing the essence of their ethical and innovative vision. The Jury consisted of Federica Nardoni Spinenetta – President and Founder of the Chambre Monegasque de la Mode, Sara Sozzani Maino – Head of Special Project Vogue Italia, renowned designer Terrence Bray, representing HSH Princess Charlene of Monaco, and Matteo Ward, CEO and founder of WRAD.
Two winners were chosen this year: Verabuccia, which means 'true peel' in Italian – a sustainable innovative start-up for innovation in materials producing "Ananasse" through the use of real pineapple waste, and REGENESI, a Circular Economy Pioneer, which transforms the remnants of a consumerist society into products such as handbags and design objects.
PHOTO: from left to right: Fabrizio Moiani & Francesca Nori (Verabuccia), Claudio Betti, Matteo Ward, Annabelle Jaeger – Seydoux, Federica Nardoni Spinetta, Ines Bensalah, Marjorie Crovetto, Alexis Gianotti and Alfredo Montanari (REGENESI).