Founder and president of the Child CARE Monaco Association Martine Ackermann spends her weekends at the Monte-Carlo Country Club, one of the donation points for Ukrainian refugees. From 09:00 until 13:00 on Saturdays and from 15:00 untill 17:00 on Wednesdays she is organising collections for the Ukrainian Association from Nice. The first aid kits, blankets, clothing and sanitary products are packed and delivered to refugees currently in Nice but one truck each week also goes directly to Ukraine. 

"We urgently need cereals, meat and fish tins, pasta, salt & flour, sleeping bags & camping heaters as well as baby diapers, creams, sanitary napkins and shampoos. Baby-changing tables, baby bottles, baby powder milk and strollers would be very appreciated too." 

Her own association Child CARE Monaco has recently celebrated its 10th anniversary, but there was no big celebration: "There is so much to do now that I have no time to be looking back," says Martine in her sitting room where we met one morning for a quick chat.

When she was a little girl her mother used to say that she was not only going to climb mountains, she was going to move them. Martine's energy and insatiable hunger to discover the world around her made her walk and read and write much earlier than her peers. 

She grew up in a hardworking family, her parents owned a famous Patisserie in Nice called Cappa and she helped out on a daily basis throughout all her teenage years and beyond. 

A student of marketing and management at university, she also enjoyed singing in the local band and in fact, one evening looking for the pub where she was performing in Nice, she was rather lost and found herself being kindly guided by a young tourist. "I had the brightest purple hair, I had just cut my fringe rather too short and here is this German guy wearing glasses with a bright orange frame and very red cowboy boots! We were quite a pair. But he was the only one who knew where I needed to go so he showed me to the pub and we had a drink together," she laughs.

This was, of course, Bernhard Ackermann, her now-husband and a very supportive partner in all her charity work for the past 27 years. "I was going to go to London, had my job organised there, tickets bought and luggage almost packed," yet that didn't happen to the delight of her parents. Martine stayed, got married and moved to Monaco with Bernhard.
The travelling bug they both possessed made them change places at every opportunity they got and one day, almost exactly 25 years ago, they visited India. "This was a real cultural shock," says Martine: "the brochures don't tell you about the poverty, the slums, the deprivation. I couldn't stay there. I couldn't take it in. We had to leave…
"I have to say I feel very embarrassed and ashamed of my reaction. But later on when we took our two children on a trip around the world I insisted on two things: We will do humanitarian work as well and we will see everything, even the less pretty side to every country. Of course we had talked about it to Carla and Theo so they were better prepared than I was before."

The trip around the world took four months. In 2011 Martine, Bernhard, ten your-old Carla and seven year old Theo visited and helped in 13 countries including India, South Africa, and Costa Rica… By the time they returned, Martine had a pretty clear idea about what she would do next. "I started Child CARE Monaco in March 2012 with the mission to promote and help the education of disadvantaged children in the world."

The association run from Monaco established a school for girls near Udaipur, in the village of Trestha. What started as a class run from the grain silo lent by the village chief is now new-built premises that accommodates 110 girls. "The current school consists of seven classes, a library, a kitchen, sanitary facilities (with a shower), and a playground. The school has a kindergarten and the classes start at 6/7 years old until the girls are 13/14 years old. The qualified teachers teach Maths, English, Science and Hindi."

Child CARE Monaco also provides uniforms and two meals per day. Martine spends one month a year volunteering at the school. The last couple of years she was accompanied by her friend Annie and her daughter Carla. "When the children saw my daughter, I wasn't interesting for them anymore," laughs Martine.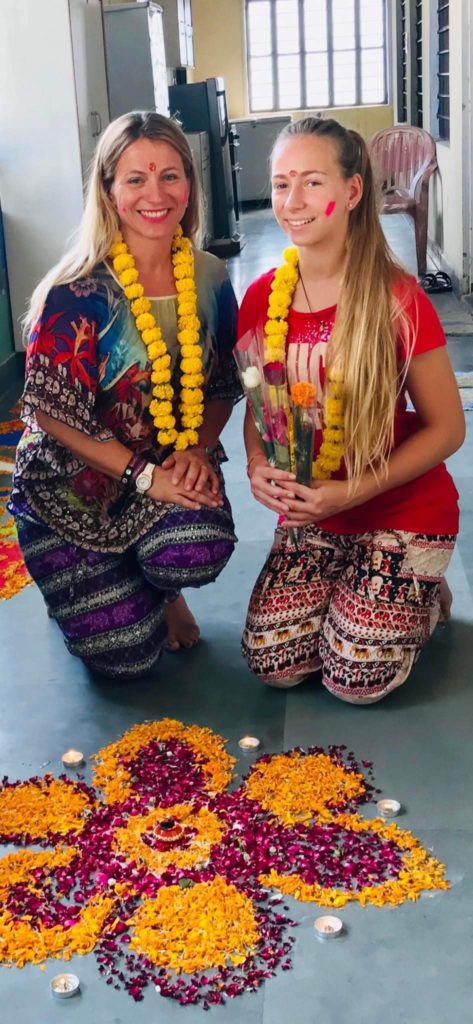 The school in Trestha is no longer the only project of Child CARE Monaco. Martine has supported building of a host house for the street children of the city of Jaipur. It welcomes 200 boys from six to 18 years old, who are able to stay there for 12 to 18 months to rehabilitate themselves in society. "A lot of these boys had very painful beginnings in life with some traumatic experiences. Here they are able to work with educators and support to feel they belong to a family."

One particularly successful project is a Bus Library set up in 2019. The library bus runs through the streets of the most disadvantaged neighbourhoods of Jaipur's "shantytowns" offering children an opportunity to 'escape' through reading.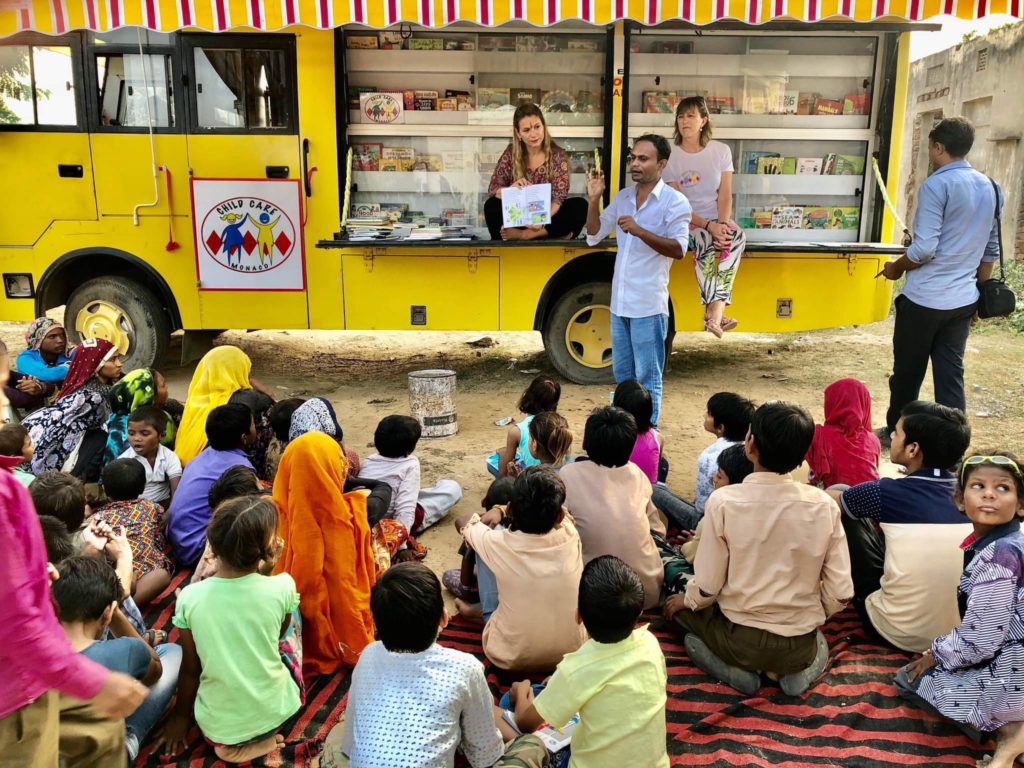 The list of Martine's projects is growing and no longer is it focused on parts of India only. She is starting to build a school in South Africa for orphans suffering from FAS (foetal alcohol syndrome) – Child CARE Monaco cooperates with Home of Hope in this case. Another joint project has been launched  with the Guatemalan association Aprendamos Juntos (Learning from each other) participating in the purchase of books for their future library.

Martine is adamant that changing the world starts within ourselves. "Be kind to yourself. Sleep well, eat well and spread kindness to others. It is really up to us to be happy. And happy people make the world a better place." She remembers when she hosted a group of Tibetan monks that attended an event in Monaco: "They were stopped on the street by random people who asked them 'how can we be happier?' They told me afterwards they were surprised: 'You have clean streets, no worries about where the next day's food comes from and roofs above our heads, what's there to be unhappy about?"

Especially now when the world is in turmoil, the real satisfaction or reward comes after helping out, says Martine: "It's a circle of life, what goes around, comes around." 

Helping out may also be a lot of fun. Child CARE Monaco's fundraising Vintage Car Rallies have become quite a staple on the social calendar. Each September, the Vintage Car Rally takes place with participating ladies and a maximum of five gentlemen drivers for those ladies preferring not to drive while enjoying the ride along the French Riviera with fine dining and other activities at its several stops. 

The tickets are sold in advance and they sell out quite quickly! This year's rally will take place on September 11, and the theme is connected to the commemoration of the centenary of the death of Prince Albert I of Monaco and covers the Belle Epoque, period of peace and abundance. A feast for the eyes not to be missed!

"I forgot to tell you that in January 2021 we started supporting another school in the South of India", writes Martine in the message I receive when I get home. 

Martine Ackermann: Moving mountains indeed.

For more info or donation please visit https://www.childcaremonaco.com
Featured photo: Martine Ackermann with the students from Trestha
Photo middle: with daughter Carla, bottom: by the Library Bus with Annie De Jonckheere