Ian Brodie with Reuters: The Principality has scored a major success in its ongoing vaccination program, with the vast majority of older residents having received at least two jabs.
However, there has been great concern at the top of the administration over the slow take-up of vaccines among the younger sections of the population.
Although the evidence shows that younger people are less likely to become seriously ill with coronavirus, this does not stop them spreading it. This is of particular concern over the festive period, when families come together to celebrate, and, in normal times, to crowd together to see in the New Year.
An analysis of Monaco Government data by Reuters indicates that the Principality has so far (to December 18) administered 49,980 doses of coronavirus vaccine. Assuming every person needs two doses, that's enough to have vaccinated about 64.1 percent of the country's population, Reuters says.*
Monaco statistics from Reuters: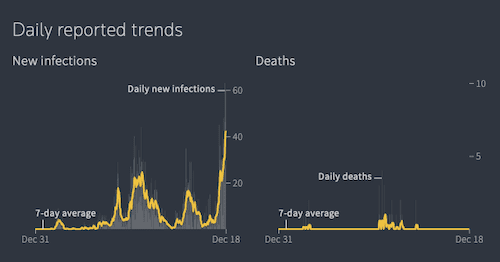 "During the last week reported, Monaco averaged about 94 doses administered each day. At that rate, it will take a further 83 days to administer enough doses for another 10 percent of the population," Reuters said. It should be noted that these figures are for the total population, and not only adults or over-12s.
"COVID-19 infections in Monaco are at their peak — the highest daily average reported — now at 42 new infections reported each day. There have been 4,390 infections and 33 coronavirus-related deaths reported in the country since the pandemic began."
According to Reuters data, Monaco's benchmark infection rate per 100,000 now stands at 762.
Meanwhile, Public Health France reports that the rate in the neighbouring Alpes-Maritimes, as of Sunday December 19, stands at 829 per 100,000.
"This vaccine rollout data is reported by the number of doses of coronavirus vaccines administered, not the number of people who have been vaccinated. Because most vaccines require two doses and many countries have different schedules to deliver the second dose, we don't know with this data how many people have ultimately received both doses." – Reuters
GRAPHS: Reuters