He is considered one the most talented chefs of his generation and has been in charge of the kitchens of Monte Carlo Bay since 2005.
The chef Marcel Ravin was 14 years-old when he cooked his first meal alone. "It was chicken and pasta. My mum was away working long days and I wanted to surprise her when she came home… and she liked it. And not only her but my siblings too! That was my initiation, really. I realised I loved to prepare food for other people and see their happy faces."
Although this was his first solo creation, Marcel was no stranger to the process of cooking. His grandma had 10 children and a lot of grandchildren. "She was always cooking, always for a huge crowd and I was fascinated by it. Observing the skill, getting familiar with the tastes and no doubt annoying her by being in her way and asking: "Why don't you put this in and why did we mix that with that? In my grandma's house the food was everywhere, the scraps of vegetables on the floor that was simply soil and as we walked over it the food became part of our floor."
Marcel Ravin was born in Le Diamant, a town and commune in the French overseas department of Martinique. "We didn't have much money but the love, brotherhood, the sense of belonging, participating in the life of the village and being useful are the qualities that I place way above any material gain. I am as I used to be. I haven't changed."
He was not a studious type, unlike his three siblings who did much better at school. When he was 17 he left Martinique for mainland France to formally learn to cook and get acquainted with food he had never tasted before like artichokes, mushrooms, asparagus, foie gras…
He began in Alsace at the Château d'Isenbourg in Rouffach and then continued his experience in many starred establishments. He was soon noticed and was invited to Monaco to lead new kitchens at the new holiday resort the Monte Carlo Bay.
"I was here from the very beginning, I saw the lights being fitted in the main hall, I was the new chef but all the team were new. We were very excited to be part of something extraordinary and we gave it our all, we worked really hard…coffee after coffee, no sleep really."
And how is it now? I ask. "Pretty much the same," laughs Marcel over a café allongé in the Monte Carlo Bay's lounge bar.
The excitement is now growing for a very special dinner organised in partnership with Veuve Clicquot: a new "Garden Gastronomy" concept where "grand cru" vegetables mingle with "grand cru" grapes on Wednesday December 15. Marcel Ravin is in charge of the flavours, aromas and unforgettable experiences for the re-opening of the Blue Bay restaurant.
Although, he says: "One can only get pretty close to perfection, the perfect dish doesn't exist. The principle is to cook with all your energy and your heart in order to make the person you're cooking for happy. It's all emotional, the synergy is between the energy of the cook and the expectation of the client who should receive not only what they expect but more."
"There are many good chefs out there but if you do not take the good ingredients at the right time of the year and if you do not put good energy into cooking – can you call yourself a good chef?"
The Michelin Guide considers the "modern and elegant Monte Carlo Bay Hotel and Resort a superb backdrop for chef Marcel Ravin's creative and committed cooking. "From Martinique to Monaco,"says the guide, "he takes us on an unparalleled culinary journey."
A Michelin star may be associated with a chef's name but "you can only aspire to it if the entire team is on board ", says the chef. "I never thought this would be part of my journey but after 10 years here I felt that we have an incredible team of people working together and only when I had a 'yes' from each and every one of them we could go for it." The Blue Bay is one of a handful of restaurants in Monaco with a Michelin star.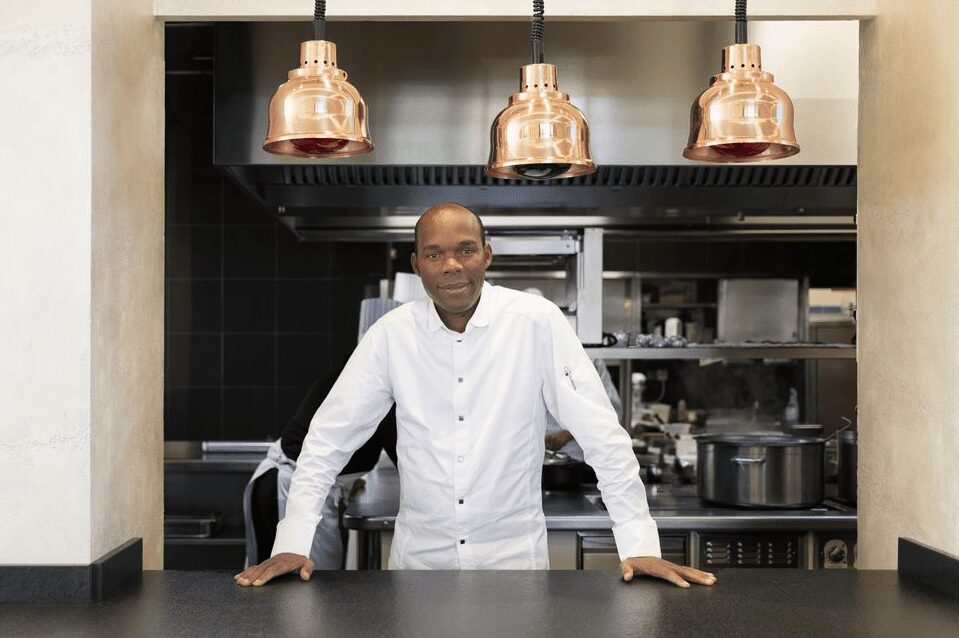 The usual team of 80 has been somewhat diminished to 40 due to Covid in 2021 and although the times may be turbulent Marcel Ravin claims he doesn't really experience stress – the word so many times associated with famous chefs – in his professional life. In fact, he is at ease. With himself and with the world.
He wrote two cookery books, one of which is called "D'un Rocher à l'autre – itinéraire d'un chef" (From One Rock to Another – A Chef's Journey) and has been reissued a second time since its first publication in 2012.
The book published by Éditions La Martinière offers 60 "fusion" recipes that bring together products from the two regions, Martinique and Monaco, that have marked his life: prawns, chatrous, mango and hibiscus rub shoulders with chanterelles, truffles, pigeon and foie gras. This gourmet itinerary also recounts the experiences and influences of Marcel Ravin: those of Bernard Loiseau, Joël Robuchon, Marc Veyrat or Alain Ducasse.
Illustrated with photos signed Iris L. Sullivan (La Truffe), the book is also a beautiful picture book showing the worlds of Marcel Ravin: the places in his life, the products, the tastes and the colours that create his universe. A cuisine that is traditional, contemporary and mixed.
Rumour has it that a third book is on its way as well as another project, maybe a dream, that keeps shaping up and he will share more when it's ready, he says.
Looking back at his life and also ahead is not something he dwells on, mostly for a lack of time. But as someone as close to being a celebrity that can be in the world of cooking, he is asked to be interviewed and talk about himself very often.
"Not bad," he says with a smile. "Not bad for the boy from Le Diamant who couldn't read at the age of eight."
PHOTOS: Top and centre, Benjamin Vergely, below, with HSH Prince Albert at a recent waste-reduction event at the Oceanographic Museum, Martina Brodie