Tuesday 7
'Farewell' – Tout L'Art du Cinema
The Audiovisual Institute of Monaco presents a screening of the 1981 USSR film 'Farewell', from 20:00 at the Théâtre des Variétés on Tuesday, December 7.
The film is directed by Elem Klimov, and is an adaptation from the novel by Valentin Rasputin called 'Farewell to Matyora'.
The movie will be screened in its original language of Russian, with French subtitles.
Discover more on the Tout L'Art du Cinema website.
---
Wednesday 8
'Paw Patrol: The Show!'
The popular children's animated series 'Paw Patrol' comes to Monaco in the form of a show. The Grimaldi Forum will host two performances on Wednesday, December 8 from 14:30 and 17:00.
Discover more on the Grimaldi Forum website.
Reserve tickets on the Monte-Carlo Ticket website.
---
Saturday 11
Handel's Messiah
Vocal and instrumental ensemble 'Ristretto' returns to the St Paul's Anglican Church in Monaco to perform George Frideric Handel's Messiah from 19:00 on Saturday, December 11.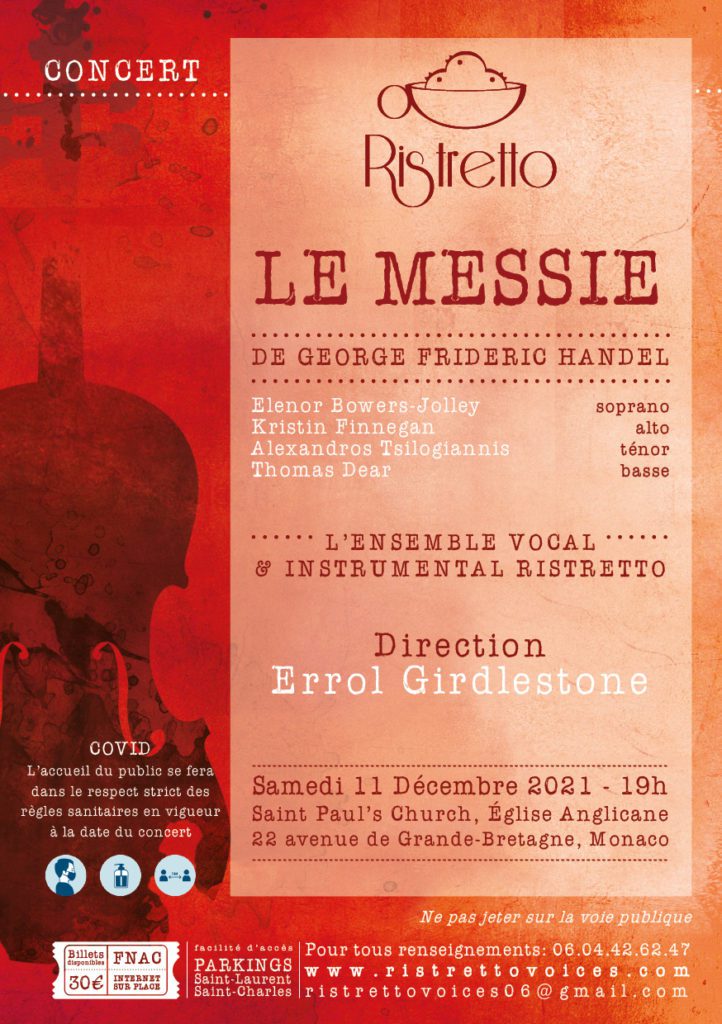 Reservations can be made by calling 06 04 42 62 47 or emailing ristrettovoices06@gmail.com. Alternatively, tickets can also be reserved for 30 euros in FNAC.
---
Sunday 12
'Il Corsaro' – Monte-Carlo Opera
'Il Corsaro' will Premiere at the Monte-Carlo Opera on Sunday, December 12. Il Corsaro is a tragedy in three acts, that is accompanied by the music of Giuseppe Verdi. Verdi's music will be performed by the Monte-Carlo Opera Choir and the Monte-Carlo Philharmonic Orchestra.
The performance will begin at 15:00, in the Yakov Kreizberg room of the Auditorium Rainier III.
Discover more on the Monte-Carlo Opera website.
Reserve tickets on the Monte-Carlo Ticket website.
---
U Giru de Natale 2021
The Principality's annual Christmas run is back. "U Giru de Natale is the ultimate race in Monaco open to all, with routes suitable for young and old," reads the event's website.
Participants will run, jog or walk the 10km long route, which will pass through Port Hercule, the Rocher, the Grand Prix track and more.
Discover more on the U Giru de Natale website.
Please note: prospective participants must present a valid PCR or Antigen test that is less than 24 hours old, regardless of their vaccination status.
---
Looking Forward
"The Drama Group of Monaco will be performing Patrick Barlow's modern pantoesque adaptation of the story by Charles Dickens 'A Christmas Carol' on Thursday, December 16 at 20:30 in the Salle Des Variétés in Monaco. Places are bookable on the website dramagroup.com -or by telephone 07 85 33 07 74.
This classic story of greed, grief, ghoulish ghosts and eleventh-hour redemption is thrillingly retold as never before. The perfect start to your family Christmas celebrations!"
---
Featured image: George Frideric Handel