On the first day of the main Rolex Monte-Carlo Masters tennis tournament matches, a ceremony was held by the Monte-Carlo Country Club to unveil a plaque in memory of Baroness Elizabeth-Ann de Massy. HSH Prince Albert II wished to be present at the ceremony, in order to pay tribute to his late first cousin and friend.
Elizabeth-Ann de Massy left behind a lasting legacy, as she worked tirelessly to promote and develop the M.C.C.C., the Rolex Monte-Carlo Masters and the Monegasque Tennis Federation until her passing on June 10, 2020.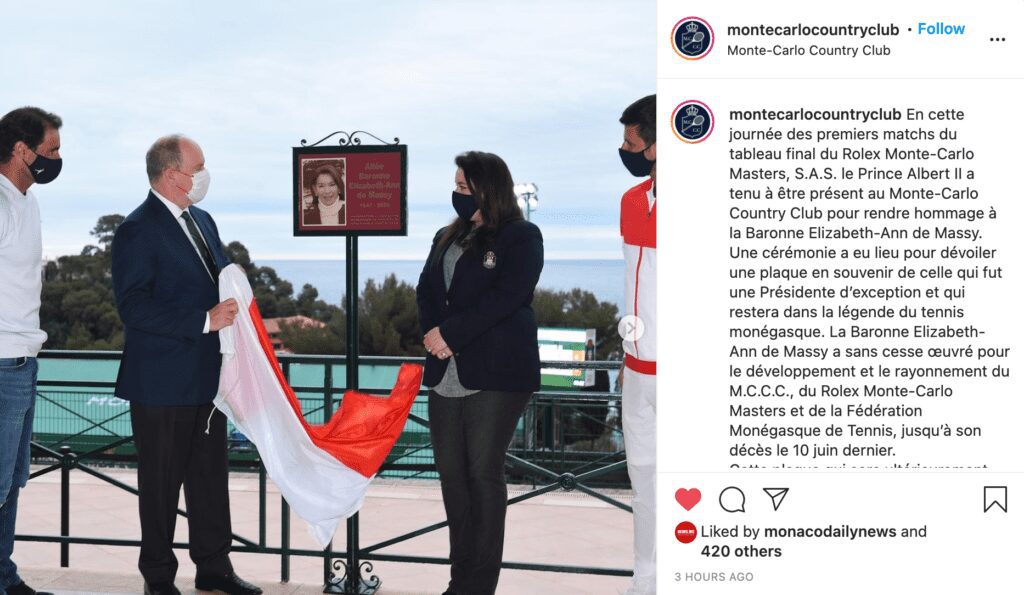 The plaque is set to be installed at a later date on the main alley of the country club, and was unveiled in the presence of HSH. the Sovereign Prince, the Baroness's daughter Miss Melanie-Antoinette de Massy, as well as Novak Djokovic and Rafael Nadal. Like many other players, Djokovic and Nadal were greatly fond of Elizabeth-Ann de Massy.
featured image courtesy of the Monte-Carlo Country Club on Instagram