Back in May of this year we published an article about the Bugatti Divo, a hyper-car designed to dominate any track and the model which the company's CEO, Stephan Winkelmann stated was the last hurrah for Bugatti's mighty W16 engine. Well fortunately, Mr Winkelmann was wrong as the mad men in Molsheim have pushed this big chunk of engine to its very limits in the Bugatti Bolide, a hyper-car that is generally unfamiliar with the mere notion of limits.
Winkelmann said in an introduction to the car, that his design brief was as simple as "What if? What if we completely unleashed the power of our W16 engine while reducing weight to a minimum?" and ever eager to impress, the Bugatti engineers got to work, only to unveil the utterly bonkers Bugatti 'Bolide' just months later. This speed machine may look like it could only ever exist as a digital render but it is very real and very raw. Just look at it!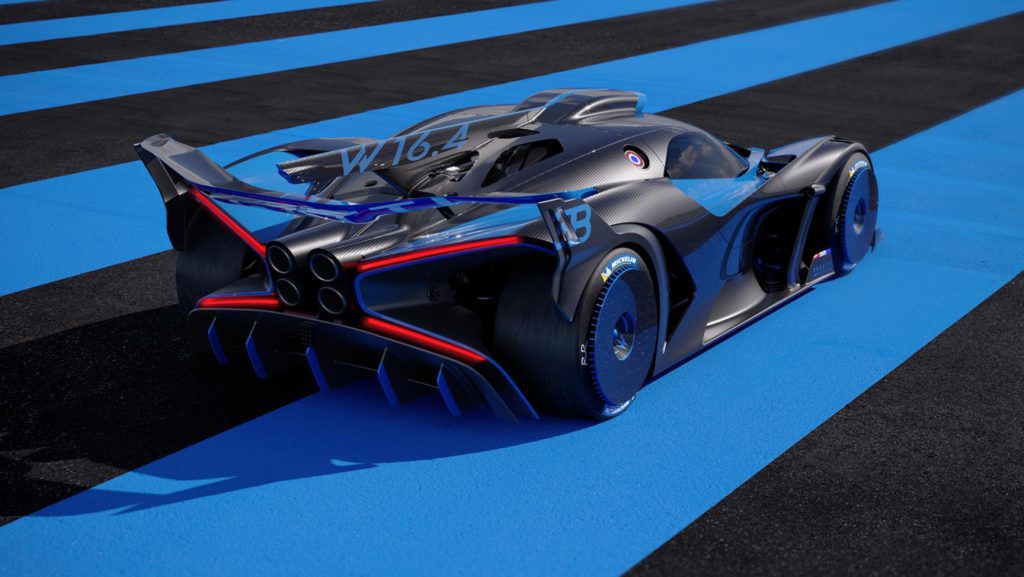 This uncompromising machine has a staggering weight-to-power ratio of 0.67kg per horsepower, a result of 1825bhp in a car (if you could even call it that) that weighs only 1,240kg. That is about as much heft as you'd find in a Renault Clio. This is a result of the Molsheim men mating the monstrous quad-turbocharged 8.0L W16 engine to an obsessively lightened a chassis, comprised mostly of carbon fibre. Below is a demonstration of just how new and evolved the Bolide is from its not so baby brother, the already mind-blowing Bugatti Chiron Pur Sport.
I say obsessively lightened because every aspect of the Bolide has been revised in the spirit of shedding weight. The monocoque chassis for example is carbon fibre, which has a tensile strength claimed to only be matched by components found in the aero-space industry. Furthermore, all the screws and fastening elements are titanium, while the front and rear wheels weigh just 7.4kg and 8.4kg respectively. These paperweight wheels then fit extremely wide tires with the rear tyres measuring in at 400mm, for handling and big skids.
The body is unsurprisingly shaped with aerodynamics in mind, as the front and back wings combine efforts to produce 2,600kg of downforce at 200m/ph, less than a third of the claimed top speed. "In my 16 years at Bugatti, I've never worked on a more extreme concept," said the design boss, Achim Anscheidt. The Bolide is more than just a machine that is capable of speed, but a tribute to speed itself. The doors and air ducts are reminiscent of LMP1 and F1 cars and the best part, that ass. Yes, without trying to sound rude I reference those sizeable 'X-wing' rear lights, which have been arranged in such a pattern to reference the Bell X-1 experimental jet aircraft that Chuck Yeager piloted to become the first person to break the sound barrier in 1947.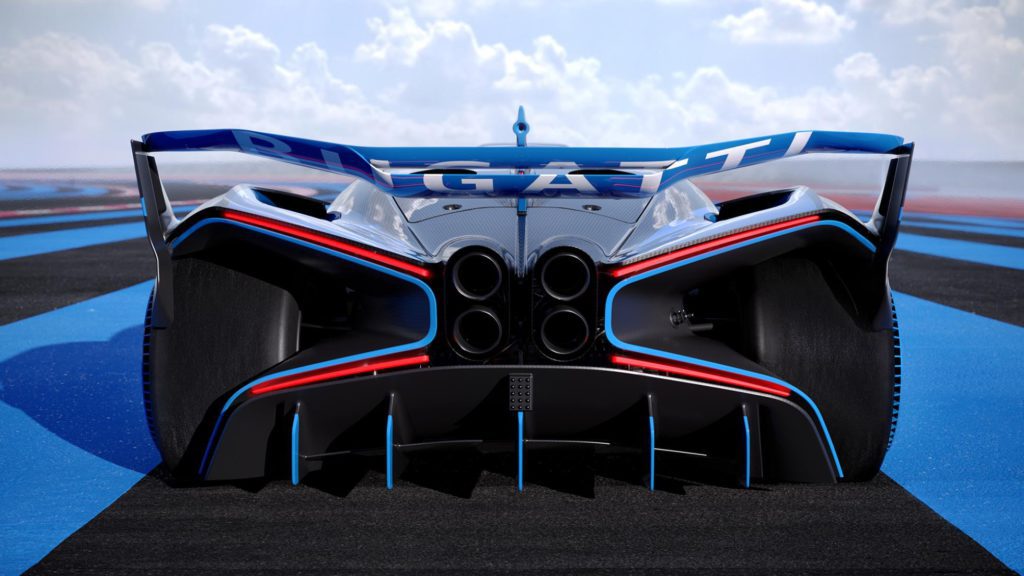 So all of this power and lightness must bare considerable results and that, it does. The Bolide can reach a claimed speed of over 311m/ph, or just over 500.5km/ph, without compromising handling. Such physics bending power and grip translates to staggering lap times everywhere and perhaps most notably at the Nürburgring Nordschleife where it is claimed that the beastly Bug' can complete a lap in 5:23.1 minutes. To put that into perspective, the outrageous Lamborghini Hurucan Performante managed the lap in 6:52.01 minutes… The difference might seem small but almost a minute and a half off a lap time is comparable to a decade in car years. "Driving the Bolide is like riding on a cannonball," said Winkelmann, and the man is most likely now telling the truth.
Interestingly, the Bolide features FIA racing regulation compliant features but it remains to be seen if Bugatti will make a return to racing. If there ever was a stage for this machine to compete in, it could only be the Le Mans 24 Hours endurance race. In terms of a very well-off customer getting their hands on one, well that hasn't been decided yet. Bugatti are unsure wether their passion project will ever make it to commercial production. As it currently stands, the Bolide will serve as "an innovative information source for future technologies" and a love letter, for the marque's marvellous and soon to be extinct W16 internal combustion engine.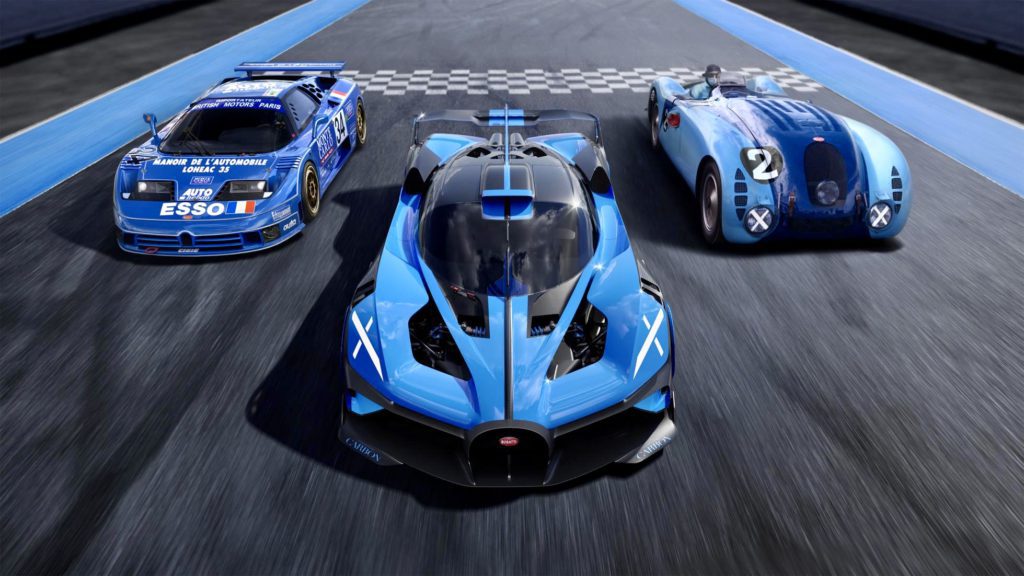 All images are courtesy of Bugatti, discover more about the Bolide here.