Almine Rech Ruiz-Picasso owns the Almine Rech Gallery in Paris, Brussels, London, New York, Shanghai and the latest private office space in Monaco. She is married to Bernard Picasso. They both live in Monaco.
You founded your first Paris gallery in 1989 and now you are internationalizing through your permanent gallery spaces in Brussels, London, New York, Shanghai and places like Venice at Palazzo Cavanis and Aspen popup. What made you open offices in Monaco and how will this location be different from the ensemble of galleries you have opened?
I needed offices in Monaco as I have a few people working here for the gallery. The Principality of Monaco is mythical, particularly as artists in the early 20th century and art collectors have often stayed in the city and surrounding area and still do.
Today, the Principality focuses on contemporary art, having always supported dance and modern art, with ambitious exhibitions at the Grimaldi Forum and its museums. It is this favorable cultural context that led us to open offices for the gallery in Monaco.
The Palazzo Cavanis program reflects our aim to institutionalize our artists, we program it as part of the Venice contemporary art cultural project. We do popups in some resorts like Aspen to go towards our collectors.
What was your first gallery exhibition, and which was the artist you sold first?
The first artist I exhibited at my gallery was the pioneer of light and space, James Turrell, in 1990 in Paris. I showed an installation of his light work, and people were very surprised. At the time it was unusual to show "installations" and many told me that it was a big risk not to exhibit paintings.
You did a fantastic Picasso Calder show in New York – how did the show come about ? This year marks the 50th anniversary of Picasso's death. Is there an exhibition or a special project you are preparing ?
The organization of the exhibition came about almost spontaneously, as I wanted to show the relationship between Calder and Picasso, so I proposed the idea to the two grandsons. A show presenting both artists together had never been done before. A few museums asked to also house the exhibition, curating it in their own way but keeping the core of it as our show.
This year represents an important event in the gallery's program. To celebrate the anniversary of Picasso's death, the gallery has designed 'The Echo of Picasso', a global program of exhibitions that pay tribute to the artist's work and encourage a dialogue with contemporary artists.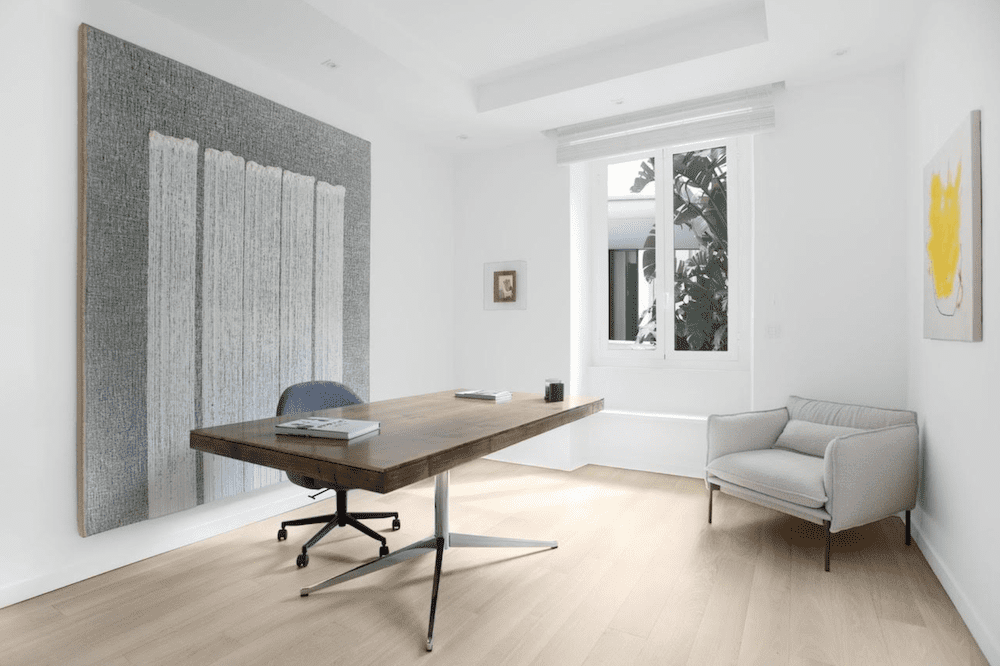 James Turrell, John McCracken, LA Desert Scene, UFOs & Sky, De Wain Valentine who invented the specific resin to create translucent sculptures, light and space movement California – were the beginnings of your program, how did your program evolve through the years?
I have been including talented emerging and established artists as well as Estates, which has kept the gallery growing and dynamic. Our actual program reflects the gallery's desire to present the art of our time – to exhibit artists who are actively engaged and committed to the present era, and to mark the present through their perspectives and visions of the world, and the legacy that art has left on our time. I think it is important for a gallery of the 21st century to foster dialogue between the artworks of several generations and our gallery finds inspiration in this trans-generational aspect for our viewers, showing art from the 20th and 21st centuries.
How is it being able to live in Chateau de Boisgeloup and doing exhibitions? Picasso loved beautiful homes; it's where he did his sculptures from the 1930s. A place with childhood memories of your husband where you do exhibitions . It's a historical place. Tell us more about the venue and also about the Foundation you created with your husband.
Château de Boisgeloup is a very unique venue. Picasso bought the property in June 1930 when he was looking for a place to develop and delve deeper into his experiments with sculptures as well as not being too far from Paris where he lived. Boisgeloup has a large space in the common parts, perfect to be used as a ground floor sculpture studio. It was originally built during the 15th century, the Chapel during the 17th century and the Dovecote and part of the house were not until the 18th century. From 1930 to 1935, Boisgeloup was a bustling place of creativity. When he was not working in his studio, Picasso would invite friends and art dealers from Paris to the chateau.
We created the Fundación Almine y Bernard para el Arte in 2002. Notably with a focus on the one hand in Modern Art with the mission of participating in and organising Picasso's exhibitions as well as research on his work, and on the other hand in Contemporary Art by supporting institutions with loans, and production of contemporary artworks and exhibitions.
There are so many languages between the galleries you have set up, the Program where you rotate between representational art and abstract like the current show Andrea Marre Breiling, Zio Ziegler and connection with modern art, and museums buying them. When Condo channels Picasso or the universal language of Jeff Koons. You invite artists in different spaces between Brussels and London. How do you as a gallerist choose your artists to show in your program?
I am always looking at what is emerging in art, what is changing in artists' vision of the present and the future. I do a lot of studio visits, I always want to meet the artists themselves. I believe that art is always in motion like our societies. The intuition supported by the experience that I have helps me a lot for that. The work must appear original, from a very personal world, always the influences of art history are there, it's the art DNA, it's important, it's about knowledge.
In the current volatile environment How do you explain the value of art?
I think that it is a matter of passion for many art collectors who are actively building their collections. There is also an interest in creating a family heritage that will be passed on to the next generation.
Monaco has been the destination for arts over centuries, public spaces, paths, parks and even open roofs are often used for art. The Princely family desires for the art collections to be on display in public. Monaco is known for its comprehensive foundations set on the arts, culture dialogue. It houses its own art fair Art Monte Carlo and fantastic museums NMNM, Oceanography Museum. What do you most enjoy about living here?
I love the fact that it is a quite small city but it also has the energy of a big one. Also being in front of the Mediterranean Sea is such a privilege – from our offices one can look over at the sea.
Your favourite artist and your favourite museum?
I would not be able to choose one favorite artist, as it really depends on the period, the artistic movement, etc. For the same reason it is impossible to choose a museum, but I could say that in modern art, the Pompidou and MoMA NY collections are fantastic.
PHOTOS: Top, Portrait of Almine Rech, © Jouk Oosterhof, centre, the Monaco office space, Almine Rech Monaco, 2023 © Eleonora Paciullo