The FT Business of Luxury Summit held over the past three days at the Sporting Monte Carlo brought good news all around, the global economic outlook for luxury business can be described as buoyant, especially in the experiential luxury sector that is now overtaking the personal goods category and is bound to grow even faster in the next couple of years.
Flying taxis, private expeditions and "augmented reality" vacations – concepts of luxury in the travel industry are evolving to the point that the surprise factor has no limits.
"People are avoiding everything that's boring," said Harrods' managing director Michael Ward in one of the panels discussing 'How to get shoppers back to the stores?' "The real key now is to make everything experiential. You have to run three times as fast now to achieve it but Covid really delivered a great kick to our backside, we took things for granted before, we had more than 70 percent of our customers coming from other countries and suddenly there was no travel. It changed the way we had to approach our local customers, we created, for example, the most beautiful hairdressing salon in the world, and had the third-best world sushi chef on board. The locals are coming in – more than 50 percent – and with China re-opening their borders and a continued US tourist boom – that's the cherry on the cake for us."
The future is also optimistic for Superbrands which have now accelerated away from the middle brands. Sadly life is tougher for the smaller brands that are now on their path to irrelevance according to Luca Solca, senior analyst of Global Luxury Goods at Bernstein.
"Metaverse is real", said Alice Delahut, founder and CEO of next-gen fashion platform SYKY: "it democratises and decentralises fashion, also we need to keep in mind that more and more Gen Z's spend more money on luxury goods for their avatars, Seventy percent of Gen Z (generation born between 1997 and 2012) personal style is influenced by their digital style."
Millenial collectors are now the highest spenders on fine art, according to a 2021 report from Art Basel and UBS, with an average annual spend of $228,000.
"Thirty-four percent of our new buyers are Millennials", said Rachel Koffsky from Christie's. Millenials – people born between 1981 and 1996 – are also challenging the way the art is consumed and collected. Auctioneer, curator and art dealer Simon de Pury said that in 2,5 years of Covid – the art market has changed and fast forwarded 10 years…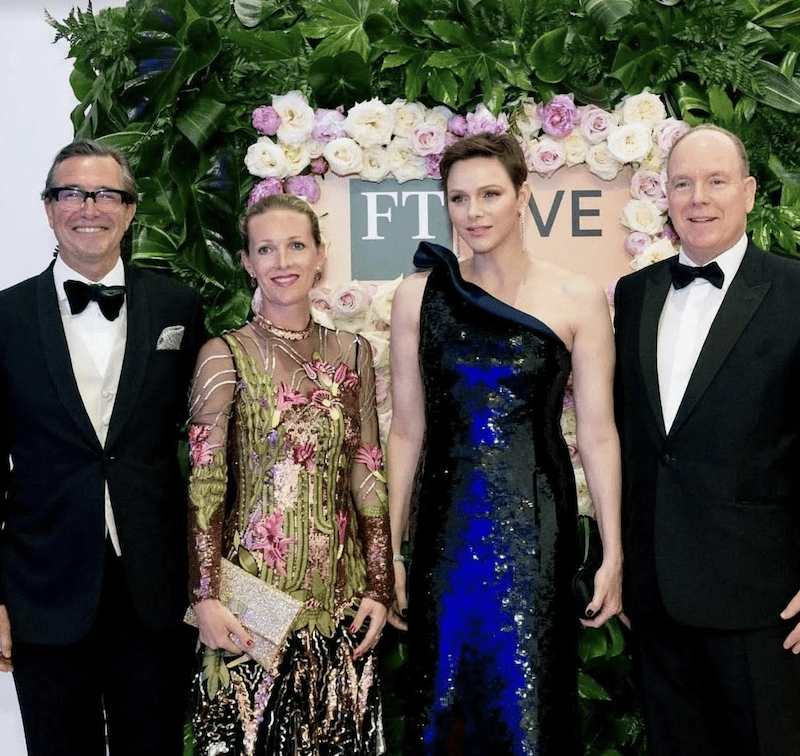 The Summit highlighted several icons in the world of luxury, Monaco resident Yves Piaget was interviewed by Nicholas Foulkes, a contributor to HTSI in a breath-of -fresh-air style, Nicholas telling Yves off for the company's move from precious metal to stainless steel watches, at which Mr Piaget simply smiled with amusement.
The end of the Summit belonged to the designer and brand founder Diane von Furstenberg. The interviewer was Roula Khalaf, the Editor of the Financial Times. "My favourite newspaper," said the Belgian fashion designer who went on to describe how the idea of the iconic jersey 'Wrap dress' came about.
She said it was all about freedom for women. She was often hailed as a survivor and told the audience a story of her mother who was arrested and taken to Auschwitz from which she returned after more than a year – weighing 39 kilos. The doctor warned her not to have a child within the next five years, she wouldn't survive the birth and the child wouldn't be normal. Nine months later Diane was born – and nothing about her life can be described as "normal". Although married (and later divorced) to a Prince, Egon von Furstenberg, she always wanted to have her own career: "I always wanted to be someone of my own."
She advocates leadership roles for girls: "Every day make one miracle, help someone to connect with someone else. We all have magic wands and the more we use them, the stronger they become."
The Wrap dress will celebrate its 50th anniversary next year.
PHOTOS: Top, Roula Khalaf, Editor of the Financial Times, and Diane von Furstenberg (Martina Brodie), centre, FT CEO John Ridding and his wife Lizzie, with TSH Prince Albert and Princess Charlene at Monday night's Gala at the Salles des Etoiles