Monaco residents with ties to the UK and the Commonwealth have celebrated the Coronation of His Majesty King Charles III with great enthusiasm.
A truly regal celebration took place at St. Paul's Anglican Church on Sunday with distinguished guests from the Principality in attendance including HE Minister of State Mr Pierre Dartout and Mrs Dartout, Mrs Isabelle Berro-Amadei-Amadeï, Minister of External Relations and Cooperation, Mr Marc Lecourt, President of the Association of Honorary Consuls in Monaco and Honorary Consul General of Slovenia, Sir Stélios Hajji-Ioanou, Honorary Consul General of Cyprus in Monaco, Mr Marco Garavaglia, Honorary Consul General of Antigua and Barbuda, and Mr François Brych, Honorary Consul General of the Czech Republic in Monaco, and France's Ambassador to Monaco, HE Laurent Stefanini.
They were welcomed by Mr Eric Blair, Honorary Consul of the United Kingdom and Northern Ireland in Monaco, Mrs Hope Swales, President of the Association of the Anglican Church, and Mrs Yvonne Bernhardt, President of the British Association of Monaco.
The sermon was preached by the Chaplain, Father Hugh Bearn, and at the end of the service the National anthem of both Monaco and the United Kingdom were sung. The service was accompanied by the exceptional musical talents of Musical Director Errol Girdlestone, singers and musicians, with Mozart's Coronation Mass and Handel's Coronation anthem Zadok the Priest, two movements from Bach's Suite in D, organ music by Percy Whitlock and two movements from Mendelssohn's Sonata in A.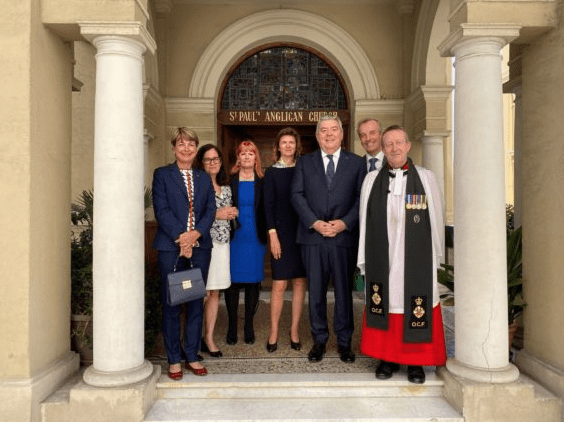 Following the service a selection of very British refreshments were served in the library and toasts offered both for the Prince and His Family and the King.
Father Hugh Bearn – a Chaplain to the King – commented: "It was a great day and I would like to thank everyone who was involved in the planning and organisation. The scones and jam were out of this world!"
On Monday evening the British Association of Monaco hosted an event at the Novotel that attracted many more members and guests than expected amid a very convivial atmosphere.
In her welcome, BAM President Yvonne Bernhardt said: "On a rainy London day, Westminster Abbey was packed with dignitaries and guests, including our own Prince Albert II and Princess Charlene, to witness King Charles III being crowned King of the United Kingdom and the 14 other Commonwealth realms… We have a new chapter in the history books." Mrs Bernhardt said she has written a letter of congratulation to His Majesty on behalf of the Association.
"Please raise your glasses…"
The National Anthem was then sung, enthusiastically and without the benefit of musical accompaniment.
PHOTOS: BAM members celebrate the Coronation (photo Martina Brodie), centre, guests and hosts at St. Paul's: Mrs Isabelle Berro-Amadei-Amadeï, Minister of External Relations and Cooperation, Mrs Hope Swales, President of the St. Paul's Association, Mrs Yvonne Bernhardt, President of the British Association of Monaco, HE Minister of State Mr Pierre Dartout and Mrs Dartout, Mr Eric Blair, Honorary British Counsul, Father Bearn (photo Thierry Jouan)