A fellow northerner, my friend Helen is one of the coolest cats in Monaco.
She's literally like a Mancunian genie, wafting around the Principality, here, there and everywhere, leaving her signature "Eau de Breath Of Fresh Air" in her wake.
Thankfully, in a place that's so small there's only one of her, because one is probably all Monaco would be able to handle. She stands out a rock-chick mile for her refreshing, thrown-together beauty in a place where many feel they must pluck, primp and preen to the max in order to be accepted. Her style is more, how can I put this, "rough-around-the-edges", a tad more towards the grungy end of town than your standard Instagram mummy floating along ave Princesse Grace. Invite Helen to any dressy party and, guaranteed, she'll rock up, unapologetically, in her t-shirt and jeans, and still be the most entertaining person in the room.
Blonde, petite and usually sporting two messy plaits, this perma-tanned northern lass with her lopsided grin and trail of sparkly earrings running up and down each lobe is the absolute real, human deal.
She'll draw you straight in with her sharp, blue eyes and gentle, earthy smile. You might be distracted, initially, by the snug little nose ring, tattoo-covered arm sleeves and comical gestures but she won't mind a jot, because she'll be giving you her full attention, her full, mesmerising Helen-ness. You see, Helen loves people. And she just oozes love. "That's just me, babe" is probably how she'd phrase it.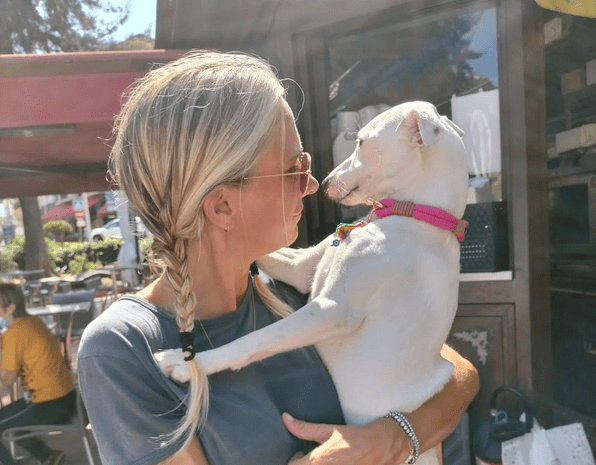 Her accessories of choice are usually a rolled up yoga mat and her little, white dog called Masha. Prior to Masha came Tigger, another adopted dog who only has three legs, again not a familiar sight around Monaco where most have four, but Tigger was perfectly happy to just follow wherever Helen went, rather like most of her family and friends.
Aside from her animals and a large g n' t, fitness and yoga are what makes the lovely Helen tick. She religiously makes time each day for a spot of self-practice, "It's my calm time, babe", and, together with Karen Bond, her yogi friend, they have recently launched a new initiative to teach yoga, breathwork and fitness to teenage girls in Monaco. Something that is much-needed and will no doubt be gratefully received. A regular, healthy dollop of Helen-grounding in this crazy world is definitely good for everyone's soul.
On top of all this, five years ago Helen and her Irish former International professional footballer husband, Richard Dunne, set up the highly successful FMC Elite Football Academy in Monaco.
The focus for this club is to be friendly and family-run yet with an international approach, employing English coaches and offering an Elite section trained by Richard himself.
Recently the club merged with US Cap d'Ail and they now have around 500 footballing children under their wings.
Helen's role at the FMC is very much one of the "mother figure"; she's on-hand to deal with any pastoral issues that arise and is absolutely brilliant at it, of that I have no doubt. Not only that, but she keeps them all in tip-top, flexible shape with regular yoga classes too. Brave! Who in their right mind would attempt to teach a group of testosterone-driven, pubescent boys yoga?! She did admit that they could occasionally be, "naughty, naughty boys!"
It's the truth, though, that she genuinely means it when she says, "I love them all and have massive respect for them". I don't doubt that for a minute – and I bet they absolutely love her too.
I mean, let's be honest, who doesn't love a Helen? We all need one in our lives.