The 'Lost-Found' exhibition on Quai Antoine has brought together the artworks of three artists with different backgrounds, art styles, methods and inspirations under one roof to create a conversation between two cultures.
The paintings of Monegasque artist Toby M. Wright have been joined on the walls by the works of Ukrainian artist Masha Shubina, while her compatriot, Egor Zigura fills the floor with thought-provoking sculptures in an exhibition organised by the Monegasque National Committee of the International Association of Plastic Arts.
The Monegasque National Committee of the IAA was created in 1955 under the aegis of UNESCO with the purpose of promoting the arts in the Principality, while fostering exchanges with artists from all countries. Today, the focus is on artworks from and inspired by Ukraine.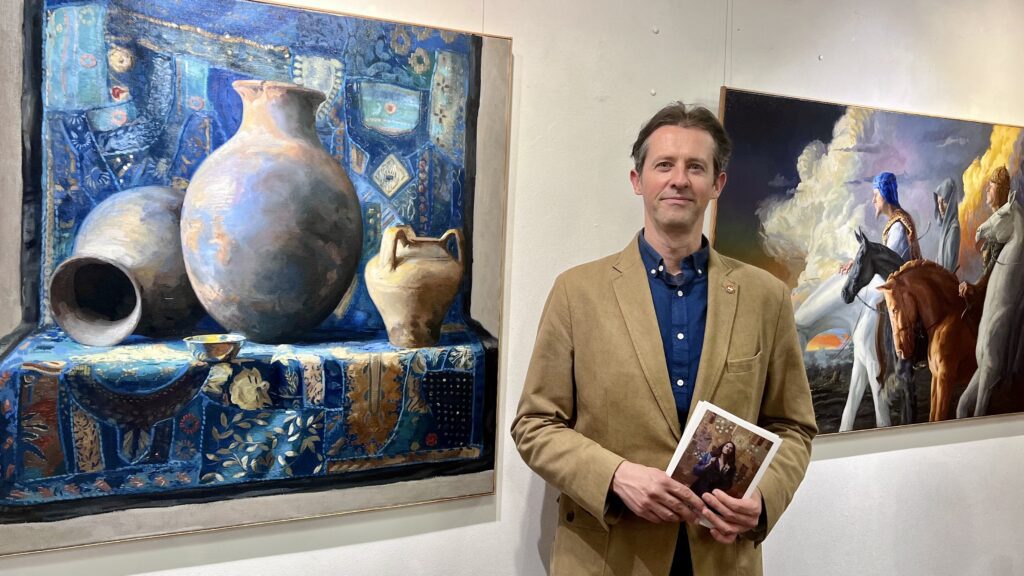 A familiar face amongst artists in the Côte d'Azur, Wright, pictured above, boasts a wide variety of works. While the paintbrush and canvas remain the same tools used in his creation process, the creations themselves range greatly in subject.
Ukrainian artist Shubina searched for self-identification in her work, drawing on the patterns of the traditional women's headscarf, which represents the homeland and the spirituality of its citizens. Meanwhile, forcing the viewer to think was fellow Ukrainian Zigura, who's sculptures completed the cross-cultural collection.
'Lost-Found' enjoyed a packed vernissage on the evening of Wednesday, March 15, and it is now available for public viewing free of charge until March 30. The exhibition can be found at 10 Quai Antoine 1er, and is open everyday between Monday and Friday, from 14:00 until 19:00.
Featured image: a section of a painting by Masha Shubina