Monday 6
The Body and its Sculptures: a Career of Surprises – Lecture
A lecture in French by Georges VIGARELLO, organised by the Prince Pierre Foundation on Monday, March 6 at 18:30 at the Théâtre des Variétés. Discover more here.
---
Tuesday 7
Times Square – French Theatre
A once successful drama teacher, who these days is a little too fond of whisky, coaches a young actress who dreams of winning the lead role in Romeo and Juliet. Written by Clément Koch, directed by José Paul, starring Guillaume de Tonquédec, Camille Aguilar, Marc Fayet and Axel Auriant. From Tuesday, March 7 to Wednesday, March 8 at 20:00 at the Théâtre Princesse Grace. Discover more and reserve your tickets here.
---
Ziyara – The Art of the Cinema
The Audiovisual Institute of Monaco presents a 2020 documentary of Simone Bitton in the presence of the filmmaker herself.
In Morocco, Ziyara (a term that refers to a form of pilgrimage to sacred places) is a popular practice that Jews and Muslims have always had in common.
Morocco had a Jewish population of more than 300,000 until the 1950s. From that time on, until just after the Six Day War in June 1967, a flood of emigrants left for countries such as France, Israel, and America. Simone Bitton's family settled in France.
In Ziyara, Bitton returns to her homeland and searches for the traces the Jews have left behind. There is no shortage of these. Travelling by car—and taking the opportunity to include beautiful shots of the passing landscape – Bitton makes a tour of Jewish heritage in towns and villages. She discovers cemeteries, remnants of the Mellah (the Jewish quarter), synagogues, and schools – places often lovingly and reverently maintained by the local people. Bitton talks to them about the importance of heritage conservation, and their devotion, as well as about the relationship between Jews and Muslims. One of them muses: what would Morocco be like today if the Jews had stayed? The film is a road movie in the native country, a cinematographic pilgrimage where the director goes to meet the Muslim guardians of her Jewish memory.
On Tuesday, March 7, at 20:00 at the Théâtre Princesse Grace, in original version (languages spoken: Arabic, French, English) with French subtitles. Discover more here.
---
Pre-International Woman's Day Networking Evening – MonacoUSA and BAM
In order to avoid clashing with official Monaco International Women's Day, the MonacoUSA, and the British association of Monaco are holding their networking event on the evening of Tuesday, March 7, from 17:00 with the theme being #EmbraceEquity.
The evening will be spent in the DUKE bar, which can be found here.
---
Wednesday 8
INTERNATIONAL WOMEN'S DAY LUNCH – FISH 'N' CHIPS
British Association of Monaco members and non-members (ladies only) are invited for a fish n chips lunch at the Tavolo Restaurant of the Columbus Hotel. The set price of €40 for members and €45 for non-members includes a welcome glass of Prosecco, followed by fish (cod) 'n' chips with a glass of wine or soft drink and cafe or tea gourmand (selection of bite size desserts). Payments will be collected on the day by cheque (payable to British Association Monaco) or cash. Susanne Bohush will give us a talk on her charity "Mothers of Africa". A super ladies raffle will also take place. On Wednesday, March 8 at 12:30 at the Columbus Hotel. Please confirm your reservation by email: bam@monaco.mc or phone 0660216399.
---
Monte-Carlo Spring Arts Festival begins
Opening this 2023 edition, Clapping Music by Steve Reich invites you to explore all possible musical paths. The rest of the program compares César Franck and Anton Bruckner, two organists who are masters of sacred music and who knew how to venture into other avenues, from the small form of the fantastic poem to monumental symphonic art.
On Wednesday, March 8 at 20:00. Discover more and reserve your tickets here.
---
MONACO FLOWER POWER – Finnisage of the exhibition
Two Monaco female artists, Zoia Skoropadenko and Eva Dmitrenko, are inviting all women of the Principality to join them in Palais de La Scala to celebrate The Day as well as participate in a finnissage of the exhibition "Flower Power of Monaco". Every woman who will join the artists will get a complimentary handmade flower by the artists and an NFT featuring one of their works presented in the exhibition. The artists received wonderful flowery patronage from the Princess of Seborga who will also send some of her iconic world-famous mimosa for the finnisage to gift to all art loving women. During the finnisage the artists will give an art talk about flowers in art and its meaning as well as present their special painting of flowers they created in duo. At La Vitrine Contemporaine de Monaco, Palais de La Scala, on March 8, from 18:30 till 19:30.
---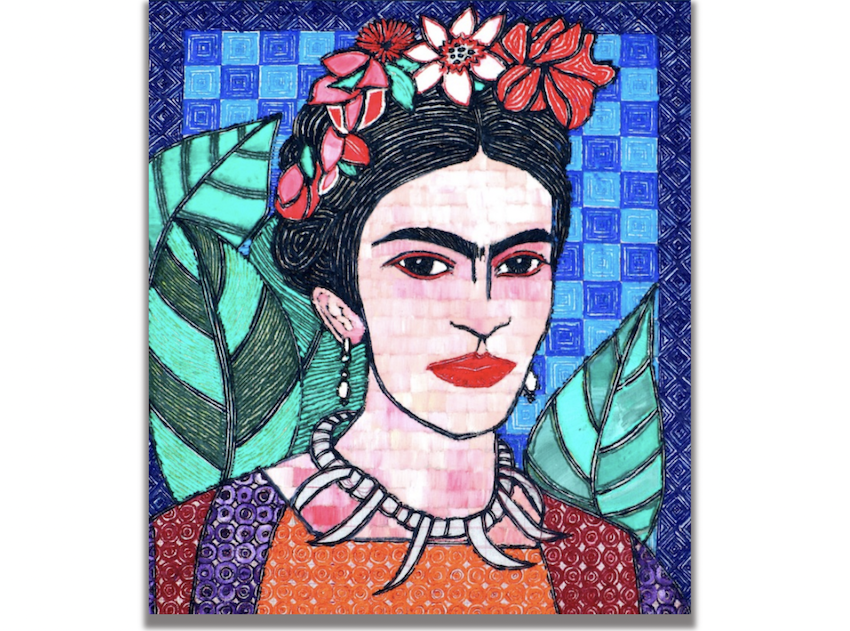 A painting by Ghizlan El Glaou
Il était une femme – Exhibition
On the occasion of International Women's Day, the painter Ghizlan El Glaoui will inaugurate her exhibition "Once upon a woman" at the Prince Albert II Foundation in Monaco. From March 8 and until June 30, she will exhibit portraits of women in the pretty Villa Girasole which hosts the Foundation – A collaboration full of meaning since the Monegasque institution, through its commitment , promotes many actions of which women at the centre. Ghizlan El Glaoui is a Moroccan-born artist known for her richly hued, expressive painted portraits, her use of light and textures bridges the ancient and modern, tha classical and the contemporary.
---
Thursday 9
Michel Dalberto – Monte-Carlo Spring Arts Festival
In this recital devoted entirely to Franz Schubert, Michel Dalberto explores the composer's pianistic art in all its diversity, from his first opuses to his last sonata, from his lilting motifs, inspired from the lieder, to the frenzy of Viennese dances. On Thursday, March 9 at 20:00 at the Musée Océanographique de Monaco. Disciver more and reserve your tickets here.
---
BAM Art and Drinks evening with Toby Wright
An opportunity to meet with and hear Toby Wright, the professional artist based in Monaco. The name Wright will be known to many members as the family has been in Monaco for three generations.

Toby has offered to talk about his expeditions painting in the extremes. In particular, his recent project where he takes his easel to heights of over 3500m into the High Alps, to paint in the footsteps of the great masters of the past.

In an effort to learn how to paint better landscapes, he decided to study the artists of the last four centuries who ventured before him. Painters such as Turner, Sargent, Compton, and many others. In finding their spots, and painting exactly from their vantage points, he learned more about how to paint these inspiring landscapes. By painting today in the same place as another artist painted over a century ago, he saw big changes. While the rocks remain unchanged, the glaciers have transformed. The glaciers have not only moved, but have lost so much ice that some valleys are almost unrecognisable.

The talk will take place in his new studio, 5 rue de la Source Monaco, with a slideshow, occasional videos and Toby narrating.

Places are limited. Drinks and refreshments will be provided. 10€ per member (pay on the door). Please send email if you would like to attend on bam@monaco or call 93501952
---
Friday 10
D'audace et de liberté – Talk: Akli Tadjer
Meeting with the author Akli Tadjer, who will be presenting his novel D'audace et de liberté, the second book in a fascinating and moving historical series that follows the young Kabyle, whose life is turned upside down by the outbreak of World War 2. On Friday, March 10 at 18:00 at the Médiathèque de Monaco – Bibliothèque Louis Notari. Discover more here.
---
Daniel Barenboim – Piano recital
On Friday, March 10 at 20:00 at the Opéra de Monte-Carlo – Salle Garnier. Discover more nad reserve your tickets here.
---
Surrealist European and American Cinema – Monte-Carlo Spring Arts Festival
This singular cine-concert follows in the steps of the French surrealists and ventures across the Atlantic with the pioneers of experimental animation. It is accompanied by the zany instrumentarium of Trio Énéide, between written contemporary music and joyful generative improvisations. On Friday, March 10 at 20:00 at the Théâtre des Variétés. Discover more and reserve your tickets here.
---
Saturday 11
Edwin Crossley-Mercer & Michel Dalbert – Monte-Carlo Spring Arts Festival
Baritone Edwin Crossley-Mercer and pianist Michel Dalberto confront a selection of great Schubert lieder (Erlkönig, Schwanengesang, etc.) with emblematic works from the golden age of French melody, including Gabriel Fauré's famous cycle La Bonne Chanson. On Saturday, March 11 at 20:00 at One Monte-Carlo.Discover more and reserve your tickets here.
---
Véronique Sanson – Concert
Véronique Sanson has been performing to sold-out concert halls for nearly five decades. The stage is her life. Barely a year after completing a tour that included more than 110 dates, she's back with her new show, Hasta Luego, accompanied as ever by her loyal musicians and with a new set. This concert will be a chance to discover new tracks from her next album and experience Véronique's generous spirit and fierce appetite for performance, as her distinctive voice sets the hall aflame and wows the audience.
On Saturday, March 11 at 20:30 at Salle des Princes at the Grimaldi Forum Monaco. Discover more and reserve your tickets here.
---
Sunday 12
accentus, Insula orchestra, Laurence Equilbey, Frank Markowitsch – Monte-Carlo Spring Arts Festival
Conducted by Laurence Equilbey, the Insula orchestra, the accentus choir and a quartet of top class soloists bring together the sacred and the secular art of the master of Leipzig, Felix Mendelssohn, with extracts from his unfinished oratorio Christus, and Die erste Walpurgisnacht, based on a poem by Goethe. On Sunday, March 12 at 15:00 at the Auditorium Rainier III. Discover more and reserve your tickets here.
---
Looking Forward
Child CARE Monaco's 10th Vintage Car Rally
On Sunday, September 10. This year men are welcome to accompany the ladies! As usually, bring your own car or let the team organise it for you. For booking and more information, please contact childcare@monaco.mc.
---
Monet in Monaco
On the 140th anniversary of Claude Monet's first stopover in Monte-Carlo and on the Riviera, the Grimaldi Forum will devote its major summer exhibition to him from July 8 to September 3. Reservations for this truly exceptional exhibition can be made here. Ticket prices until June 30, 7 euros in place of 14. +377 99 99 3000.
---
Ongoing
75 Years of Porsche
Twelve of the most iconic Porsche cars have temporarily taken their place on Quai Albert-1er in the newly relocated and refreshed Car Collection of HSH Prince Albert, in an exciting exhibition organised by the Circle des Amis de la Collection Princier in collaboration with the Porsche Museum in Stuttgart. The exhibition will be available for public viewing until March 20. Read more on NEWS.MC.
---
'The World We Make' – Amy Sherald Exhibition
Since March 2018, when Houser & Wirth announced exclusive worldwide representation of American artist Amy Sherald, four major exhibitions took place: in New York, Los Angeles, last year in London – her first solo show in Europe and from the end of January this year a selection of new and monumental works by Amy Sherald is brought to Monaco.
On display at Hauser & Wirth Monaco until April 15. This exhibition is not to be missed. More on NEWS.MC.
---
Flower Power of Monaco – exhibition
The smallest gallery in the smallest country in the world, La Vitrine Contemporaine de Monaco, in La Scala presents a unique exhibition Flower Power of Monaco by two Monaco artists of Ukrainian origin, Zoia Skoropadenko and Eva Dmitrenko. La Vitrine Contemporaine de Monaco will exhibit original botanical artworks by both artists as well as inspirational objects that made them create the exhibition, until March 10. Read our story here.
Featured image: Véronique Sanson