The smallest gallery in the smallest country in the world, La Vitrine Contemporaine de Monaco, in La Scala presents a unique exhibition Flower Power of Monaco by two Monaco artists of Ukrainian origin, Zoia Skoropadenko and Eva Dmitrenko.
Flowers can be very intimate and express a deep feminine nature. Like the Iris, the inspirational flower for artist Eva Dmitrenko. Her passionate embroidery and watercolors delve into the deep femininity of humanity.
"The Iris is an ambiguous flower in a way"' says the artist. "It's a very feminine flower (as Georgia O'Keeffe showed in her paintings) but also has a masculinity, in a fragile and airy manner. I tried to show this ambiguous sensuality by drawing this flower from different points of view, sometime showing more feminine shapes or sometimes masculine," said Dmitrenko who is also known for great installations she co-created, as the Roses des Vents in the Boulingrins Gardens in Monaco, shown from March to May 2022, or the installation Bleu Sel exhibited in the Atrium of the Casino of Monte-Carlo during Summer 2022.
Zoia Skoropadenko's inspiration comes from from Roserie of Princesse Grace as well from the flower stands on Place d'Armes. She draws on the wonderful still lives of the old Dutch Masters and impressionist Henri Fantin Latour. "There are so many shapes, colours and human stories behind every single rose type that one could write a fat book about it. It is also a flower of passion, love and memory."
La Vitrine Contemporaine de Monaco will exhibit original botanical art works by Monaco artists as well as inspirational objects that made them create the exhibition, until March 10.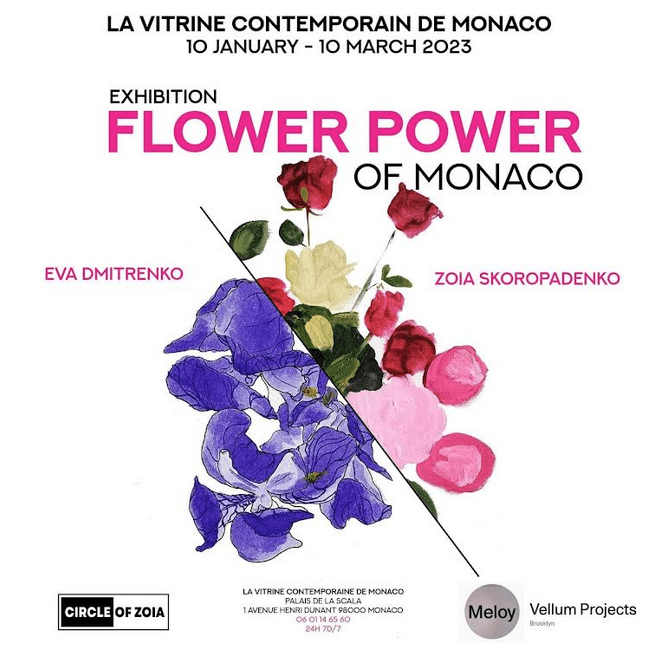 The exhibition continues the experiment started by The Meloy Gallery in Paris in October 2022 called 99.9, where artists put on sale original works of art for just 99.9 euros to enable art lovers who would normally be unable to afford an original work, to own art. The exhibition quickly sold out.
La Vitrine Contemporaine of Monaco will set aside some pieces for sale at 99.9 euros as well.
Zoia Skoropadenko launched La Vitrine, a contemporary art micro-gallery in Monaco in 2009. There she exhibits her work and provides a platform for young talents as well as established artists. Zoia is a member of the National Arts Committee of the Principality of Monaco, where she enjoys the status of a professional-painter.
Both artists express their thanks to the Department of Cultural Affairs for its support.
PHOTO: Zoia Skoropadenko, left, and Eva Dmitrenko Martina Brodie