The Serbian Orthodox Church was the focus of traditional celebrations of Orthodox Christmas at a charity evening at the Pacific Restaurant on Sunday, January 8.
Alexander Hagerty, President and Founder of the Saint Elena's Parish in Monaco of the Russian Orthodox Church Abroad, greeted His Grace Bishop Irenei of London and Western Europe. Mr Hagerty welcomed all nationalities to the celebration, including a number of Ukrainian refugees who have found temporary homes in the area.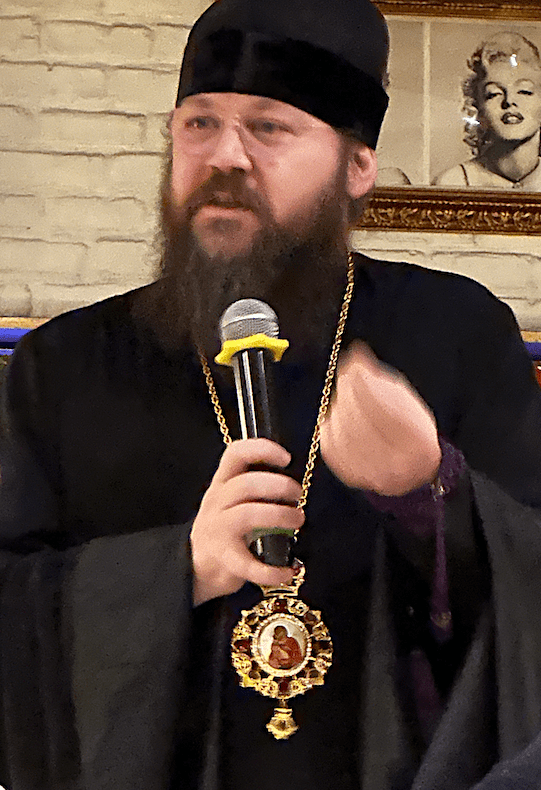 Bishop Irenei of London and Western Europe
Bishop Irenei spoke of the important historical role of the Serbian Orthodox Church in preserving the customs and rites of the Church in the turmoil of the early years of the 20th century. He addressed the present-day tragedy of brother fighting brother within the Orthodox world and reminded everyone in his eloquent address that as adherents of the Christian faith we should all remember that God is love.
Special guests included Guillaume Rose, a member of Monaco's National Council, which has been helping Ukrainian refugees, and Gerard Spinelli, Mayor of Beausoleil, which is home to many Orthodox adherents.
MAIN PHOTO: Third from left, Bishop Justin Jeremić of the Serbian Orthodox Church, third from right, Bishop Irenei of London, second from right, Father Evgeny of the Saint Elena's Parish in Monaco Ian Brodie