It was the same evening as an important England-France soccer game, but despite that opposite pull many people came to see and hear Handel's Messiah at Saint Paul's Church on Saturday.
They were far from disappointed, as the Ristretto ensemble, under the baton of Errol Girdlestone, performed at its very best, which is very good indeed.
It is not often that a classical, or, in this case, Baroque concert is marked by standing ovations in the interval, and at the end of the three hours there was an exuberant outburst of applause, and a long standing ovation from everyone in the church. As an encore, the Hallelujah Chorus was performed again to the evident delight of all present.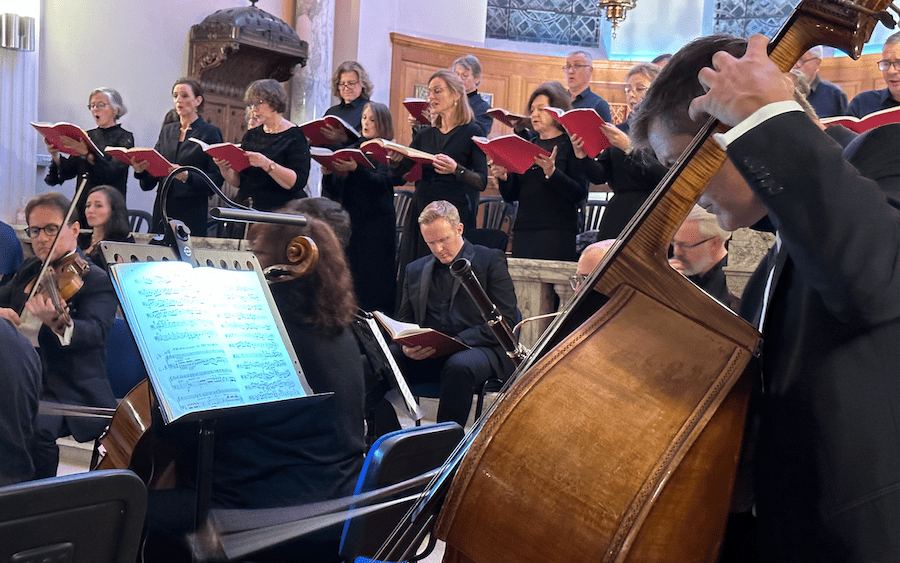 A TRIUMPH FOR ALL INVOLVED
Before the concert Errol told NEWS.MC that they were particularly fortunate to have attracted outstanding soloists. All four singers perform internationally.
Soprano Elenor Bowers-Jolley was returning to Monte-Carlo for her seventh consecutive performance, and was evidently delighted to be back in the intimate setting of Saint Paul's.
Fleur Barron, the British-Singaporean mezzo-soprano, is also no stranger to Monaco, having performed with the Monte-Carlo Opera as Mallika.
Tenor Gavan Ring is also an habitué of large venues, having performed at the BBC Proms and under the baton of Sir Simon Rattle at the Lucerne Festival, amongst a plethora of appearances.
All four soloists were stupendous, but the biggest accolade of the evening must surely go to bass Simon Bailey, who, in the confines of a very serious religious work, added very slight but perceptible humorous touches, enough to bring broad smiles from other singers and the most appreciative audience.
For many years, the Messiah at Saint Paul's has been the highlight of the Christmas season.
This year's truly exceptional performance will live long in the memories of everyone present. May we add our own fervent 'thank-yous' to Errol Girdlestone and everyone who made this magical evening possible, even if, for whatever good reason, you couldn't make it in person.
A special thank you to a very generous lover of music who wishes to remain anonymous and who provided the funding for the music on Saturday evening, singers and musicians.
PHOTOS: Top, bass Simon Bailey, tenor Gavan Ring, Errol Girdleston, mezzo soprano Fleur Barron, and soprano Elenor Bowers-Jolley, centre; up close to the orchestra Martina Brodie
Below: A video excerpt from Handel's Messiah, performed at St. Paul's Church, Monte-Carlo, December 10, 2022, 'Unto us a child is born'