This Saturday, December 10, 46 juvenile turtles left the Oceanographic Museum of Monaco to join the Turtle Village of Noflaye, in Senegal, as part of a population reinforcement project.
This first step, which is part of a three-year program, took place in the presence and with the participation of LL.AA.SS. Prince Albert II and Princess Charlene of Monaco, accompanied by Their children, LL.AA.SS. Hereditary Prince Jacques and Princess Gabriella.
Since 2012, the Oceanographic Museum has housed several African spurred tortoises (Centrochelys sulcata), the third largest land tortoise in the world. Seven specimens had been offered by the former Malian President, HEM Amadou Toumani Touré, to HSH Prince Albert II of Monaco, on the occasion of an official trip.
These turtles, from a breeding centre in Mali, were then entrusted to Robert Calcagno, director general of the Oceanographic Institute, in order to raise awareness among visitors about the protection of this endangered species.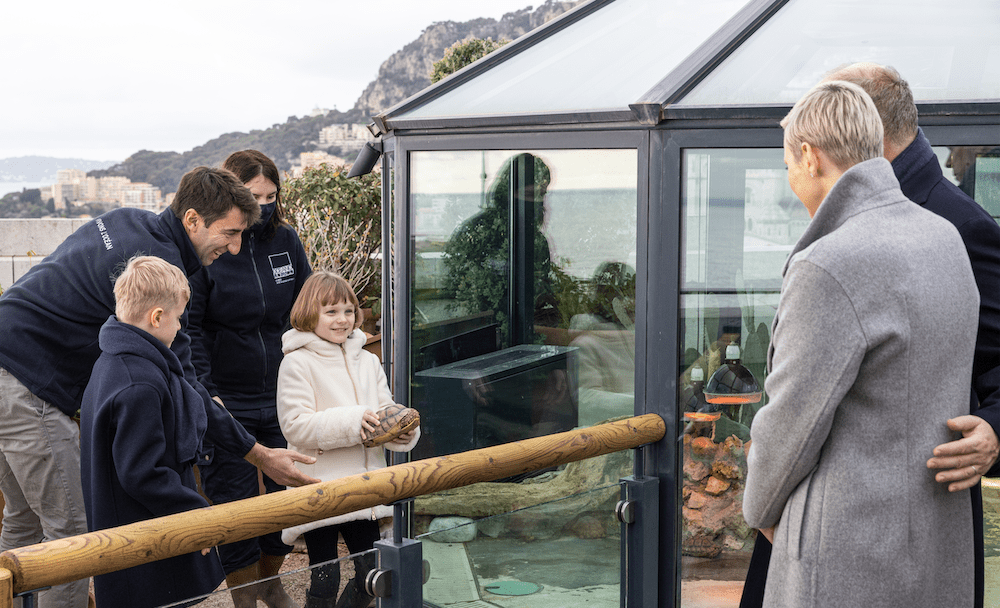 The herbivorous reptiles had taken up residence in "L'île aux Tortues", a space specially designed for them on the panoramic terrace of the Museum, where they have since evolved in a landscaped enclosure of 80m². Since their arrival, several clutches have taken place giving birth to 49 juveniles. In addition to their living space becoming too small to accommodate them in good conditions, the Oceanographic Institute wanted to use these individuals for conservation purposes.
It joined forces with the African Chelonian Institute (ACI), which has set up a population reinforcement program for 46 of the 49 juveniles. This program includes their management in quarantine within the Village des Tortues de Noflaye for a period of six months, then their introduction within the Koyli Alpha Nature Reserve in the northwest of the country, as well as their monitoring for two years.
Its manager, Tomas Diagne, a world-renowned turtle expert and winner of the Rolex Prize for Entrepreneurship in 1998, has worked for more than 30 years to save these endangered species in Senegal and West Africa. The turtles will be transported to Dakar with the support and collaboration of Air France KLM Martinair Cargo.
"Protecting animal species, both on land and at sea, and making them known to the general public is a major challenge for the future. The reception of these spurred tortoises, an animal now threatened, has enabled their reproduction while raising awareness among visitors of their need for preservation. The logical consequence of this welcome was to work to strengthen the local wild populations," said Robert Calcagno, Director General of the Oceanographic Institute.
Elizabeth Eguienta Da-Silva, Live Animal Transport Manager, Air France KLM Martinair Cargo, added: "The Air France KLM Martinair Cargo teams are happy to be able to put their expertise to use for this great repatriation operation! It is the result of several months of collaboration with the Oceanographic Museum of Monaco, in order to allow a tailor-made service adapted to the particularities of our passengers – from the preparation of the boxes to their transfer, including the adjustment and careful monitoring of the temperature during their journey in the hold."
PHOTOS: Philippe Fitte