On Sunday evening, November 20, 2022, the day after the Monegasque National Holiday and for the second consecutive year, the Orthodox Church of Monaco – Parish of St. Elena – commemorated Prince's Day by holding a service in honour of HSH the Prince and His family.
Among the authorities of the Principality present were: Mrs Yvette Lambin-Berti, Secretary of State, representing HSH Prince Albert II; Reverend Father Luca Favretto, Episcopal Delegate for Christian Unity, representing His Excellency, Monsignor Dominique-Marie David, Archbishop of Monaco; Mr Guillaume Rose, National Councillor, representing the President of the National Council, Brigitte Boccone-Pages; Mr. Pierre-Henri Settimo, 1st Advisor to the Ambassador, representing the Ambassador of the Principality of Monaco to the Russian Federation.
Benefactors of the parish of St. Empress Elena and her faithful came in large numbers to also pay tribute to their Prince and Head of State.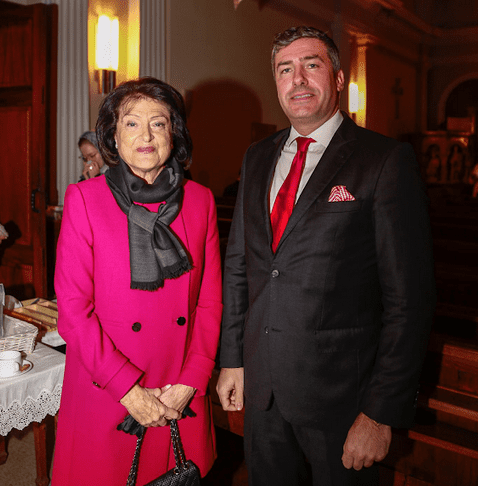 The service of prayer for the Sovereign Leader and His family was celebrated by Reverend Father Evgenniy Nikitin, head priest of the Orthodox parish of St. Elena of Monaco and took place in Old Slavonic, a dead language, but in the tradition of the Eastern Slavic Orthodox Churches.
The service also took place in the dark nave of the church, lit only by the hundred or so candles of parishioners and guests, a sign of the old mysticism of the Orthodox faith.
The Sermon that Father Evgenniy gave in French was full of honour towards the Prince, who guarantees us safe lives and an exceptional living environment:
"Respected ladies and gentlemen, dear brothers and sisters!
Today we honour the monarch and leader of our country, His Serene Highness, Prince Albert II of Monaco. According to the Holy Scriptures "a tree is judged by its fruits" and a head of state by the well-being of its residents. In this context without flattery or lies, we can with all our respect bow down to our Sovereign Prince because the citizens and residents of His country live in prosperity and security and are perhaps only tormented by the envy of the citizens of other countries.
His Serene Highness Albert II shows an exemplary approach in His watchful care of the people of His Principality, which other countries should emulate. On behalf of the Russian, Ukrainian, and broader Slavic diasporas, and the Orthodox Church, we thank Him and pray for His health and prosperity. A long life to Prince Albert II!"
The Parish choir, which is in dialogue with the clergy for the duration of the masses and services, with their angelic songs, ended the service with the traditional song of "mnogaya leta" – symbolising many years of health wished for the Prince.
The guests and faithful then joined a friendly atmosphere of a cocktail-dinatoire around glasses of champagne and finger-food.
PHOTOS: Main, Reverend Father Evgenniy Nikitin conducts the service in the darkened church. Centre, Mrs Yvette Lambin-Berti, Secretary of State, representing HSH Prince Albert II, with Mr Alexander Hagerty, President of St. Elena's Parish of Monaco. © Thierry Beauvillain – BBO Studio
ORIGINAL SOURCE: Orthodox Church of Monaco – Parish of St. Elena