Stars'N'Bars in Monaco, the Principality's first family-friendly restaurant and international sports bar, will close on January 27 after nearly 30 years.  According to co-founder and owner Didier Rubiolo, "It has been an honour to serve millions of guests from all over the world and we especially want to thank the Monaco community for its amazing support."
Stars'n'Bars was created in 1993 by Didier Rubiolo and Kate Powers (who sadly died in 2021). The two saw a need for a family-oriented restaurant in a Principality famous for its casinos, Formula 1 races and luxury yachts. They recognised that Monaco, despite its "jet set" reputation was also a normal, ordinary community with working mothers and fathers and their children who wanted interesting, reasonably priced and quality dining outside the home.
"When Kate and I opened Stars'N'Bars we wanted to give Monaco something new, original and exciting." Didier says. "Our new concept was a great success but eventually we realized that we wanted to make a bigger difference in the well-being of our community and the planet, especially for our children."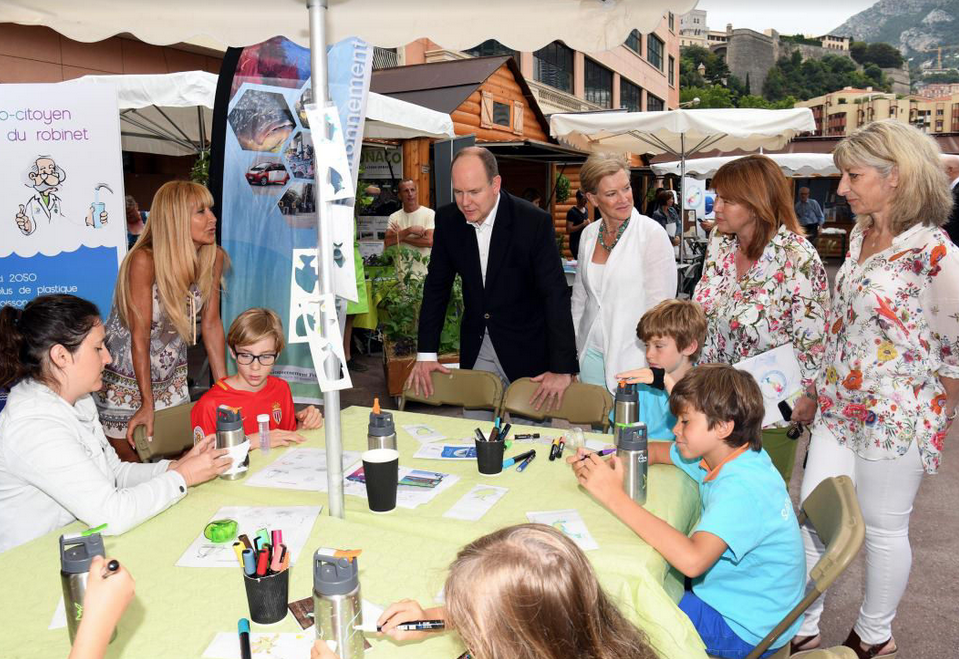 HSH Prince Albert joins Kate at a Stars'N'Bars eco event
And so, during the last 15 years, the Stars'N'Bars has focused on creating a healthier dining experience and supporting Prince Albert II's efforts to protect the environment. The restaurant began sourcing local, organic and sustainable ingredients, removed plastic from its operations, adopted renewable energy sources and found new ways to reducing waste.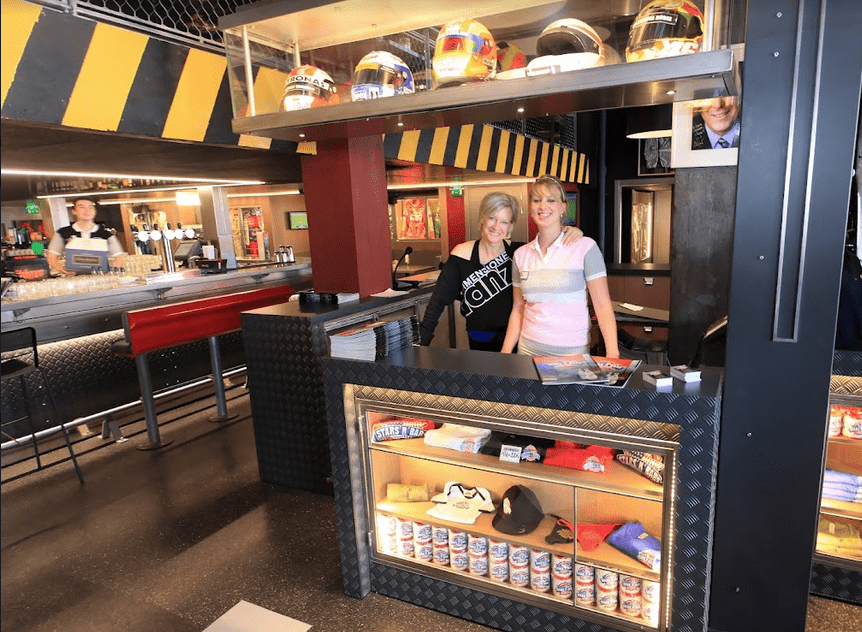 There has always been a warm welcome at Reception Ed Wright Images
Kate and Didier also joined other eco-conscious activists in Monaco to create MONACOLOGY, an annual week-long educational experience to help school children learn how to respect their planet. "We all need to accept that climate change threatens the planet and our children's lives. Kate and I decided that we wanted to raise conscientiousness about that threat and help the community find solutions." Didier said.
"It will be sad to say goodbye to Stars'N'Bars after 30 years but it's time to create something even more special. We will be releasing details of a new project soon and we can't wait to take the next step!"
The restaurant plans to celebrate its 30 years of service by organising special animations over the next two months, including reintroducing popular "nostalgia" dishes from the past that are no longer on the current menu.
The Stars'N'Bars team will also share through social media, and on internal media, videos and "flashback" images from unforgettable events over the last three decades, including Halloween, the Fourth of July, Grand Prix, a concert by Prince and surprise visits by international celebrities. Photo opportunities will be staged for visitors who want to be "immortalised" as part of the famous restaurant décor and atmosphere before it disappears forever in January.
In addition, customers will be invited to post their favorite SNB memories which will serve to create a permanent "living history" of Stars'N'Bars on the internet.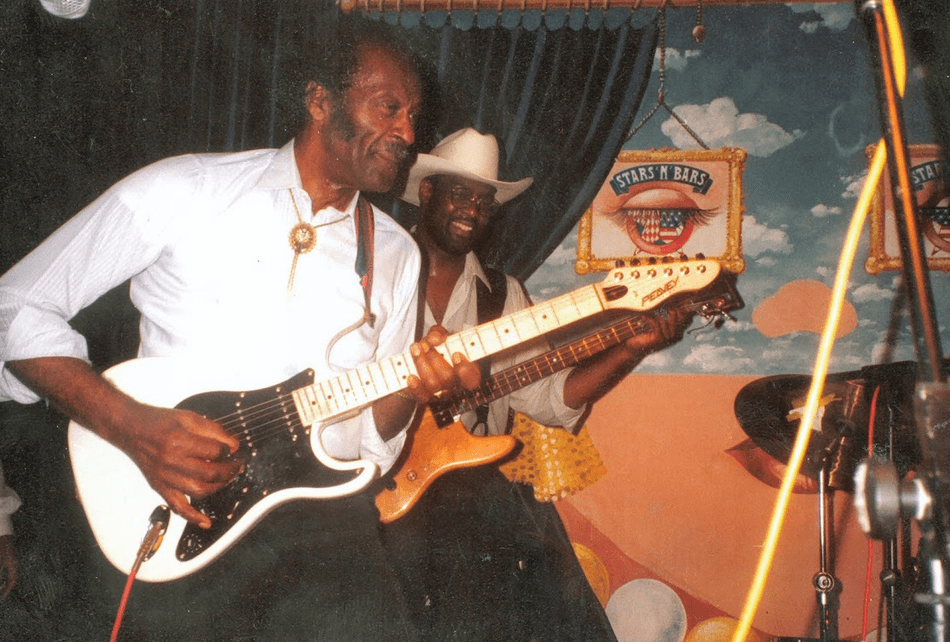 Stars'N'Bars has welcomed many celebrities over the years, including Chuck Berry on Opening Night
BACKGROUND & HISTORY
Originally an old, abandoned warehouse before opening its doors in 1993, Stars'N'Bars is now a three storey, 1800 square meter hospitality centre with over half a million customers served every year.
A favourite among international sports stars and fans alike, the restaurant features one of the largest celebrity sports collections in the world, including an actual F1 racing car donated by two-time world champion Mika Hakkinen. There are also jerseys from Magic Johnson and Michael Jordan, footballs and uniforms signed by Pele and SuperBowl pros as well as rackets, balls and photos given by Nadal, Federer and McEnroe….to name only a new of the sports legends who have visited the restaurant. More than 300 photos of international film, TV and rock stars adorn the walls of the complex.
INNOVATION
From the very outset, the vision and slogan of Stars'N'Bars has been: "Do what you love. Love what you do. And make a difference." And for almost three decades, it has been doing just that.
THE FOUNDERS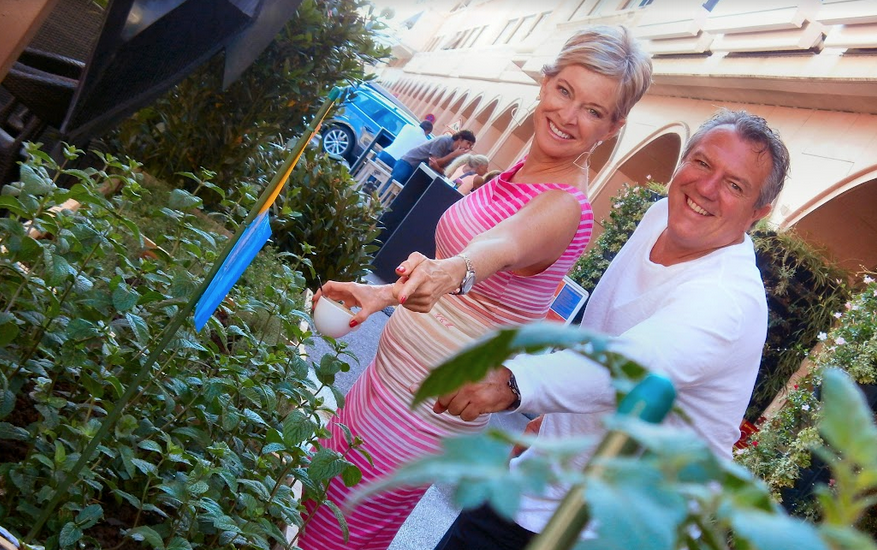 Founders Kate and Didier
Co-founder Kate Powers, who sadly died in 2021, was born in the United States but Kate grew up in Monaco from the age of five. Her love and commitment to the Principality as her true home culminated in her desire to become a Monegasque citizen. In 2009 she was granted citizenship in the Principality, an honor bestowed upon less than three percent of all applicants. Kate's efforts on behalf of Monaco were further recognized when she was the recipient of the Ordre de Saint Charles, the most prestigious award to be given by the Principality.
Before establishing Stars'N'Bars, Kate had worked in the restaurant business in the US and Europe for several years; in 1986 she returned to her family in Monaco to open what would become the legendary "Le Texan" restaurant, the first Tex Mex restaurant in Monaco and a favorite of Prince Rainier, who gave it its name! It was at Le Texan that Kate met and began working with Didier.
Didier is French and a classically-trained chef who had worked in gastronomic restaurants in France and Monaco before revolutionizing "Monaco Tex Mex" cuisine. He is an avid cyclist and sailor and a passionate eco-warrior. Along with Kate, Didier is Ambassador for the Pelagos Sanctuary, a marine area of 87,500 sq. km in southwestern France for the protection of marine mammals, including dolphins and whales, which live in it.
Under his leadership, the Stars'N'Bars menu has evolved from traditional American Tex Mex fare to a uniquely international menu incorporating Asian, Indian and Middle Eastern choices. More importantly, he has driven the restaurant's shift towards vegetarian and vegan options and created the first Monaco-based urban vegetable garden as a source of fresh produce and seasonings for restaurant use.
"Don't worry we are not disappearing! We have a wonderful new project planned for next spring but we won't be discussing the details until SNB is closed."
Stars'N"Bars long-serving manager Annette Anderson told NEWS.MC: "We really want to spend the next two months celebrating our nearly 30 years of service and just enjoy hearing people's stories about their SNB experience over three decades."
MAIN PHOTO: Kate and Didier at the opening of Stars'N'Bars in 1993