UPDATED, Saturday, November 26, 23:40: A helicopter operated by Monacair has crashed above Eze, as it approached the heliport, killing the 35 year-old French pilot, said to be very familiar with the area, and a passenger who was later identified as a Monaco resident.
According to early reports, the pilot and two passengers were killed. However, it was later confirmed that two bodies had been found. The passenger – described by the Prefecture as a businessman – was the holder of a Maltese passport.
The EC 130 helicopter had left Lausanne, Switzerland, shortly after midday. The point of impact was on the Plateau de la Justice near the Roman road close to the Col d'Eze, above the A8 autoroute. Fifty-three firefighters were sent to the scene which is in a spot that is hard to access.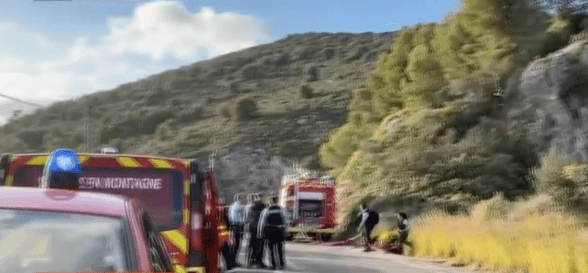 Firefighters and police investigators close to the scene of the crash – BFMTV screengrab
The weather locally was good when the accident happened at about 14:00.
An investigation into the cause of the crash has been opened. A deputy public prosecutor from Nice also visited the scene, suggesting that foul play had not been ruled out as the reason for the crash. The helicopter's H130 engine is regarded as very reliable. The pilot had flown more than 1,000 hours, Monacair said.
The businessman was described by a close family friend as "a highly respected person both in Monaco and everywhere he worked. He was one of the most decent, amicable, smart, polite people I know."
A second passenger had booked a place on the flight, but cancelled at the last minute, Monacair said.
On Friday evening, the Monaco Government issued a statement: "Following the announcement of the crash of a Monacair helicopter which occurred today between Villefranche and Eze, the Prince's Government would like to express, to the families of the victims as well as to all the personnel of the Monegasque transport company, its deepest emotion and shares in the pain caused by this tragedy. Expressing the solidarity of the Monegasque population, the Government sends its most sincere condolences to the families affected by this tragedy and supports them in these sad times."
RELATED STORY here
FILE PHOTO: A helicopter operated by Monacair