During the next few days, residents of Monaco will receive a letter from the Association Monégasque des Handicapés Moteurs (The Monégasque Association for the Physically Disabled) (AMHM) — this is the Association's annual fund-raising appeal.
But how much do you know about this quietly-efficient association and its activities to improve the well-being and social integration of the physically disabled in and around Monaco?
In 1969, Madame Blanc founded the Monegasque section of the "Association des Paralysés de France". At that time, nothing would have been possible without the remarkable generosity of the Monegasques and residents.
In 1975, under the presidency of Christiane Lachaire, and the honorary presidency of Prince Rainier III of Monaco, it was renamed "Association Monégasque des Handicapés Moteurs" and became fully independent in order to cater for the specific needs of
physically disabled people in the Principality.
In 1992, AMHM's former treasurer, retired banker Annie Olivi, was appointed president and, since then, not only has she perpetuated and improved the actions set up by her predecessors, she and her devoted team have developed new activities.
In 2005, His Serene Highness Prince Albert II of Monaco became honorary president upon the death of his father.
Infirmities can be progressive, static, or intermittent. They can be visible (wheelchair users for example) or invisible. Hidden disabilities, such as impaired hearing and vision, and some chronic illnesses, are not always immediately apparent. However, they all significantly impair normal daily life.
AMHM strives to improve the day-to-day existence of everyone with a physical disability – be it from birth or as a result of illness or injury. Today, there are 35 physically disabled members and 80 adherents from Monaco and the neighbouring municipalities.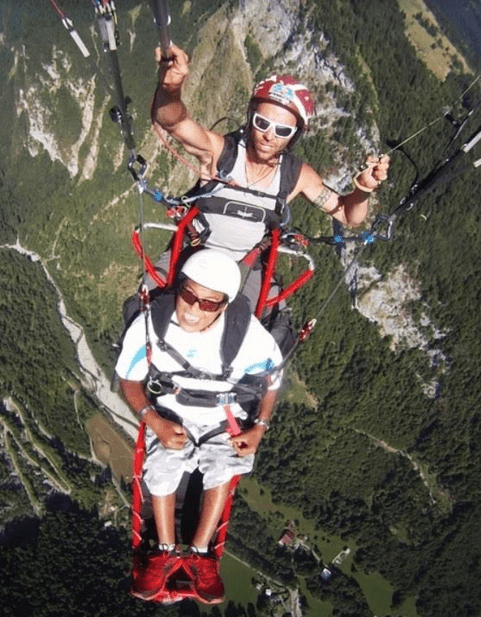 AMHM organises a short annual all-expenses paid holiday; this year, the group visited Toulon, Cassis and Le Castellet. There are also day trips. Thanks to special equipment and highly-experienced instructors, its disabled members take part in adaptive skiing, skydiving, parasailing and paragliding!
The daily workshops include pottery (on sale at the premises in Monaco-Ville), theatre, dance, cookery, yoga, embroidery and English conversation. All of these activities are financed by donations and organised by a very cheerful group of loyal volunteers.
AMHM provides administrative and moral support for families and can arrange for the loan of medical equipment. Its two wheelchair-accessible vehicles are used for ferrying members to medical and other appointments.
In the 1960s, Princess Grace of Monaco insisted that disabled people must be able to watch the Grand Prix races. The first dedicated area was in the gardens near to the famous gazomètre hairpin bend where the Fire Station now stands.
Nowadays, thanks to the immensely appreciated support of the Automobile Club de Monaco, a covered viewing platform with ramps is erected on the Ramparts. With space for 50 wheelchairs, it affords fabulous panoramic views of the track, the pits and the huge screen showing live coverage of the entire circuit. Accessible toilet facilities are a few metres away. Refreshments are available. Disabled people from anywhere in the world can reserve a place plus one for a carer (free of charge). Reservations: amhm98@libello.com
Their Serene Highnesses the Prince and Princess of Monaco always visit the platform to meet the race fans.
In addition to helping its members, and ever mindful of the need to help others, AMHM has been instrumental in improving accessibility across the Principality. This includes adapted equipment in medical facilities and various public places such as concert venues and the beach area.
It has also been successful in introducing dropped kerbs at crosswalks; these are absolutely vital for users of wheelchairs and mobility scooters, as well as for visually-impaired pedestrians.
AMHM owns nine wheelchair-friendly flats. Casa Devota (Beausoleil) consists of seven two-room flats for long-term independent living. At Villa Julia (Cap d'Ail), the two-room flat and the studio – with direct access to the pool and uninterrupted views of the Rock of Monaco — are available for week-long rentals for disabled people from anywhere. The prices are available upon request.
---
Annie Olivi, AMHM President: "Our association wants to continue its actions for as long as possible in order to contribute to the well-being and health of our members. They never fail to teach us something very special about life."
Steeve Martinelli, a wheelchair user: "Firstly, the AMHM is a family and a source of strength and great joy. I have represented it in many races including the Cap d'Ail triathlon, the Nice marathon, the Monaco No Finish Line (I did 172 kilometres in 2021) and the Colle-sur-Loup ultra-trial in a joëlette. [*] Thanks to the association, I have also enjoyed parasailing and skiing."
---
All of these activities and actions are possible thanks to donations — however large or small. Each euro donated contributes to a better life and to many beaming smiles! I see those radiant smiles of gratitude often and they really are heart-warming. We can all make a difference to people less fortunate than ourselves.
Rebecca Playford
A joëlette is an all-terrain one-wheeled chair — carried by two guides, one in front, one behind – allowing adults or children with reduced mobility to take part in hiking and running activities.
MAIN PHOTO: In front of the Town Hall, Arles, Visit to the Camargue in 2021, centre, Lahcen enjoys the thrills of paragliding
Photographs: AMHM All rights reserved