The Public Buildings Maintenance Service (SMBP) has started the redevelopment of the Heliport with the installation of 250 m2 of temporary premises in the car park.
These modular premises will allow the heliport to be kept in operation for the six months of work planned for this project.
The project involves the modernisation and updating of facilities, and all also improve the environmental impact of the buildings themselves
Work will be carried out in compliance with the Mediterranean Sustainable Building of Monaco (BD2M) approach which takes into account environmental issues and the comfort and health of users.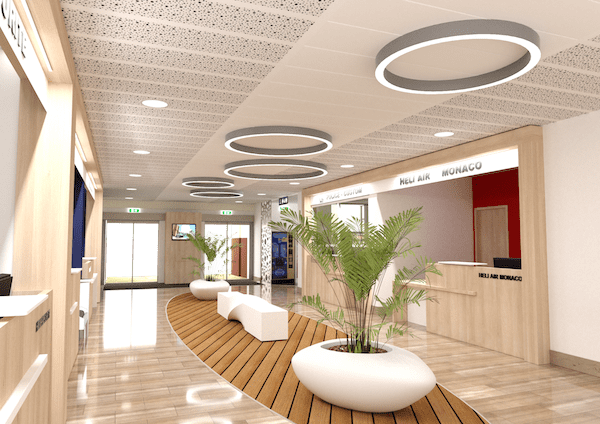 Accessibility standards will be met.
Importantly, the SMBP will install thermal insulation on all the facades of the building, which, coupled with the replacement of glazing and joinery will allow a major reduction of acoustic and air pollution generated by the helicopters.
This work will be completed by the creation of two airlocks, which will guarantee better thermal comfort. The SMBP has chosen bio-sourced insulating materials (wood fibre).
On the roof 180 m2 of photovoltaic panels will be installed to produce 55,000 kWh/year, representing avoided CO2 emissions of more than 4.6 tonnes/year.
Finally, the Public Buildings Maintenance Service will strengthen security by raising fences on the periphery of the site and installing an additional anti-intrusion system. Delivery of the project is scheduled for April 2023.
ORIGINAL SOURCE & PHOTO: Monaco Government Press Service