Wednesday 12 – Saturday 15
Les Assises – congress
The unmissable rendezvous for all cybersecurity experts. It is the founding event of the cybersecurity market, driven by an engaged and passionate community. More than an event, Les Assises have become a true institution for all the key players for the last 20 years. It is a unique meeting place to get insights and go further into current and future cyber issues.
At the Grimaldi Forum from Wednesday October 12 till Sunday October 16.
Discover more here.
---
Friday 14
DERMOT BOLGER, PLAYWRIGHT, POET & MORE
A talk by award-winning author Dermot Bolger with dramatic readings by actors from the Monaco-Ireland Arts Society from his play and an insight into his new collection of poems. In this informal talk, Bolger explains how his initial terror at approaching Ulysses as a playwright reflects the terror many readers feel at approaching it as a book, due to its deserved mystique and complexity.
At the Princess Grace Irish Library on Friday, October 14 at 19:00.
This is an event sponsored by Culture Ireland. The Princess Grace Irish Library is grateful for this valuable support.
Discover more and reserve your tickets at the Princess Grace Irish Library website.
---
French Animation evening
The Audiovisual Institute of Monaco presents a screening and meeting with François Aunay, producer, and Jean-Paul Commin, animation film specialist. This screening is part of the Animation Film Festival organized in France and around the world by the French Animation Film Association (AFCA).
On Friday, October 14 at 19:00 at the Institute Audiovisuel de Monaco. Cinema rate in the Petite Salle €5 – reservation recommended by phone at (+377) 97 98 43 26 / or by email at info@institut-audiovisuel.mc.
Discover more at the Tout l"art du cinéma website.
---
Saturday 15
THE GOOD LIFE – event now sold out
Discover your authentic self by transforming your relationship with love and money and life itself with Gavin Sharpe and Dufflyn Lammers. October 15, 2022, Monte-Carlo Bay Hotel & Resort, Monaco from 10:00 to 16:00 (lunch included).
For more info click here. Proceeds from ticket sales will be donated to Child CARE Monaco.
Read our interview with Gavin Sharpe here.
---
"Dream it. Wish it. Do it." – at ISM
International School of Monaco presents its second edition of TEDxYouth@ISMonaco, the only TEDxYouth Event in the Principality.
The event will take place in the ISM cafeteria on October 15 from 14:00 to 16:00 before a live audience and will feature nine student speakers aged 10 to 17, selected TED videos and musical entertainment. The theme voted on and decided by the School and the Committee is "Dream it. Wish it. Do it."
---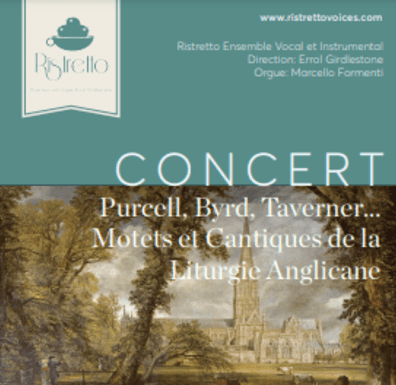 "Motets et Cantiques de la Liturgie Anglicane" – RISTRETTO concert
We are delighted to invite you to Ristretto's forthcoming concerts in Monaco and Menton, "Motets et Cantiques de la Liturgie Anglicane" which will include works by Taverner, Byrd, Gibbons, Purcell, Wesley, Bairstow, Stanford and Howells. The Anglican choral tradition as upheld in cathedrals and churches throughout the United Kingdom provides a rich storehouse of beautiful sounding settings: hymns, psalms, anthems, and motets, sung a cappella or accompanied by an organ. This is a rare opportunity to hear some of these lovely works, which Ristretto will perform under the inspired and experienced direction of Errol Girdlestone. Ristretto will be at St Paul's in Monaco on Saturday October 15 at 20:00 and in Menton at St John's on Sunday October 16 at 16:00.
---
Yannick Alleno x Bruno Verjus Four-Hands Dinner
It is at the Pavyllon Monte-Carlo of the Hôtel Hermitage Monte-Carlo that a four-handed dinner will take place for the first time with Chef Yannick Alléno and Chef Bruno Verjus. The Chefs are expecting you on Saturday October 15 for a dinner rich in flavours!
Discover more and reserve your places here.
---
International Bouquet Competition
The Garden Club of Monaco, chaired by HRH the Princess of Hanover, is holding the 53rd International Bouquet Competition, this weekend in the Riva Tunnel on Port Hercule.
According to the organisers participants from all over Europe come to compete in imagination to develop floral compositions, and true works of art are expected for this competition. The exhibition is open to the public on Saturday October 15 from 18:00 to 20:30 and on Sunday October 16 from 09:30 to 18:00.
On Sunday at 14.30, Kevin Billard, florist and decorator at the Prince's Palace, will lead a floral demonstration on the theme of fashion and will produce two floral decorations. The first will be "the art of the table inspired by Dolce & Gabanna" and the second, "an exceptional bouquet inspired by the world of Thierry Mugler".
Free admission. Information : Garden Club – International Bouquet Competition: +377 93 30 02 04 Email: gardenclub@monaco.mc, www.gardenclub-monaco.com
---
Sunday 16
Academy of the Opéra de Monte-Carlo
Concert by young Russian singers on Sunday 16 October, at 15:00 at Opéra de Monte-Carlo – Salle Garnier.
Discover more at the OPMC website.
---
Déjanire – concert
Monte-Carlo Philharmonic Orchestra, 22/23 season under the Presidency of HRH the Princess of Hanover presents "Déjanire" with Kazuki Yamada (conductor), Kate Aldrich (mezzo-soprano), Julien Dran (tenor), Anaïs Constans (soprano), Jérôme Boutillier (baritone), Anna Dowsley (mezzo-soprano) and the Chorus of the Opéra de Monte-Carlo with Stefano Visconti (choirmaster). Music by Saint-Saëns. At Auditorium Rainier III at 18:00.
Discover more and reserve your tickets at the OPMC website.
---
Looking forward
3-Day Dog Psychology seminar
Happy Dog MC/A-PAW Animal psychology and Well-Being are holding an event at the Marriott Hotel in Cap D'ail on November 8, 9 and 10. There are 20 places available and it is open to dog owners/professional trainers to attend. There is a daily rate of 150€ or 130€ per day for the 3 days. This includes lunch/morning and afternoon snacks and a cocktail hour on the last day. The special guests, two professional trainers are coming from the UK and the schedule will include live dog intervention sessions each day with clients and their dogs with behavioural problems. A gift pack is offered and the event will be lots of fun! On the last afternoon of the seminar A-PAW will be hosting a multi-dog pack walk parading through Monaco from the Marriott to Port Hercule with banners to encourage people to respect Monaco by picking up their dog poo…
For more information please contact happydogmc@hotmail.com.
---
Ongoing
Monaco Gardens in Bloom
The Fédération des Groupements Français de Monaco presents the exhibition "Anthology of the Gardens of Monaco".
The watercolor painter Tony SZABO has attached himself to all the great gardens of Monaco, the Jardin Exotique, the Rose Garden, the Japanese garden, but also the gardens of the Casino and the hanging gardens of the Rock, to capture their abundance, the light and colours. The poet Gilles Montelatici, for his part, sought to translate into short poems, in the manner of Japanese haiku, the atmosphere of these gardens, the instantaneous impressions which emerge from them. This project is also an opportunity to visit history through the evocation of the gardens of Monaco, with its streets named after flowers or plants.
From Friday October 7 to November 5, 2022 at the Maison de France in Monaco.
On Tuesdays to Saturdays from 14::30 to 18:30. (closed on Sundays and Mondays). Free admission.
---
Newton, Riviera
The title of the exhibition clearly circumscribes a geography, that of the Côte-d'Azur to Bordighera, in Italy, that Helmut Newton photographed from the 1960s until his death in the early 2000s. "A Riviera" is thus a pretext to explore the work of a major photographer of the 20th century in a different way, through now famous images, like others rarely presented to the public.
At Villa Sauber until 13.11.2022. Discover more at the Nuveau Musée national de Monaco website.
Read more in our article here.
"From One World To Another, From The Visible To The Invisible"
The temporary exhibition "From One World To Another, From The Visible To The Invisible", invites visitors to discover previously unseen and original collections kept at the Monaco Museum of Prehistoric Anthropology, where some of them have been for more than a century. Until Saturday December 31 at the Musée d'Anthropologie Préhistorique.
Discover more at the Museum's website.
"Christian Bérard, Excentrique Bébé"
The Nouveau Musée National de Monaco is presenting an exhibition devoted to the artist Christian Bérard (1902–1949). The exhibition is running until October 16, 2022 at Villa Paloma.
Featuring interior views and Mediterranean landscapes, the show makes reference to the places associated with Bérard's many stays in the south: these include Monte Carlo, where he produced his first designs for the Ballets Russes in 1932, Tamaris, where he had his studio during the summer period, the Lily Pastré estate in Marseille, and the villa belonging to Charles and Marie-Laure de Noailles in Hyères. Over 300 paintings, drawings, photographs and interior decorations trace Christian Bérard's encounters and collaborations with the great creators of the time, among whom Jean Cocteau, Louis Jouvet, Christian Dior and Gabrielle Chanel.
Discover more at the NMNM website.
Exhibition – "Cinémato !"
An exhibition about Albert I of Monaco, pioneer of sound and image, with loans from the Palace Archives, the Oceanographic Institute, and Phono Museum Paris, organised by the Audiovisual Institute of Monaco. Until December 30, from Monday to Friday, from 10 to 17:30. (17:00 on Fridays), at the Institut Audiovisuel de Monaco.
Discover more here.
FEATURED IMAGE: English composer Henry Purcell