Le Meridien Hotel has been a Monaco landmark since 1972, and on Thursday evening Le Tout Monaco was on hand for a celebration party alongside the swimming pool of the Sea Club.
The anniversary cocktail was superbly crafted, with amuse bouches representing each of the five decades since the opening half a century ago, accompanied by music from the 1970s including a James Bond theme.
Manuel de Vasconcelos, the director-general of the hotel, welcomed special guest HSH Prince Albert who spoke of the contribution Le Meriden has made to the life of the Principality over the last half century.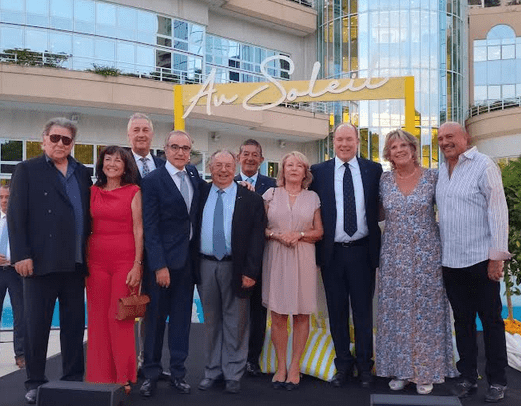 HSH Prince Albert with some of the members of Meridien teams since 1972
The hotel issued the following statement: "Much more than a hotel, I am a place where locals and travellers can connect with the soul of Monaco as anywhere else, creating lasting memories throughout their lives, sometimes from their earliest childhood. I have always been committed to being a fascinating reflection of your rich culture, your cosmopolitan cuisine, your artistic scene, and especially your "Monaco way of life". I am celebrating my 50th anniversary this year in this legendary place and wish to express to you, at this occasion, all my gratitude for your unwavering support during these decades, and above all the love that I have for you. As I blow out my 50 candles, I will wish that the years to come will also be synonymous with unforgettable moments of life and continue to nourish the unique bonds woven between our guests, you, and me."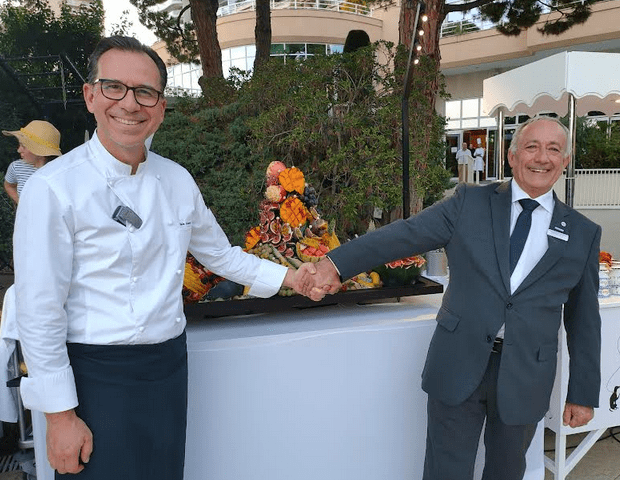 Laurent Collin, Executive Chef for the last eight years, with Maitre'd Antonio Fochi, who has been at the hotel for 39 years
Laurent Collin, Executive Chef, said that Le Meridien is a wonderful place to work, with great synergy between the kitchen and the service, and this is what makes the hotel such a great success.
MAIN PHOTO: Maitre'd Antonio Fochi with Sergi Arola, of Intempo restaurant. Below, HSH Prince Albert and Manuel de Vasconcelos, the director-general of Le Meridien PHOTOS: Martina Brodie