Although Monaco's new district on the Portier sea extension is far from finished, almost all properties on the site have been sold.
The eco-friendly project has been a great success, according to Guy Thomas Levy-Soussan, the Government official in charge of the development.
In a wide-ranging talk at a well-attended breakfast event at the Meridien organised by the Junior Chamber of Commerce, Mr Levy-Soussan said that one of the key reasons for this success has been the frequent face-to-face meetings held with the main contractors, Bouygues.
"We achieved our common goal by working together at the top, leaving the technicians and lawyers to one side," Mr Levy-Soussan said.
The ambitious programme involved rigorous planning. It could not be delivered in tranches, like Fontvieille, and the sea depth varied from 30 to 60 metres. Before construction started native plant species were removed and resited.
The villas and apartments have been designed with living spaces corresponding to the standards that the new owners would be used to in their countries of origin. The smallest apartment is 400 square metres and so far 136 apartments have been sold.
The make-up of the neighbourhood by nationality will be typical of the rest of Monaco and largely European. It has been the aim of the authorities to attract families and deter speculators.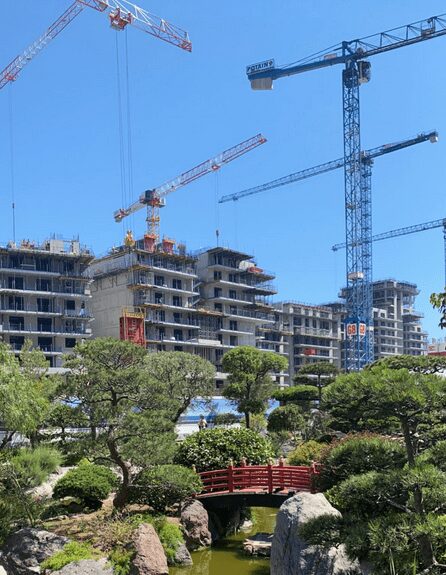 The redevelopment of Larvotto, now almost complete, and the NiBox project will complement Mareterra as a coherent zone of high attractivity, Mr Levy-Soussan indicated.
Meanwhile, one real estate agent, who did not want to be named, said that a very few properties are available from the developer at 70,000 euros per square metre, but buyers can expect to pay up to 100,000 euros per metre for a resale.
Irene Luke of Savills in Monaco added: "Mareterra is virtually all sold. A few units remain for sale direct from the developer but only a very few. Anyone wishing to invest in this development is now going to have to look at the re-sale market.
"And we are convinced that this development is something of a game changer for Monaco in that it provides large, luxurious apartments directly on the waterfront, designed by a world-renowned architect and constructed in accordance with the most stringent concerns for the environment."
MAIN IMAGE: Guy Thomas Levy-Soussan talks to the media, Ed Wright Images. Centre: the view of an emerging Mareterra from the Japanese Gardens, Max Brodie