The Gift of Good Quality Sleep, a Facelift and Profound Relaxation.
Maki Mirey was born in Japan. The well-travelled marketing specialist eventually settled in the South of France, married and had children, but the stress of a busy job and everyday life started catching up with her. "I wasn't aware I was under stress so I never really looked for treatment, which led me to develop insomnia for nearly two years."
Maki started to pay attention to everything that promised to cure her problem. "I became obsessed with wanting to understand and learn everything there is to know about sleep." She gave up her day job and focused on studying to help herself and others who are experiencing the same problem.
It turns out that on average up to 50 percent of adult people develop problems with sleeping at some point in their lives, 10 percent of whom may develop chronic insomnia. Sleep impacts the body in the most profound way: "Lack of sleep or too much sleep not only causes poor health and poor mental wellness, it can increase the risk of death."
It was during her studies to become a sleep therapist that she learned about the unique technique called "21 no Shugi (21の手技) " invented in Japan. This special technique developed and refined by top health professionals: neuroscientists, acupuncturists, psychologists and massage therapists, is applied during a Dry Head Massage and the purpose is to improve peoples' quality of sleep.
Maki immediately enrolled in their teaching academy and flew to Japan.
Only 30 percent of her class passed the exam and became fully-certified. Maki is currently the only person in Europe providing the treatment based on the "21 no Shugi (21の手技) " technique. There are five clinics providing the treatment based on this technique in Japan, in the Tokyo and Osaka areas mostly, and not only they are fully-booked for the next two months, the waiting list is 62,000 people long.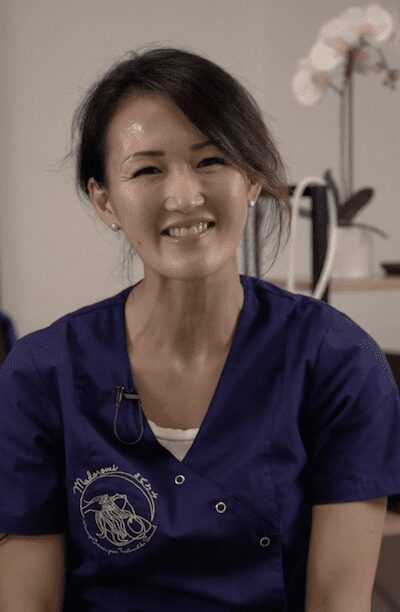 Maki set up her 'cabinet' in a room of the building next to the Monaco railway station almost exactly one year ago and is growing her business organically – just by word of mouth. In fact, she was recommended to me by a friend who flies from London to get this treatment. "Did you have a botox?" I asked V. last time right after the massage and that's how I heard of the fabulous Maki.
Her Dry Head Massage is basically a scalp massage to release tension in your head, neck and shoulders without the use of water or oil. The special "21 no Shugi (21の手技) " technique focuses on loosening the muscles on the head – and relieves brain fatigue thus also enhances overall beauty by improving your quality of sleep through rebalancing the autonomic nervous system.
The treatment also helps with headaches, eyestrain, neck and shoulder stiffness, hair loss, face swelling, stress and also improves the look and quality of the complexion and gives an instant face-lift. The appointment lasts an hour, but it feels like ten minutes and you do not want to it to end. Afterwards Maki thanks you for being there and offers you a cup of caffeine free Japanese tea, by which point you really need to open your eyes however much you are tempted to just cuddle up and ….SLEEP. Do not worry, the sense of profound relaxation lasts long after the treatment is over, in fact, it may, just like that, change your life.
To celebrate her first year in business, Maki is offering NEWS.MC readers a special 30 euros discount (off the 120 euros original price) in the month of May and a gift for every client – a pillow spray for the night. Just mention NEWS.MC when you get in touch with her: madoromi.dhm@gmail.com.