Monaco resident Marcela Royer is a one-woman powerhouse who lives, eats and breathes the superyacht world. She is undoubtedly the foremost global expert on all matters to do with superyachts, and she lives and works, where else but in the yachting capital of the world.

Her story is fascinating and inspirational. Having studied at the American School in Guatemala City, Marcela decided she wanted to see the world beyond Latin America. She came to Nice, learned French, and one day came to Monaco on the train and picked up a tourist map to find her way around the Principality. On the map was an ad for the International University of Monaco, and without delay, Marcela applied and was accepted for a BSBA undergraduate program.

With typical modesty, she hints that she won a place, and a scholarship, because she was the only student from Guatemala.

Marcela specialised in finance and graduated with a business degree in the middle of the financial crisis.

However, not to be kept down, Marcela decided to give yachting a chance. She found a job in Antibes selling underwater lights for yachts at a time when they hardly existed. She knew next to nothing about yachts but learned quickly, travelling from shipyard to shipyard.

"The biggest challenge selling underwater lights is not convincing yacht owners to cut holes in the hull, but dealing with the cultural differences of different markets," Marcela points out. "Selling in Italy is not the same as selling in the Netherlands," she explains. The importance of cultural differences is one of the central tenets of her professional life.

Her warm and open personality undoubtedly enhanced her networking skills and she was noticed and head-hunted by a yacht management company in Monaco and then moved to become commercial director of a shipyard in the Netherlands. It was perfect timing, she says. She did all of the company's business development, dealing with sales, refits and new construction and worked with UHNW individuals worldwide.

Marcela travelled the world and her awareness of cultural differences became even more acute. She studied for an MBA with the Hult International Business School in Boston and is full of praise for the practical case studies and real-world problem solving that form the basis of the course, intended primarily for CEOs.

When coronavirus hit in 2020 all the flying, the parties and the networking came to an abrupt halt. And as has been the case for many people, there were also opportunities in the crisis.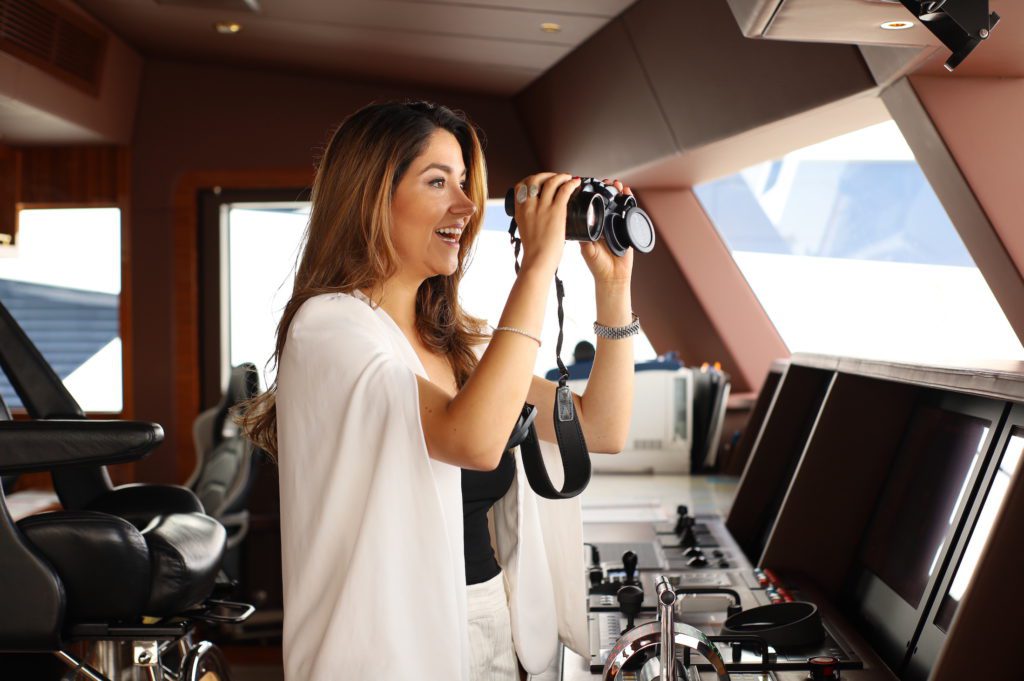 Marcela seized the chance to write the first book about the superyacht industry (www.thesuperyachtindustry.com)

"There was nothing. All the books were about sailing or large commercial vessels, but nothing about superyachts."

Marcela set about learning all aspects of the industry and spoke to almost 100 specialists in their fields, including naval architects,designers, shipyard, brokers, etc.

"I was amazed that no-one had anything written down before. They just said 'we've always worked like this.'"

The book was launched in January 2021 to great acclaim and 1,000 copies were sold in the first month!

Unsurprisingly, Monaco Yacht Club asked Marcela to teach within its Belle Classe Academy, and she launched the Yachting Masterclass that brings together experts from their fields who impart their knowledge and experiences to the students. Needless to say, the Masterclass has proven very successful.

"I am happy to create a positive impact," Marcela says.

Marcela operates a business consultancy for marinas, yacht owners, brokers and yacht builders. More than that, this year she launched the first social media agency that creates video content for yachts for sale or charter by telling stories through yachting experiences.
As an influential person in yachting, she has created a powerful online community for yacht owners and professionals and operates a very impressive platform, www.onboard.mc

A great believer in the potential power of social media, Marcela has over 100,000 Instagram followers on her business account @onboard.mc and @onboardwithmarcela.

With a twinkle in her eye and modesty that is her hallmark, Marcela tells me: "I am a disruptor."