Through its corporate foundation, the Monaco Luxury Group has raised 10,000 euros towards research targeted on helping local youngster Thomas Rodier (20), who has been diagnosed with degenerative eye disease.
It was at the Group's Ferrari showroom on rue Gabian in Fontvieille that the Foundation presented a cheque for further research to the Vision Institute, based in Paris, in the presence of its director, Dr Emmanuel Gutman.
Thomas came to the attention of the Foundation when his godmother at Scuderia Monte Carlo told her colleagues about his illness, which will see him lose his sight by the time he is 30.
"Very touched by Thomas' story, we contacted the Institut de la Vision in Paris and took an interest in a stem cell research project on the faulty gene at the origin of this disease. With Thomas and his family, we met Doctor Goureau who presented to us his research project simultaneously with teams in Israel. He agreed to work specifically on Thomas' faulty gene, FAM161A.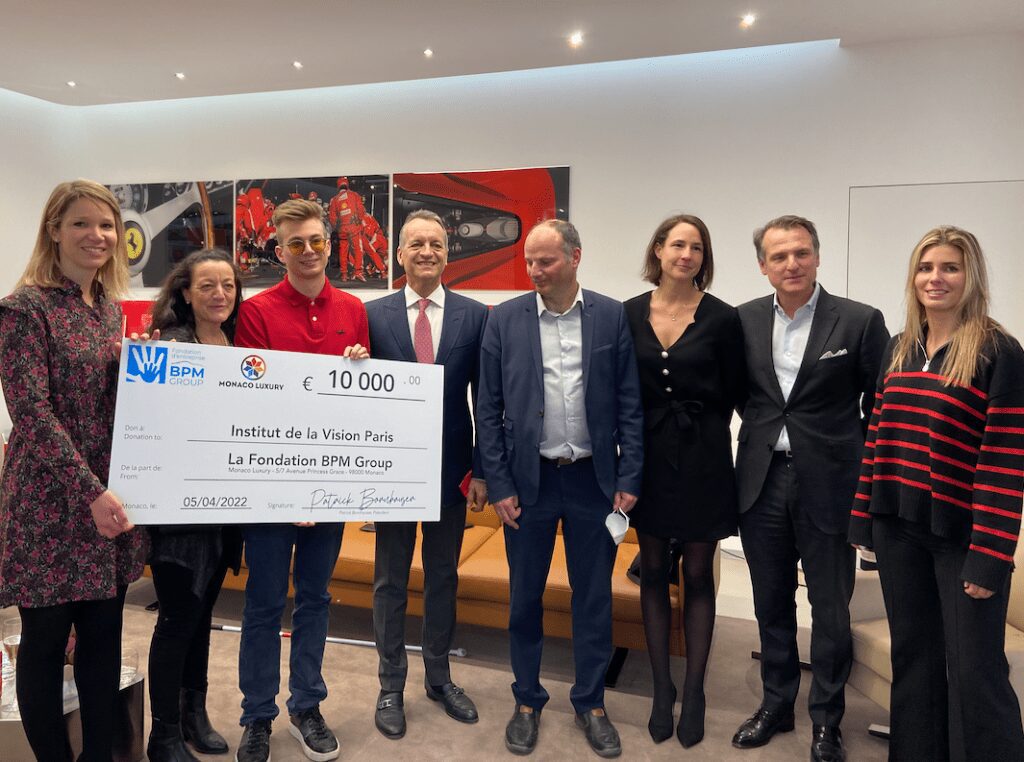 Thomas and his supporters
"This project is fabulous and full of hope for all these young people with retinal failure disease. The global RP FAM161A project amounts to 500,000 euros. Our foundation decided to support Thomas and contributed 10,000 euros. He alone cannot finance such a project, so Thomas is looking for other patrons. He has raised 55,000 euros so far," said Virginie Habarnau, of the BPM Foundation.
Monaco Luxury Group brings together the Ferrari, McLaren, Rolls-Royce, Aston Martin, Bentley and Mercedes-Benz dealerships in Monaco, and has been part of BPM Group since April 2021.
PHOTO: Virginie Habarnau, of the BPM Foundation, Monaco Mayor Georges Marsan, Thomas Rodier and Dr Emmanuel Gutman of the Vision Institute, Paris
More info: fondation@bpmgroup.fr