On March 23, Artcurial will unveil more than 180 paintings, drawings and sculptures from numerous private collections such as the Edmonde Charles-Roux collection, that of Raymond Marcel and the collection of the Marquis de L'Hôpital. The Charles Auzoux collection will also be on display on March 24. The auction takes place over two days, March 23 and March 24, in Paris.
Composed of nearly a hundred sculptures, paintings and drawings, it brings together major works by Dalou, Carpeaux, Carriès, Desbois and Bastien-Lepage, attesting to the friendship between Charles Auzoux and these artists.
The sale will open with two important core collections, starting with that of the Marquis de L'Hôpital, and Paul-François de Galluccio (1697-1776), who had an important military career under Louis XV before becoming French ambassador first to the Kingdom of the Two Sicilies in Naples, then to Russia at the court of Elizabeth I. The portraits brought back from his mission have remained in his family up to the present day.
Another important collection, also the fruit of a diplomatic career, tinged with Orientalism, is that of François Charles-Roux (1879-1961), French ambassador to Constantinople then to Cairo. He passed this on to his daughter, the journalist and woman of letters Edmonde Charles-Roux (1930-2016).
Jean-Baptiste Vanmour's paintings showing life at the Sultan's court in Istanbul in the 18th century illustrate their shared passion for the Orient and history. Pieter and Jan Brueghel, Teniers, Louis de Caullery, the painting of the Northern Schools will be illustrated by its best representatives.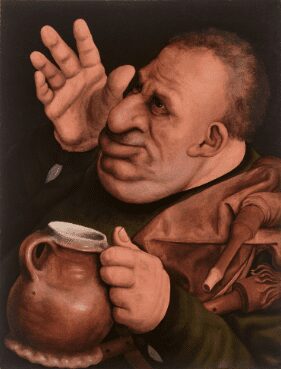 A thirsty bagpipe player
Worthy of a mention in particular is Bird Trap by Pieter Brueghel the Younger, an always marvellous image of a Flemish village under the snow, estimated €100,000 – 150,000, and an exceptional thirsty bagpiper attributed to Jan Massys, a precocious and extraordinarily powerful image that holds up a unique mirror to us, between raw realism and reflection on our humanity. This painting is estimated at €400,000 – 600,000.
The Charles Auzoux Collection, an intimate of the artists of his time, reflects the greatest French sculptors of the late 19th century, Carpeaux, Dalou, Carriès, Falguière, but also painters such as Renan, Prouvé and Anquetin. They were clients who became friends of Charles Auzoux, a lawyer by profession, who showed unfailing dedication and support for the artists and their families, which earned him their deep recognition and total trust.
His collection, which has remained in the hands of his descendants to this day, bears witness to this quality relationship forged by the man of law with each of these talented creators.
"Rarely have so many masterpieces been offered in France within the same sale. Paris and Artcurial are definitely the place of all discoveries. » Matthew Fournier, Auctioneer, Director of the Old Masters & 19th Century Department Artcurial.
FEATURED PHOTO: Mattia Preti the Prodigal Son, oil on canvas Height: 122 cm Width: 171 cm, Estimate: €300,000 – 500,000.