They are looking after the most privileged. You can spot them wearing crossed golden keys on their lapels. They belong to an elite association, globally connected, committed to professional development and driven to setting new standards for guest service perfection.
With roots dating back to 1929, officially founded in 1952 in France, Les Clefs d'Or has over 4000 members in 80 countries and 536 locations.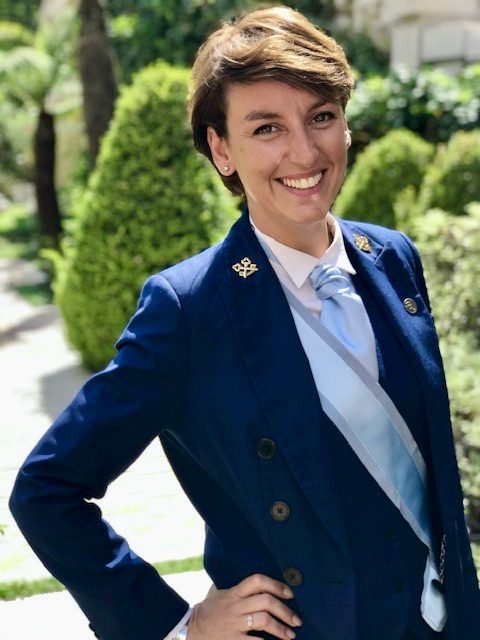 Maud Delas joined Hotel Metropole Monte-Carlo in Monaco in December 2013. She is now a member of Les Clefs d'Or and Secretary of the Association at the regional level for the Monaco – Côte d'Azur section that extends from Monaco to Saint Tropez, and as she puts it she is lucky to have humbly joined the National Steering Committee as an Advisor.
Her journey was never straightforward nor did she grow up in the world of luxury: "When I decided to reorient my professional life, to move from law to hospitality, it had to make sense. If it meant leaving everything, I wanted to be part of the elite: Les Clefs d'Or."
"When I invest in a project, I always do it at 300 percent."

Les Clefs d'Or is a very prestigious order. How did you become involved?
Indeed, carrying Les Clefs d'Or is a real pride, a recognition by peers and an intense feeling of belonging to an international association dedicated to excellence in customer service.
Joining the association is a journey that must be well thought through and matured because it requires time, investment, rigour, integrity and obviously a lot of work.
To become a member of Les Clefs d'Or association, you must prove at least five years in hotels concierge services and then be sponsored by other members of the association to submit an application before presenting in front of a jury panel of members who will judge your ability to reflect the excellence of our profession.
What did you study and what did you have to do in order to become a member?
The hotel industry was not my first choice since I first studied law to obtain a masters degree in business law. But, one day a friend asked me for help in the hotel where she worked on weekends. It was just a matter of helping her out for a day, but I loved the atmosphere, this family spirit and meeting people with varied backgrounds.
I therefore told her that I was available every weekend in parallel with my studies. Finally, after two years I was more excited about working weekends at the hotel than going to college. I contacted a school in Paris that trained in hospitality trades; the adventure started like this. A decisive life choice.
Where did you grow up?
I grew up in France, in the Parisian suburbs in Seine Saint Denis. Far from the glamorous world of Monaco and the world of luxury hotels. I am very proud to have grown up in a multicultural environment, nourished by social values and solidarity, which I find tend to be lost in the 21st century where the individual withdraws into himself and his fears.
How would you describe your job?
The job of Concierge is exhilarating! You never know how your day will go! We have a wide range of skills; our absolute leitmotiv is to respond favourably to all requests – no need to specify in accordance with the law.
It is necessary to juggle the simplest requests and the most … delicate ones! We must be the ambassador of our establishment but also of its environment. We are also involved in the development of tourism, so good knowledge of the surroundings is essential. Then, you have to deal with tasks from restaurant reservations, recommendations of activities in the region to the purchase of a bouquet of flower in the middle of the night!
This is still very masculine territory – would you agree?
Indeed, it is a very masculine environment, but fortunately, mentalities are changing little by little, thanks to the Concierges themselves and Hotel Managers who understand it is important to reflect our society even at work. You have to make guests feel comfortable in the hotel. Obviously, they are going to feel more comfortable with a woman for some requests. In addition, I think that we bring more serenity and calm in a team.
How does your regular day look like at Hotel Metropole?
When you start your day you have to take instructions, learn about the course of the day, the different requests, and make sure that everything goes smoothly. At the height of activity, we have had 126 rooms (more than 200 people) at the hotel, plus guests from the Yoshi and Lobby Bar restaurants and the Spa Metropole by Givenchy.
You can imagine that it can be sporty to answer even the most demanding requests. I remember a customer who bought 10 pallets of pears at the market, and who wanted them to be sent to him in the Middle East the next day when he returned home. Imagine if you have several requests like this, the day goes by very, very quickly!
What do you like the most and the least about your job?

I like the human relations; I like to meet people from all parts of the world, to help them have a pleasant stay, to surprise their friend, to organise their marriage proposal. You come into their lives 99 percent of the time because they have a problem and you have the keys to solve everything! It is fabulous! You are almost a magician! But this magic can only happen because you are part of the prestigious network that is Les Clefs d'Or.
What I do not like is to be bored; luckily, we do a job where it is extremely rare not to know what to do! Because even if you have no requests, even if the activity is less intense, you must find out about the next shows, next outings, exhibitions and so on. Our profession is in perpetual movement since it is totally connected to the world around us which keeps moving.
I am dynamic and curious by nature, I like to learn, I like to have projects and challenges! The future will therefore be a professional development, who knows as Head Concierge. It is very important for me never to fall into boredom, especially intellectually.
How do you like to relax?
I realise that I like quiet moments more and more. I like to take the time to walk in the middle of nature with my dog, I like to read a good book, to listen to music while making dinner. Simple things in the end. I am also passionate about travel, cinema, shows, opera, but these last two years have taught me to be resilient and the importance of the present moment.