Happy New Year and welcome back to My Monaco Questionnaire! The Questionnaire is just a fun opportunity to hear from Monaco's residents what makes living here so special.
This week Edwige Bruner tells us all about her favourite things. Edwige is of French and Polish heritage and has lived and worked in Monaco for more that 15 years. She is the mother of two young girls and has a dynamic career in the investment field. She especially loves Monaco for its values in education, the environment, innovation and charity.
I get my morning coffee and croissant here
I like having breakfast at home with my daughters before school, but I do LOVE croissants which I always buy to share at Epi d'Or. This time of year our family tradition is to have a galette at Epiphany and we usually eat them at breakfast for the whole King's return week, collecting items from Costa (towels, dishes and mugs every year!) and queuing for the Epi d'Or 'frangipane,' our favourite.
My favourite lunch spot
Avenue 31 is my favourite lunch spot, as I enjoy the warmest welcome, meet friends, have business conversations or share family brunches, always with very generous meals and open views on the sea over the new Larvotto beach promenade.
Mada One is also the perfect urban stop, with a very modern menu and always interesting flavours proposed by Marcel Ravin.
Best Friday night aperitif
Bar Américain is the mythical and historical place where residents and visitors can mingle in style with live entertainment. Recently I re-discovered the Ship and Castle where happy hours and the friendly service make it the best casual aperitif with a relaxed Anglo-Saxon, international vibe.
Annual event I never miss
The Grand Prix, of course! Since I was very young, it was a time we always looked forward to. It is the time of the year where we have friends, family and the best professional entertainment, right at our doorstep. Needless to say the rise of an extremely talented new generation of Monaco-based pilots makes it even more of an intimate event and exciting for all generations. I am a Member of the Automobile Club of Monaco and everyone in my house cheers for Charles (Leclerc)!
Favourite time of year in the Principality
I love April. The sun starts to warm us up again, and spring is in the air. The season kicks off with the Rolex Masters Tennis, and I feel (in some kind of selfish way), the Principality still belongs to its residents.
My best Monaco workout
I usually drop my youngest daughter to school and go straight for a run in the Hercule harbour with a long pause on the 'digue,' the perfect place for a sunrise meditation. I can also practice all the movements from my ballet barre class with MsFit's founder Iryna @ https://ms-fit.net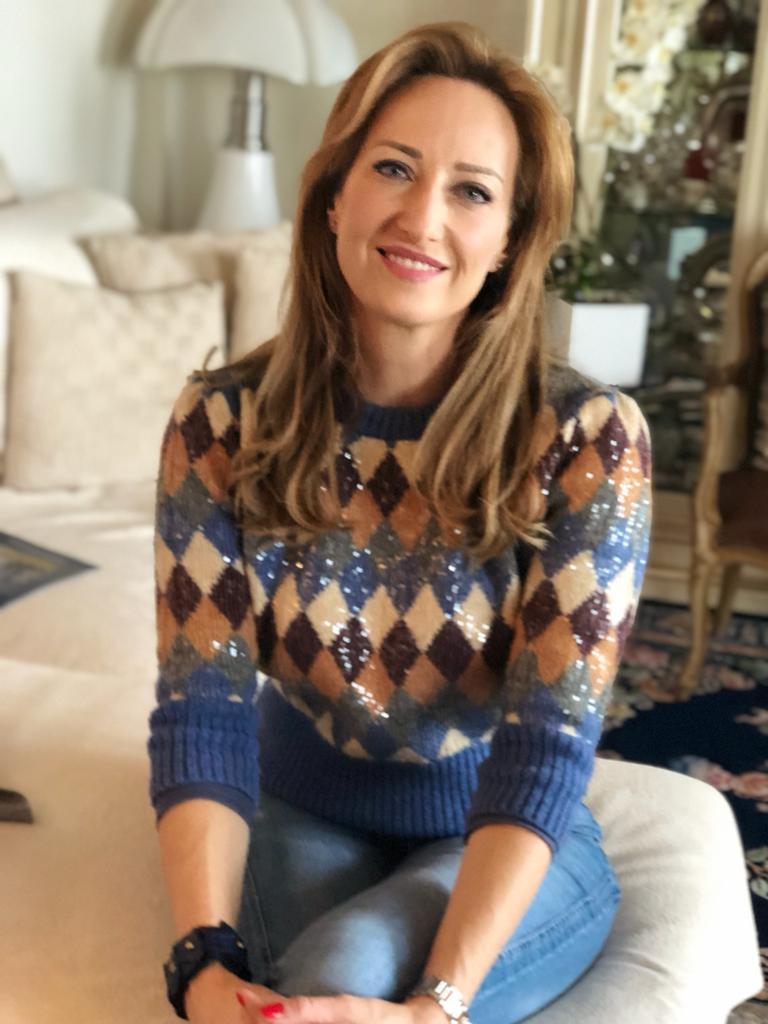 Where I go/what I do for "me time"
Les Thermes, again a family tradition, where we get amazingly pampered at the hands of professional therapists, and where we can try the treatments used by the local professional athletes, like cryotherapy. The spa is filled with the smell of the essential oils, and I always try to buy their perfume, although it is often out of stock. (Check the boutique on -2 level.) The lunch at L'Hirondelle is a must as well, where you can experience healthy and delicious gastronomy.
My go to shop for last minute gifts
For Christmas, I have been offered 'crystals' and recently discovered Les Pierres Du Rocher, coincidentally also my oldest daughter's favourite shop. Now full moon manifesting is a family hobby!
A hidden gem I'm willing to share
The best kept secret in Monaco is its citizens and residents! There are so many amazing people who have shaped the Principality historically. Many people recently remembered Josephine Baker, this remarkable artist, civil right activist and French resistant, who is now honoured on the Larvotto promenade. While she entered the Pantheon in Paris November last year, she is buried at the Monaco cemetery, amongst other artists like Leo Ferré and Roger Moore. They meet other very well known residents of Monaco Iike Apollinaire, Jean Cocteau and Marcel Pagnol, all confirming Monaco was and remains a very creative cultural centre, attracting luminaries from all around the world.
Best day trip out of town
Avid skiers looking for a change of scenery like me will love Limone, just an 87-kilometre drive away. Here you can experience sunny and challenging slopes, in the heart of a real mountain village with all the charm and flavours you want on a ski holiday. It is also a great chance to meet your Monaco crowd in a relaxed and friendly setting.
The one thing I would change about Monaco if I could
I would love to see Monaco make a strong digital transformation. The Principality's initiatives with Monaco Tech, etc. should take centre stage and more should be done to attract talent here in the field of tech and AI.
The Shout Out
Marie Helène Palmaro, my neighbour and probably most talented and creative embroiderer. Marie Helène often showcases her creations at charity events but I love her baby shower packages (all handmade in organic cotton). Her other items like the silk wedding pillow, the modern travel bags and girly make-up pouch are all fabulous.
Such amazing craftsmanship and taste needs to be discovered!
You can reach her at mhpalmaro@gmail.com
Thanks for sharing your Monaco, Edwige!