The gifts and talents of outstanding Monaco artist Jane Gemayel were discovered purely by accident. It makes a fascinating story.
Soon, Jane will share a selection of her works, inspired by The Prophet by Kahlil Gibran, her Big Paintings and a collection called News as Muse in Monaco's Pavilion at the Dubai Expo 2020 in January 2022.
An elusive artist who calls herself a hermit, Jane has lived in Monaco for the past 30 years, always creating, meticulously collecting all the substance of her work: quotations, press cuttings, notes, and associations of ideas and colours. Some of those become part of the so-called Black Boxes – each of her paintings has its own – where she stores the entire process on which the final piece of art is based.
Born in Ontario, Canada, Jane Gemayel grew up in an idyllic world of nature, surrounded by horses and the wisdom of much older neighbours – " they were around 90 years old" – in a farmhouse. Her father was a Veteran: "He was one of the first Canadians to arrive in Normandy in WW2. Because of that we had a different education."
Jane has a life-long passion for books, dictionaries and a boundless love of words. She read poetic literature and the great classics, and one day in an obscure bookstore, at the age of 20, she discovered a small gold book entitled The Prophet by Kahlil Gibran. Inside were 26 prose poems delivered as sermons by a fictional wise man in a faraway time and place.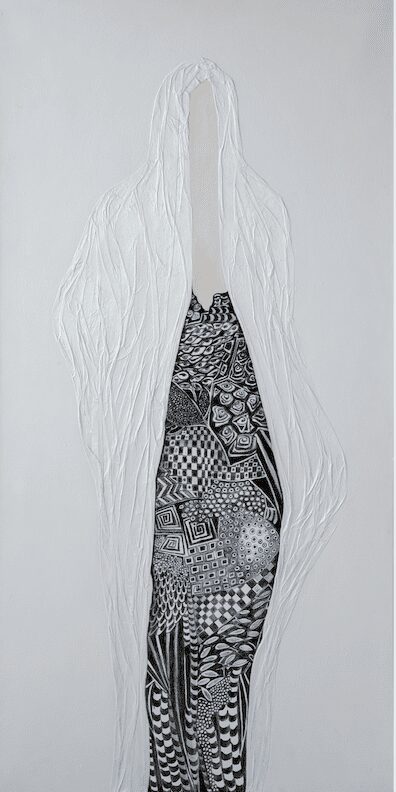 Prophet White, 2015, Ink and acrylic on canvas – 70 x 132 cm
Word by word she decoded the work of the now world-famous poet and visual artist, which has given meaning to the way she approaches life and work ever since, drawing a path through art, literature and today's mass media news. From the affinity she shares with the poet's thoughts, an abundant production was born.
Jane Gemayel illustrated the writings of Kahlil Gibran as a response to the aesthetic research that she bases on the depiction of the human, preferably female, body in search of an ideal eternal beauty.
The Prophet with Jane Gemayel illustrations was published in 2015 both in French and English editions.
She showed the sketches she was working on during long nights to Ketty Gastaldi of Loga Cafe – "She is like the mother of the whole world" – because Ketty had asked Jane why she always looked so tired.
"Thanks to close friends who were taken by my work, I have been encouraged to increase the format, and to make the sketches into paintings. I was introduced to Adriano Ribolzi who offered to host the signing of the Prophet."
The launch of the book was accompanied by an exhibition of 86 paintings at the iconic Adriano Ribolzi Gallery and Jane Gemayel, an artist imbued with a classical heritage that she shares with the masters who inspired her, such as Matisse and Klimt, couldn't hide any more.
For the last two years, Jane Gemayel has been working exclusively from newspapers that she reads every day with a pen in hand.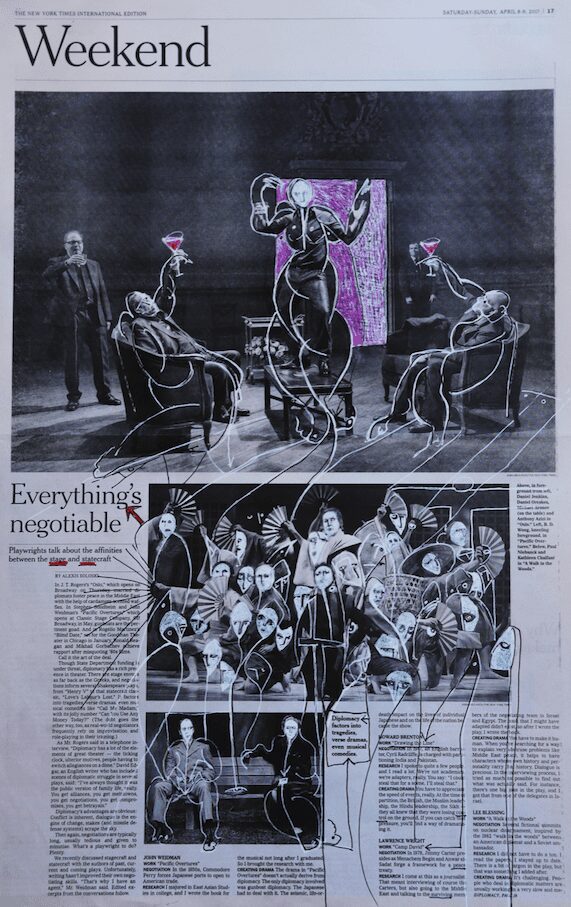 The New York Times International (page), 8-9 April 2017
Ink and coloured crayon on The New York Times International newspaper – 61 x 86 cm
"It's a transformative art. I transform things. We have to go through a lawyer to make sure that all the copyrights are covered and we are not breaking any rules. I cannot sell the newspaper clippings but I can sell my art based on the stories and images that accompany them in the newspapers."
Jane Gemayel questions our relationship to power, to politics, questions the future of man and our planet and denounces the loss of the values that are close to her heart: love, tolerance, peace and freedom.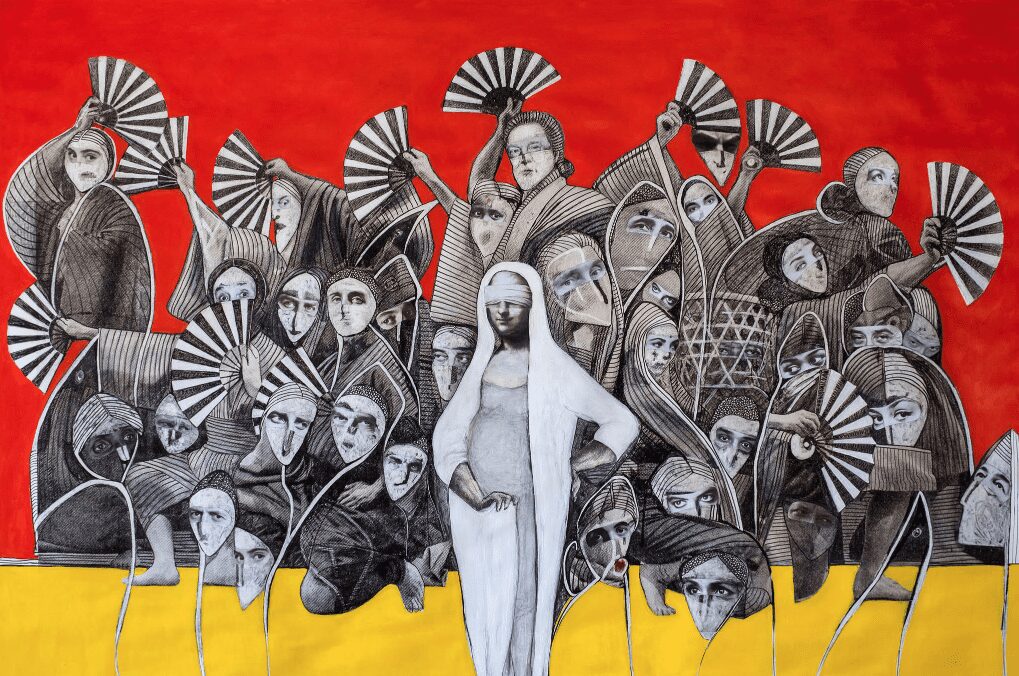 News as Muse – Climate Change III, 2019, Ink, crayon, collage and acrylic on paper – 175 x 112 cm
News as Muse covers the most pressing topics: climate change, racism, handicap, stigma, but the message Jane is conveying is that the paintings are outside time. "It happens now but it could easily have happened 50 years ago and 50 years from now."
Only last year Jane moved to her new studio on Boulevard de Suisse where her paintings are now being readied for dispatch to Dubai.
When she works, Jane Gemayel is secretive. She must wait over long, silent nights to gather images charged with contained emotion. As she puts it: all her work is the fruit of a long meditation on the world.
Jane Gemayel website for more infos www.janegemayel.com