As of November 1, a new set of coronavirus-combatting measures was put in place by the Prince's Government. Now, a new plan appears in Monaco, one which will maintain access to culture for the population living in the Principality despite the ongoing battle against the virus. Ladies and gentlemen, introducing 'Culture & Vous à Monaco!'.
The Department of Cultural Affairs has teamed up with the Grimaldi Forum, the Monte-Carlo Opera, the Monte-Carlo Philharmonic Orchestra, the Monte-Carlo Ballets, the Princess Grace Theater, the Audiovisual Institute of Monaco and the museums of the Principality to bring you 'Culture & You in Monaco!'.
Throughout the month of November, these cultural entities will offer shows and performances at the very reasonable price of 5 euros. Additionally, the programming and timing of these shows will be adapted to allow residents to attend in accordance with the regulations in force. Finally, admission to museums and exhibition halls will be free for the duration of this operation set to last from November 5 to 30, 2020.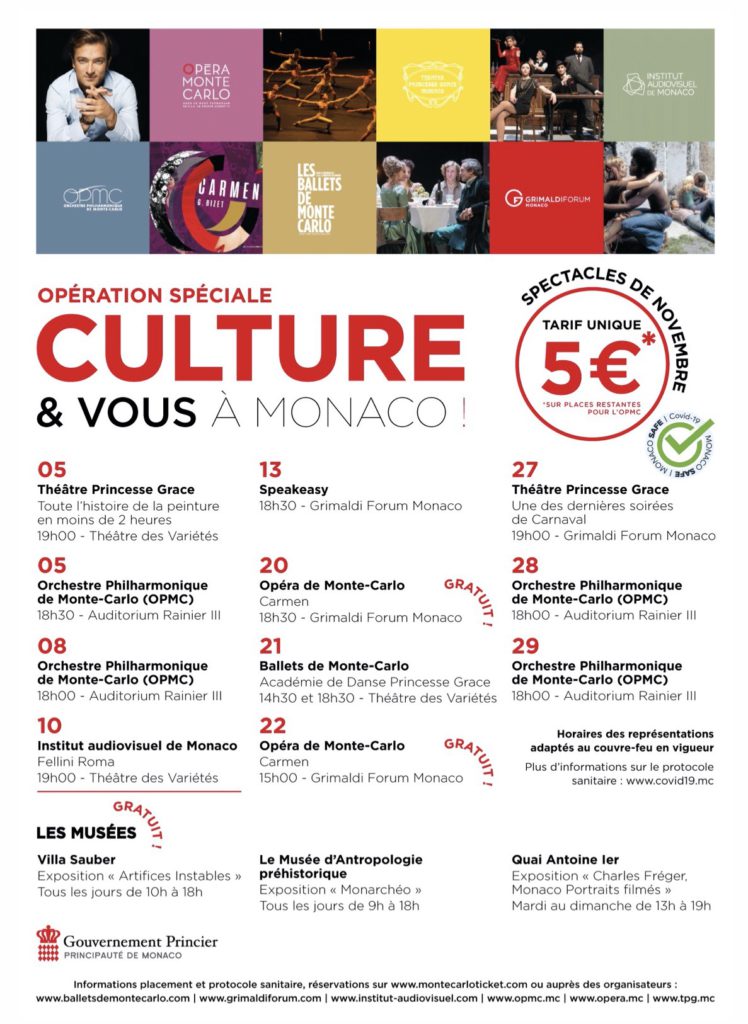 Details of the program are online on the Government's website: www.covid19.mc, as well as on the websites of the entities participating in the operation.
Featured image: Les Ballets de Monte Carlo, one of the participating entities, mid-performance