The German International Club held its General Assembly on October 27 in the recently renovated Salle Méditerranée of the Hôtel Métropole, at which the Club Committee was elected for a new period of three years.
The Co-Presidents, Beatrix Baronne von Dellingshausen and Patrick Wetzel, were enthusiastically re-elected, as were the Vice-Presidents Angela Kleiber and Carmen Schall. Two new Vice-Presidents complete the leadership team: Jochen Radermacher and Jörg Tenwinkel.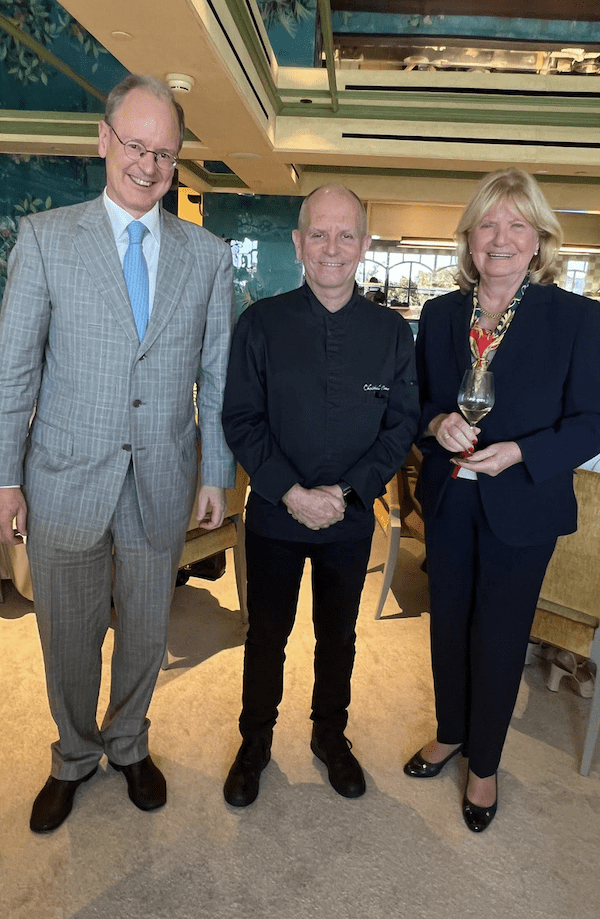 After the General Assembly, champagne was offered by one of the Club members, and a delicious lunch, prepared by Star Chef Christophe Cussac, was served, much appreciated by all the members present.
The Co-Presidents announced in particular that, as part of the Jubilee celebrations of the Club's 50th anniversary, an Open Day, inviting all German-speaking residents in the Principality, will be held on Saturday, November 25 at the Espace Léo Ferré in Fontvielle. This is offered by the Club, with drinks, canapes and musical entertainment, providing an excellent way to get to know the German and German-speaking residents of Monaco.
TOP: The new Committee of the CAI:  Jörg Tenwinkel, Carmen Schall, Beatrix Baroness von Dellingshausen, Patrick Wetzel, Angela Kleiber and Jochen Radermacher, centre, the reelected Co-Présidents Beatrix Baroness von Dellingshausen and Patrick Wetzel with Star Chief Christophe Cussac in the Hotel Métropole  Ed Wright Images