The second edition of the ELEVATE Space Conference is well underway at the Grimaldi Forum, featuring the brightest minds in the industry that are shooting for the stars, and that is quite literally the case for 16 year-old Alan Offer.
While continuing to study at the FNAB school, Alan taught himself how to build and launch his own rockets, with the dream of one day building manned rockets capable of reaching Mars. With this in mind, Alan created IMF, the International Martian Federation, in the summer of 2022, a club which he has the desire to mould into a business.
Alan can be found at his own stand in the ELEVATE event alongside three existing rockets ranging in size, and indeed range, all constructed in his grandfather's workshop with borrowed tools and a 3D printer. The first rocket, named Icarus, was constructed out of recycled cardboard before being launched one year ago. Icarus' big brother Dedalus is heavier and more advanced, while the star of the show is no doubt Herculis, an even more advanced rocket made with a more resistant aluminium tube with fibreglass wings and the capability of reaching three kilometres in altitude.
Herculis was first launched on Sunday, October 8 at the Molinella aerodrome in Italy, ahead of a second successful launch on Saturday, October 14 in the nearby Alpes-de-Haute-Provence. Monaco resident Alan talked NEWS.MC through just how Herculis functions, and how such a rocket can be retrieved and launched again, at the ELEVATE conference.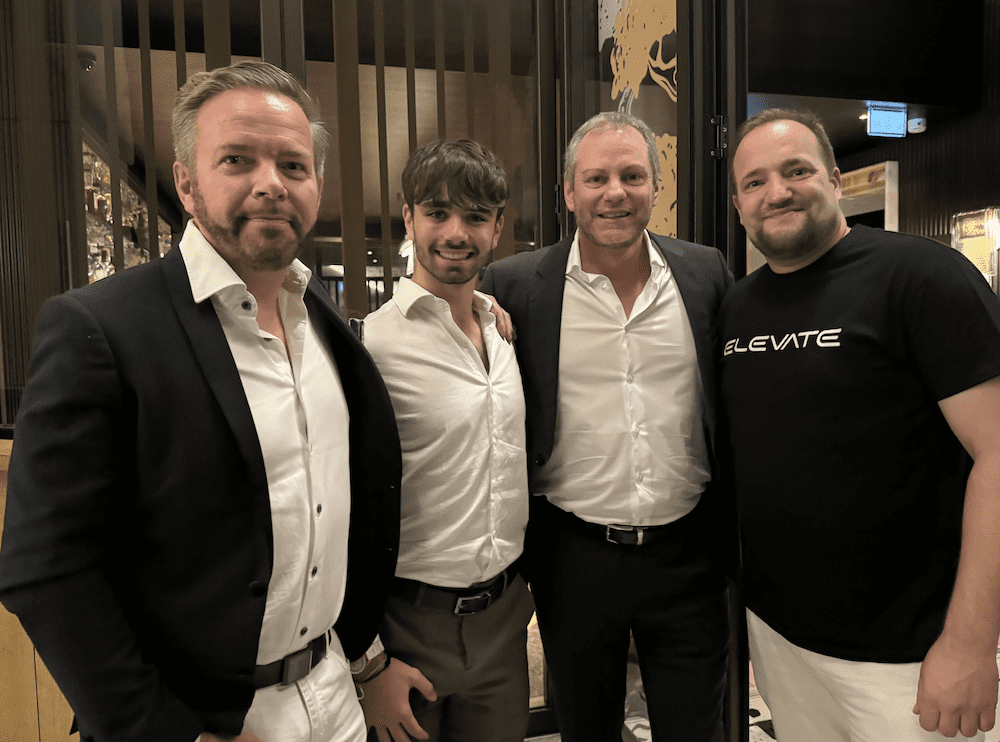 Alan Offer, second from left, with two of the conference speakers, Arttu Luukanen, of Solar Foods, Luca Rossettini, CEO of D-Orbit, and Elevate founder Zsolt Szemerszky at a Wednesday evening cocktail at Niwaki
Concealed within the advanced aluminium tube is a computer motherboard, the brains of the rocket, which dictates when the attached gunpowder fuses split Herculis into pieces that then float safely back down to earth with good old-fashioned parachutes.
The young rocket scientist began learning how to build rockets by watching YouTube videos during lockdown, and before long his ambition saw him succeed in creating his first airborne rocket. The latest flight of Herculis allowed him to gain the level two Tripoli certification which will allow Alan to launch rockets up to a staggering six kilometres in altitude.
Happy to share his passion with others, Alan ran a rocket building workshop to an audience made up of Monaco students in the Grimaldi Forum on Wednesday, October 18.
Offer told NEWS.MC "I want to send humanity to Mars… but one step at a time, one rocket at a time."
Elevate continues on Thursday, October 19, at the Grimaldi Forum. See Alan and IMF in action below.
Featured image by Jack Brodie for NEWS.MC, Alan Offer holding his rocket 'Herculis'