As part of the panoply of commemorative events to mark the centenary of the birth of Prince Rainier, HSH Prince Albert attended a special meeting of the National Council on Friday at which the body's president, Brigitte Boccone-Pagès, delivered a moving eulogy.
Underling the significance of the event, the Sovereign was accompanied not only by HSH Princess Charlene, but also by HRH Princess Caroline and HSH Princess Stephanie, as well as other members of the Family.
The reigning Prince is an infrequent visitor to the elected body, although His Ministers are frequent guests.
In a brief historical synopsis, Mme Boccone-Pagès spoke of the gradual development of democracy in Monaco, starting with the acknowledgement by Prince Albert I that times were changing and the monarchy needed to evolve. She said that Prince Rainier's Constitution of 1962 went much further by establishing a Constitutional Monarchy that recognised the importance of consensus and government in partnership with the National Council.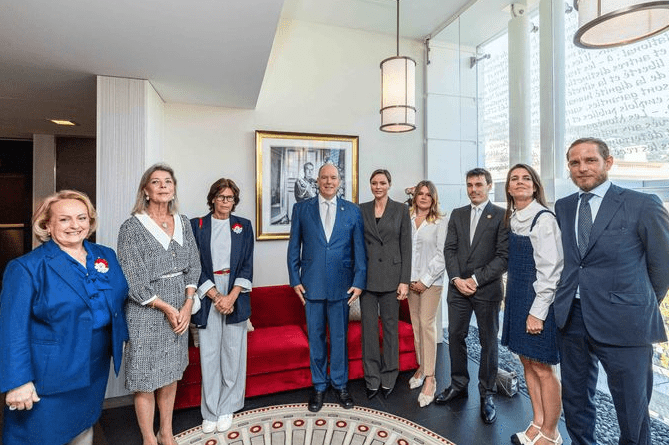 Mme Boccone-Pagès with HSH Prince Albert and Family in the newly-designated Salle Prince Rainier III in the National Council building
In an echo of the stance taken on numerous occasions by her predecessor, she said that the National Council would defend its powers "with firmness if necessary, but always in the search for consensus without which, in Monaco, nothing is possible."
The President's remarks are particularly significant at the present time, as Monaco and the European Union are in the final stages of negotiating an Association Agreement that has been in the making for eight years.
There is strong opposition within the Principality to any agreement that waters down the National Priority of Monegasques in housing and employment, while local professionals are totally opposed to demolishing or weakening the ring-fence that protects their market monopoly.
In the present state of impasse, it seems more likely than not that Monaco will be the only small state in Europe to say 'no' to Europe. How the European Union will respond is an interesting question.
In the meantime, the National Council is determined to have the final say.
MAIN PHOTO: Mme Brigitte Boccone-Pagès delivers her address
PHOTOS: Philippe Fitte
© Please note that this article is the intellectual property of NEWS sarl, a Monaco-registered company, and cannot be reprinted or republished in whole or part without the written consent of the Company. A brief excerpt may be published by a third party provided that a link is provided directly to the article in question. Photographs are similarly protected. Any queries can be directed to the editor of NEWS.MC, at ian@news.mc