AS Monaco have unveiled their all-new third kit for the upcoming 2023/24 season, in collaboration with the Oceanographic Institute of Monaco. The bold blue kit follows on from the fluorescent purple third kit of the previous season, and hits much closer to home.
Appropriately dubbed the 'OCEANO', the new jersey brings together white and blue in a way that represents the coast that we all know and love, "where the blue of the Mediterranean Sea marries the white of the Riviera shore," reads the club's website. The singular white colour is also said to recall the colour of the stone of the Oceanographic Museum of Monaco, wherein the kit was revealed on Wednesday, July 26.
The blue and white gradients are divided by the club's iconic diagonal line, but these design cues are not the only connection to the ocean that the Principality are celebrating with this well thought out kit. In continuation with the partnership between the Oceanographic institute, the club and Kappa, the kit manufacturer, five euros from each OCEANO jersey sale will be donated to the institute to support environmental preservation.
In the spirit of this, the third Kit is constructed from 100% recycled polyester, as is the case for the shiny new home kit unveiled earlier in July.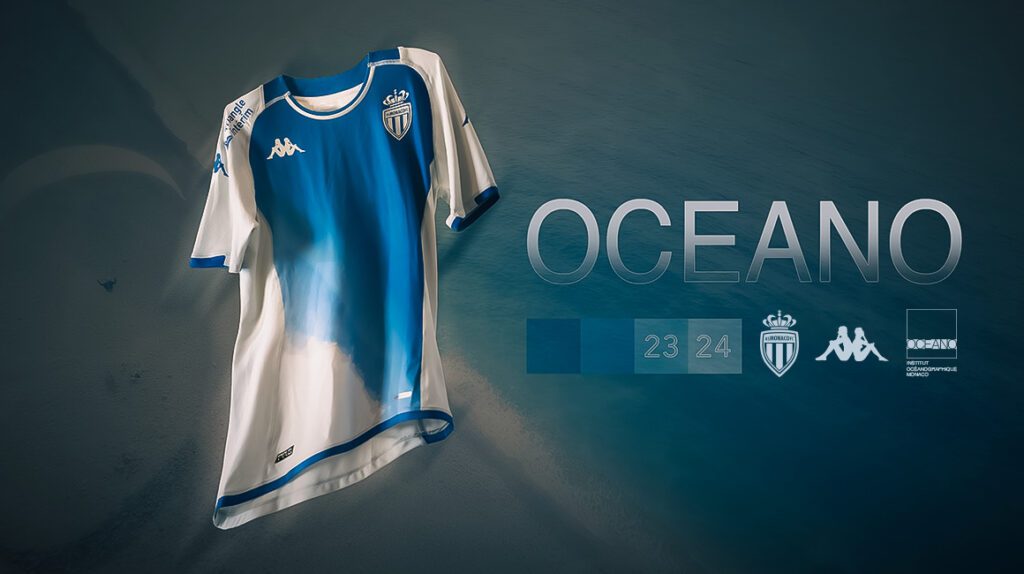 The new kit can be purchased on the official ASM club store here, with the jersey coming in a pro match or more casual fan wear trim, while a choice to add the 'Visit Monaco' sponsor logo is available on the front of the shirt for free. The third kit can be found in the club's store in Monaco, and also in the boutique of the Oceanographic Museum.