The Club Suisse de Monaco recently hosted a concert and dinner at the CastelRoc restaurant right next to the Prince's Palace. The invitation to attend was accepted by numerous members and many friends of Switzerland. Also present were the former presidents of the Club Suisse de Monaco, Roger Bollag, Henri-Claude Salzmann, Philippe Ragaz and Arlène Arquin, as well as the current president, Arik Röschke.

The highlight of the event was the performance by Streichmusik Alder, a prestigious music group from the canton of Appenzell, which was founded in 1884 by the Alder brothers in Urnäsch. Since then, the music group has evolved over four generations.
"Their performances thrilled the audience with the traditional instrumentation of dulcimer, hand organ, violin and double bass. With every note, they transported the audience to the picturesque Swiss landscape and let the hearts of the listeners beat faster with their passionate performance. The traditional valley swinging as well as the swinging of the big cowbells also fascinated the audience," Club President Arik Röschke told NEWS.MC.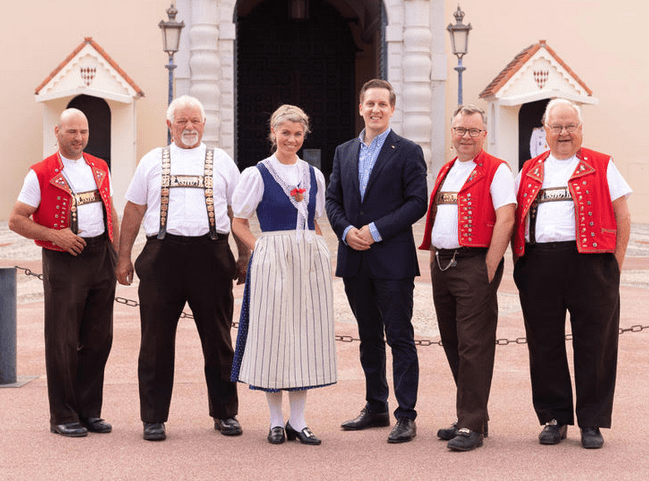 The performance of Martina Enderlin, a talented yodeller from Switzerland, was most impressive. With her vocal versatility and deep understanding of the yodelling tradition, she amazed the audience as her singing filled the garden at the Prince's Palace with traditional Swiss sounds.
 
The event offered a unique opportunity to immerse oneself in the Swiss-Appenzell culture and to experience the passionate devotion of the musicians.
PHOTOS: Top, Streichmusik Alder and yodeller Martina Enderlin, centre, Streichmusik Alder with Martina Enderlin and President of the Club Suisse de Monaco Arik Röschke Romain Lechevalier